GWMC civic contract workers demand regularisation of services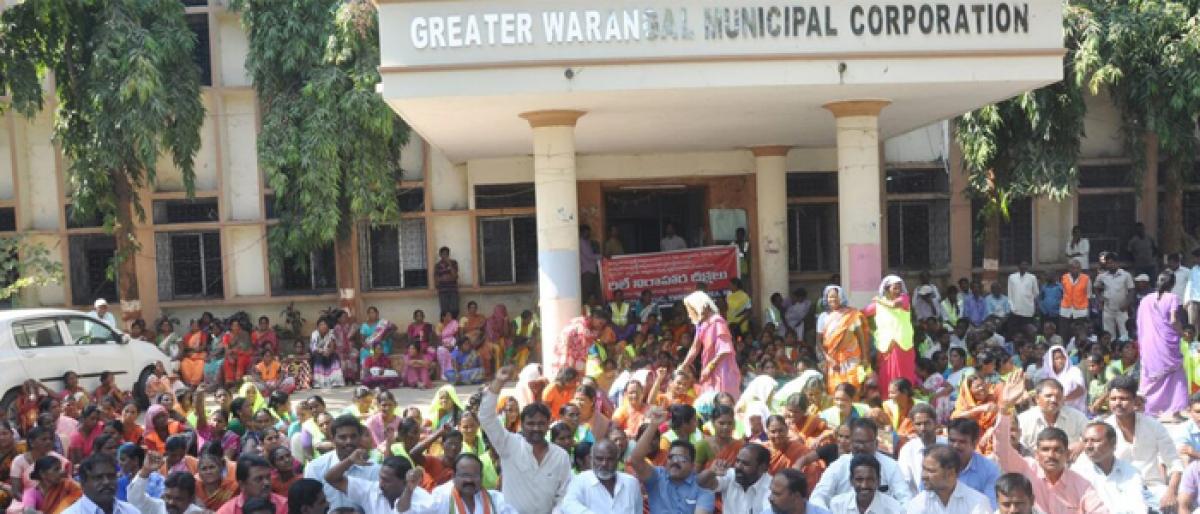 Highlights
The members of Telangana Municipal Workers and Employees Union (TMWEU), affiliated to the Centre of Indian Trade Union (CITU), laid seize to GWMC head office here on Wednesday. They staged a massive protest seeking enhance of wages and regularisation of services. The union members have taken up a relay hunger strike a couple of days ago in support of their demands and staged a dharna as the Greate
Warangal: The members of Telangana Municipal Workers and Employees Union (TMWEU), affiliated to the Centre of Indian Trade Union (CITU), laid seize to GWMC head office here on Wednesday. They staged a massive protest seeking enhance of wages and regularisation of services. The union members have taken up a relay hunger strike a couple of days ago in support of their demands and staged a dharna as the Greater Warangal Municipal Corporation (GWMC) authorities failed to respond.
The protesting workers have demanded the State government implementation of the recommendations of 10th Pay Revision Commission. Addressing the workers, the CITU city general secretary Ragula Ramesh and CPM district secretary S Vasudeva Reddy demanded that the government should ensure minimum wages to the workers.
They said the Smart City Award and Swacchata Awards given to the GWMC were the result of hard work being done by the workers but not because of the officials and the corporation council members. Hence their work must recognised by enhancing their wages.
The City Congress working president Rajanala Srihari extending solidarity joined the agitation. Addressing the gathering, he questioned the rationale behind the delay in regularising the services of municipal workers serving on contract and outsourcing basis.
Before coming to power, the Chief Minister, K Chandrashekar Rao, has promised to regularise all the contract and outsourcing workers. But three years have passed by since the TRS government was formed, but the promise was not fulfilled yet, the Congress leader complained. All the workers should be given a minimum wage of Rs 18000 per month, he demanded.
TMRPS president B Bikshapathi said minimum wages as per the Supreme Court directions should be given to the hundreds of skilled workers engaged in water supply section, electricity section and others. The union leaders Jannu Prakash, P Devender, Gouri Shanker and others alleged that sanitary and other section workers were deprived of their ESI and PF benefits. The concerned officials have failed to address the issue, they noted.