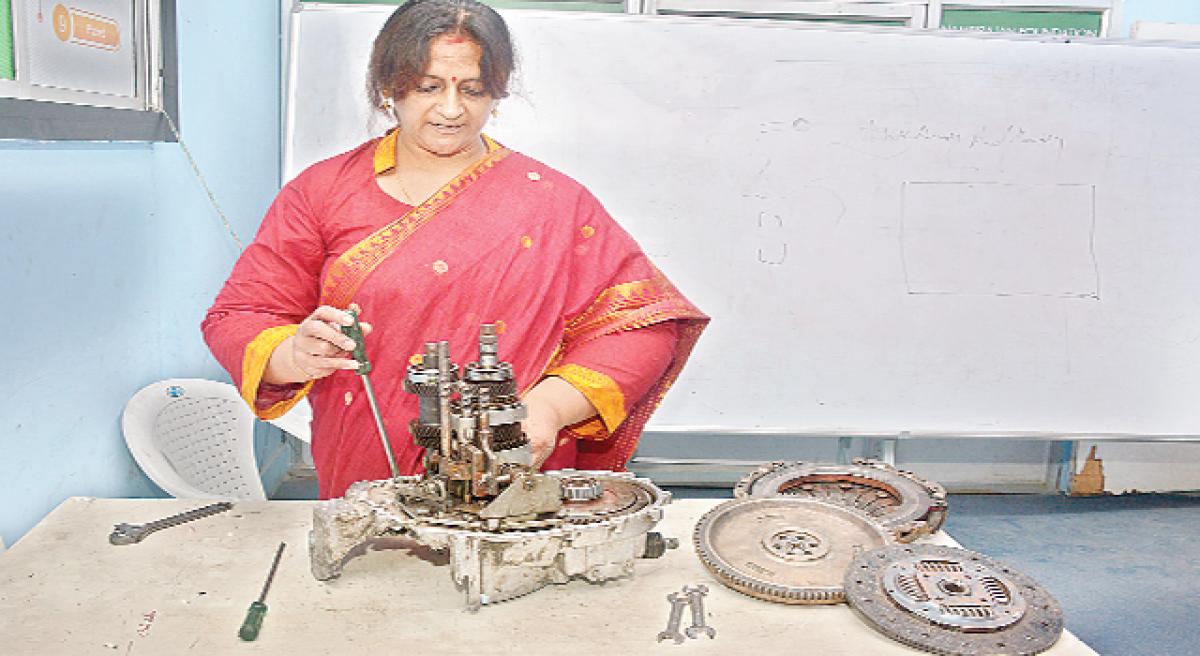 Highlights
A student of marketing and a former employee of Annapurna foils at Chennai, Vidya Nambirajan, had to take over the responsibility of her father Nambirajan's garage after his death.
'A woman cannot do this', 'She is weak and it's risky to start it', etc. are among the clichés a woman gets to hear. The tiresome statements are too common to merit attention. But sometimes such annoying statements can motivate a woman to prove society wrong. One such amazing 'Nari' has broken all stereotypes and successfully runs a garage.
A student of marketing and a former employee of Annapurna foils at Chennai, Vidya Nambirajan, had to take over the responsibility of her father Nambirajan's garage after his death. As part of her mission to translate his vision into reality and as a tribute to her father, she spared no efforts to develop the facility. Her qualifications do not sync with her profession and her previous jobs are in no way related to her current role. She has dedicated her life to building her father's 'Paramount Auto Bay Services', Sainikpuri, Secunderabad.
This strong woman has dared all kinds of ups and downs in business. She has learnt the pros and cons of automobile service sector in all its finer details, even winning accolades from domestic and foreign carmakers.
After her father passed away in 2014, she continued to excel in the workspace with enthusiasm and has since grown the business to earn International Organisation for Standardization (ISO) certification. "I still remember my father words, 'They are my thumb impressions. When I can train them, why can't you learn?' brings enthusiasm in me to work hard," she says.
To gain customers, she has stood on roads along with her team, distributing pamphlets on weekends. The CEO of the garage has weathered all kinds of mockeries from her friends and society. "There is always a fine day behind a dark night," she says. One of her first achievement was when she started a service centre. Since then, all tools and technological changes in the garage have been up to date.
Vidya, a spinster, looks after her workers like a mother. She treats them equally, irrespective of age and gender. To make the bond stronger they have at least one meal together. "I want to bring dignity to this profession. Hence, our tagline: 'Dignity with Skill'." Society always underestimates this designation.
But, the worker here is not just a mechanic, he/she is an automobile service professional", she observes. Her visits to workshops and accumulation of working manuals resulted in the formation of 'Nambiraju Foundation', which started training people. Slowly, her training sessions reached B.Tech students when various institutions approached the institute. Her passion for helping women drives her to give free training to them.
'Nothing is waste in your life', they say. The marketing skills and contacts she collected helped her in approaching various automobile companies for providing employment to her trainees. Hyundai was the first organization that responded. Later, companies from Germany and Dubai approved the request for placements after looking at their service.
Vidya Nambirajan was honoured as a Legend in the 'Automobile Service Industry' at the 1st National Conference held at Bangalore in 2017. The Confederation of Indian Industries – Indian Women Network (CII-IWN) recognized her as an IWN woman, appreciated her efforts by conferring an award in the year of 2017.
Vidya's love for her father and respect towards him is immeasurable. Her path of success is unstoppable. Her sacrifices and attitude towards employees are down-to-earth. The word 'impossible' was erased and in its place shines 'everything is possible'.
From being a mechanic to becoming the CEO of 'Nambiraju Foundation', she has come a long way, but has never flinched from building rapport with customers and employees. Evidently, daddy's daughter has become an icon of inspiration for all women out there.
By Vineetha Siddam Setty