Telangana State polls: Women get raw deal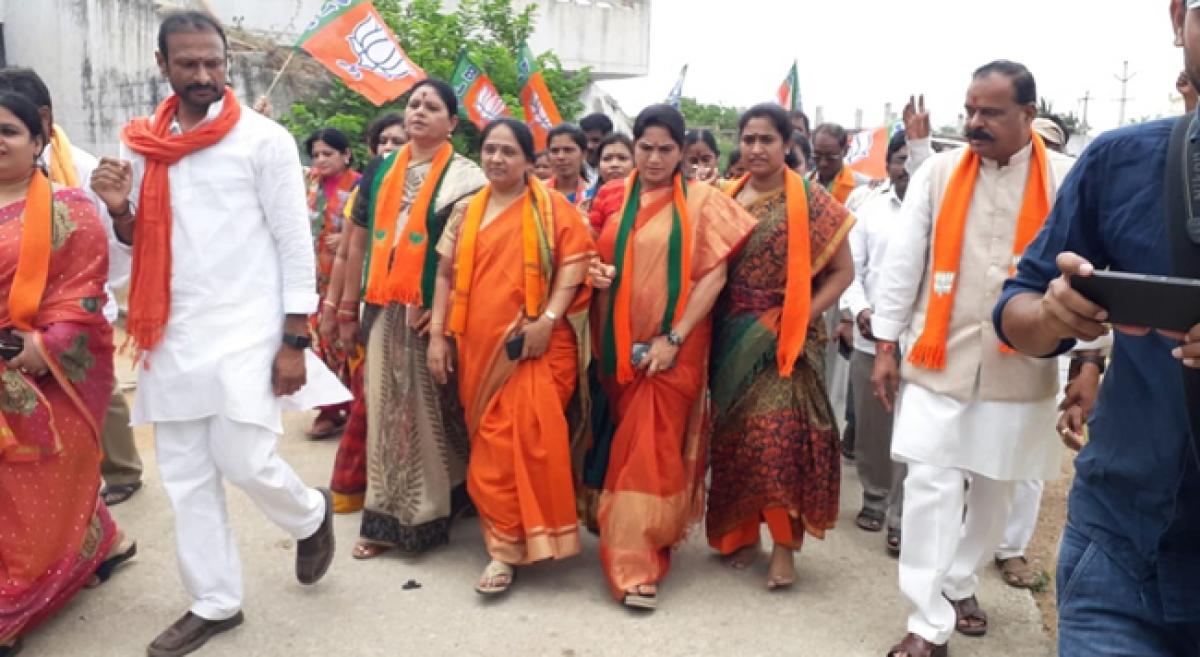 Highlights
Major political parties in Telangana that ostensibly support the Womens Reservation Bill, gave a raw deal to women in allottment of assembly seats for the December 7 polls
Major political parties in Telangana that ostensibly support the Women's Reservation Bill, gave a raw deal to women in allottment of assembly seats for the December 7 polls.
All political parties in Telangana put together have not even allocated 33 seats to women leaders in the upcoming elections of the young State. Every political party pays lip service to Women's Reservation Bill. But women have been given a raw deal. Congress party that supported the bill gave only 11 tickets to women candidates from the list of over 90 candidates.
Each party has its own explanation. What is more interesting is that some of these reasonings are from women leaders themselves. "We may not have given 33 per cent seats to women. But we gave 11 seats whereas TRS gave just four. We made a beginning," was the meek reasoning given by Congress party's star campaigner Khushbu Sundar. The senior Telangana Congress party leader Geeta Reddy chose not to comment and ducked saying she was busy campaigning in Zaheerabad.
TDP, which has 14 seats in its share from the Mahakutami has given one seat to a woman; Suhasini, who belongs to party president's family. She is TDP founder NT Rama Rao's granddaughter and is contesting from Kukatpally constituency. Prof. Kodandaram's TJS allocated one seat to Bhavani Reddy, who is contesting from Siddipet constituency.
AIMIM has no women in its list and CPM-led Bahujana Left Front has allotted tickets to 10 women candidates. BJP is the only party which can claim to be the true champion of women's cause since it has given tickets to 14 women. Bodiga Shobha, who was denied a seat by TRS, and is now contesting from Choppandandi, Karimnagar under the BJP flag agrees that women in general got a raw deal in this election.
Women constitute more than 50 per cent of our population. And they deserve to be represented in better numbers. If one takes a look at the agitation for separate T state, it was women from backward communities and STs who played key role. It was they who gave massive support to the agitation by participating in all programmes including cooking food on the roadsides and million march.
The ruling party claims that it is TRS is most women-friendly party with Chief Minister K Chandrasekhar Rao announcing various schemes like Arogya Lakshmi, Kalyana Lakshmi etc., But when it comes to sharing of power ('Rajakeeya Lakshmi') the party did not find any one suitable to be in the cabinet and in 2014 only six women were given tickets and this time the number has come down to four. The new assembly will once again be male dominated one.
Poll quota for women
Telangana has 119 Assembly seats
Congress: Gave 11 tickets to women (11 per cent)
Telangana Rashtra Samiti (TRS): Gave four seats to women (four per cent)
Telugu Desam Party (TDP): One woman
Telangana Jana Samithi: One woman.
BJP: Gave14 seats to women
Bahujana Left Front (BLF): Gave 11 women seats