IIT Roorkee continues to fare among best tech institutions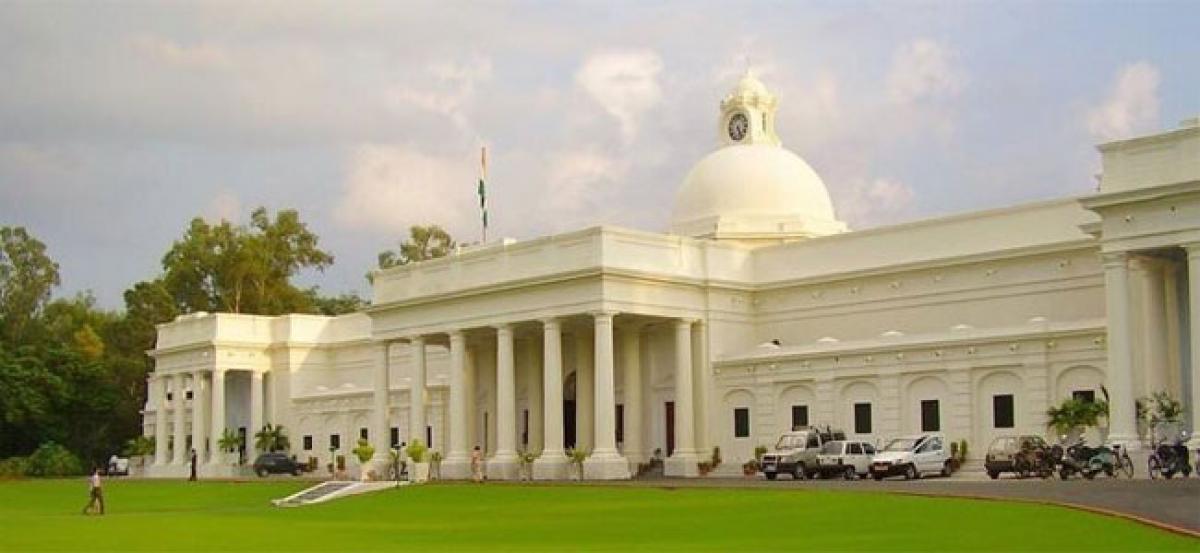 Highlights
Indian Institute of Technology, Roorkee witnessed a successful year with major accomplishments in academics, research as well as in fundamental sciences, engineering and management studies.
Roorkee: Indian Institute of Technology, Roorkee witnessed a successful year with major accomplishments in academics, research as well as in fundamental sciences, engineering and management studies.
Overall, it was a year of growth, exemplary recognition and outstanding research from both faculty and scholars in 2017. It has been a successful year with many firsts. Few major highlights are:
Research
IIT- R has the rare distinction of having work carried out in its campus being published in nature publishing journals and other international journals with high repute. The five top most journals that scientists from all over the world aspire for.
Some of the outstanding work undertaken by the researchers to address critical problems of society are:
Prof. Shailly Tomar & Prof. Ranjana Pathania (Dept of Biotech) developed a medicine for Chikungunya and a path-breaking technique to help reverse drug resistance respectively.
Prof. KL Yadav & Prof. Davinder Kaur (Dept of Physics) developed a low- cost method of Osteoarthritis and breakthrough In Memory Device Technology respectively.
Prof. ML Sharma (Dept of Earthquake Engineering) developed the early earthquake warning system. Prof. NK Padhy & Prof. E Rajasekar (Dept of Electrical & Architecture) developed a smart grid project. Prof. Z Ahmad (Civil Engg Dept) developed Morphological Study of Ganga, Sharda and Rapti Rivers. Prof. Soumitra Satapathi's team (Dept of Physics) developed 'low-cost Jamun Solar Cells.
Awards and achievements
The institute witnessed many student and faculty achievements. Prof. GD Ransinchung, Surender Singh (Research Scholar), Prof. Praveen Kumar and Prof. Manoranjan Parida received IRC National award on Road research.
Prof. Kaustav Chatterjee (Dept of Civil Engineering) was selected for the John Carter Award 2017 for his outstanding research potential in Geomechanics. Sidharth Arora, PhD scholar (Dept of Biotechnology) being awarded the Biotechnology Ignition Grant (BIG) by BIRAC for his project on production of thermo-tolerant and acid-stable Phytase in a novel solid-state fermentation (SSF) bioreactor.
A team of students Ekdeep Lubana, Anisha Godha, Ankit Bagaria and Utkarsh Saxena won the First prize of 25,000 Euro at the Ericsson Innovation Awards 2017, in a global competition at Nobel Museum in Stockholm, Sweden.
The IIT-R team developed an app SNAP which uses a precision agriculture technology based on principles of hyper-spectral imaging of crop leaves to determine the optimum fertiliser inputs for the crop. Raja Jain, third year student (Dept of Biotechnology) and Nimisha Gupta, fourth year student (Dept of Chemical Engineering), have developed Eva Cool, a low-cost evaporative air cooling solution and emerged as the winners in the final of go Green in the City 2017.
The team consisting of Rohit Joshi and Renju K Kokkattu was selected as the winners of B-plan competition of Droom's merchandise.
International & national major research/consultancy-sponsored projects.
The institute was part of major international and national projects carried out this year. it partnered with organizations/institutes from Russia, France, Belarus, the UK, Canada, Mexico, Germany and Korea for international projects. The number of major sponsored or consultancy projects with funding of more than Rs 50 lakh are 38.
Placements
The institute witnessed one of the best placement season with over 843 offers handed out to students in the first phase of placements. A total of 205 companies visited the campus for recruiting students, while 13 offers were handed out by Microsoft, Webstaff Co. Ltd. and Mercari.
Five PSU companies including, ONGC, ISRO, IOCL, C-DOT and UIAI participated in the placements. As many as 37 start-up companies offered jobs, while 824 UG and 502 PG students had registered for placements out of which the offers to UG students were offered 630 jobs and PG students 212 in the first phase.