Skill development & employability through vocational careers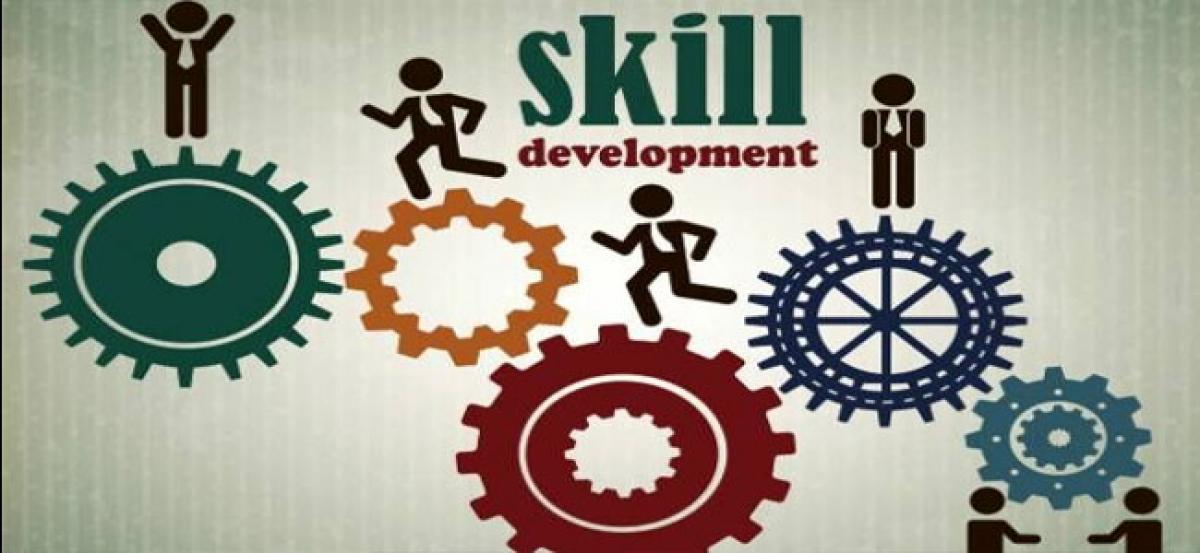 Highlights
India has made significant economic paces in recent years. The rising economy needs a continuous supply of skilled manpower. But our emphasis on degree rather than skill is a faltering block in the way of economic growth. 
India has made significant economic paces in recent years. The rising economy needs a continuous supply of skilled manpower. But our emphasis on degree rather than skill is a faltering block in the way of economic growth.
India has a large number of educated people without a job, and on the other, various industries are desperately short of skilled professionals.For India, skill development is also critical from both socio-economic and demographic point of view. For the economy to grow at 8% to 9%, with the calculated growth rate of 10% for secondary, 11% for tertiary and 4% for agriculture sectors, a multifaceted and highly effective skill development system is the need of hour.
India's 62% of the population is below 35 years of age and 70% of the population will be of working age by 2025. Around 51% of the workforce is engaged in Agriculture which adds only 17% to India GDP while 22% of the total workforce is involved in manufacturing sector which adds to 26% of the GDP of India. It has been witnessed that there is huge skill gap of Industrial demand for skilled labour and available skilled labour force in our country.
Significance
Since independence this is the first time India realise the significance of skill. Vocational training and skill development have not been given due status by the mainstream education system. The transformed demographic profile of the country, with nearly 60% of the populace under 25 years of age, the growingambitions of our youth seeking substantial, well-paid jobs, the growing necessities of industry for an efficient, well-trained workforce, have contributed to a focus on skill development.

The India Skill Report 2018apprises us that employability across all educational domains stands at 54.4 percent. This clearly shows skill deficit crippling the nation's workforce. If India seeks to be a global player, it has to adjust its growth with the need of industry-ready workforce. There is a new accent on upholding vocational training and skill development in partnership with various stakeholders and ministries to rationalize skill development initiatives.
The importance of vocational training provided in India is not matching with the requirement of the unorganized workers who constitute 90% of the work force, resulting in a shortage of skilled workers at the national level.
Unorganized and unskilled labour like construction workers from village and slam areas with little or no education and need special consideration from Government providing them basic skill increasing their employability of the work force, resulting in a deficiency of skilled workers at the countrywide level.
India has got progress in primary education with 1.5 million schools and 250 million enrolments but it still lack in higher education with just 20.7 million with only 24.3% of total enrolment. Vocational and technical training institutes, Industrial Training Institutes (ITIs) are mainlysupported by Government and Private Entities.
The current available capacity in industrial training is 4.3 million which 201% is less than the industrial requirement on 22 million skilled workforces annually. There are a large number of drop outs in education at an average age of 15years especially female students along with poor literacy and much obsolete training provided which fails to provide jobs and industrial requirement.

This skill gap is an outcome of outdated curriculum, poorly trained faculty, and, flawed teaching and learning pedagogy. In India, 90% of the jobs available are skill based but only 2% of the population between 15-25 years attains formal vocation training in comparison to 80% in USA and 60% in South Asian countries. India is required to deliver vocational training to at least 300-350million workforce by 2022 which is much lower than the target of 402million workforces by 2022.There is a desperate need to map these skill requirements of the Industry and to review whether existing academic and skill programmes cater to these requirements.
Teaching the teacher is one of the essential key of the skill development frame work. It is projected that various publicly funded organizations produce 3.5 million trained personnel per annum against the 12.8 million new candidates into the workforce each year. We need to modify policy to officiallyidentify students and employers as key stakeholders in framing new and revising existing educational courses.
In fact, it must be obviously specified ahead, which of the job roles, existing or to be created in the labour market in the future, will hire graduates being shaped by our educational system.
One of the important requirements for the proper implementation of the skill and training development programs is the availability of the basic infrastructure for the same. It has been noticed that many skill development institutions suffer from lack of proper infrastructure. Apart from a detailed evaluation while sanctioning approval for establishing a new institute, the assessment of the ability evaluation of the institutes is not conducted regularly.
Complex infrastructure including equipment's, machines and tools etc. are not available in majority of the institutions. As a result, workers get trained on outdated machines and find themselves deficient in skills when employed.
Role of private players
Private players with good credentials and proven track record could be bucked up to enter the skill development sector.
If the government can do this effectively and rope in reputed players, our dream of making 100% Skill India can fast become a reality. The provision of fiscal incentives to the private sector for setting up vocational and skill development institutions is encouraging private organisations to give the government a helping hand in this effort. The biggest challenge in the India lies in finding out how to make skilling programmes relevant? Skill and vocational training institutes can show the way
Members from various industry are already aware about the fact that and is working to find out solutions to these challenges. Non-profit organizations in large numbers are being engaged in providing skill training to enhance employability among the weaker sections of society.
Companies like Tata motors, Samsung India, Mahindra, ICICI etc. at their level are also trying to develop the workforce and have built up their own training infrastructure to re-train entry-level candidates; it will help in providing a pool of high quality skilled manpower to the industry. There are many companies who have adopted various trades at ITIs in a Public Private Partnership model to make the students industry ready is an encouraging sign for our country.
In India, the growing trend of perceiving education in isolation from skill and vice-versa has covered the indispensable relationship between the two; for what is education that does not impart skill and what is skill if you are not educated enough to apply it effectively? This trend has been reinforced by creating separate union ministries for dealing with issues of education and skilling.
Institutions like ITIs that impart vocational education are treated as entities completely detached from institutions of formal education. Every individual has the right to aspire to become an asset, not only to the nation, but also to the world and, that too, in all circumstances as a skill of today is prone to become redundant tomorrow. Skills which ensure employability can be an ornament in prosperity, not a refuge in adversity.
By Shaheen Khan (The author is Founder, Director of Council of Education & Development Programmes (CEDP) Skill Institute, Mumbai).