Asha workers launch 48-hour relay hunger strike in Adilabad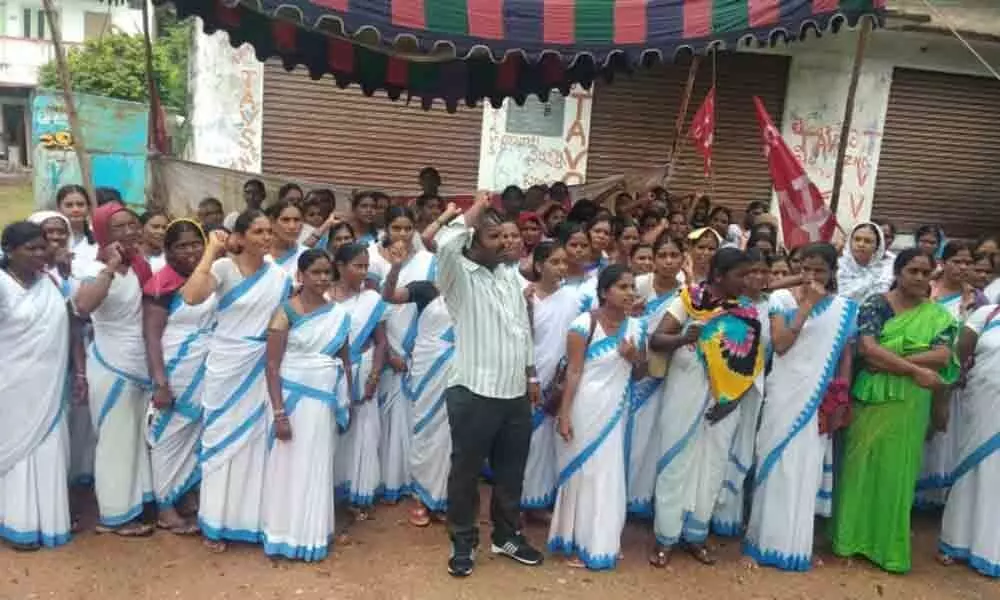 Highlights
Following the call of State union, Asha workers launched 48-hour relay hunger strike at Adilabad Collectorate on Thursday, demanding the government salary enhancement to Rs 10,000; payment of salaries pending for the past five months
Adilabad: Following the call of State union, Asha workers launched 48-hour relay hunger strike at Adilabad Collectorate on Thursday, demanding the government salary enhancement to Rs 10,000; payment of salaries pending for the past five months; not to direct them to do unpaid works; providing job charter.

Speaking on the occasion, CITU district president Mallesh, secretary Rajendar and member Surender said that the other Telugu State Andhra Pradesh government had increased Asha workers' salaries to Rs 10,000 unconditionally, whereas Asha workers in Telangana are still suffering with low wages. In 2015, Asha workers conducted strike for 106 days demanding salary of Rs 18,000 and Chief Minister K Chandrashekar Rao had announced Rs 6000 salary to Ashas. But his promise has not been implemented till date, he criticised.
The leaders expressed dissatisfaction that Ashas have to work from 6 am to 9 pm and they have to do all types of works and the most underpaid workers.
They demanded that the government must release the salaries pending for the past five months immediately as the Asha workers have been suffering with financial problems due to irregular payments.
The leaders demanded the CM to stick on to his promises and cancellation of remuneration system and to fix Rs 10,000 as salary unconditionally, in the same way as the AP government did.
Later, the union leaders submitted a memorandum to the District Collector seeking fulfilment of their reasonable demands.
CITU vice-president Chinna, district committee member Surendar, Asha union district president R Radha, district secretary Shobha, Asha workers Jyothi, Sujatha, Kantha, Gangamma, Tulasi, Sukanya and others were present.