Cash crunch in ATMs hit hard people of Kurnool district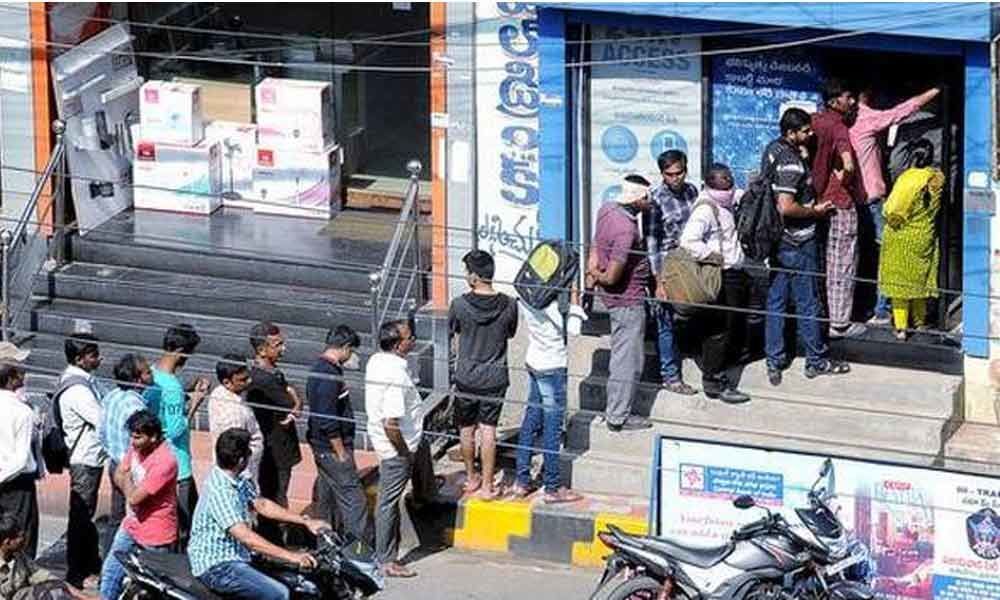 Highlights
'No cash' or 'Out of order' sign boards hang at several ATMs
The limited quantum of money available with the majority of banks is not enough to meet the demand from the customers
Kurnool: Once again cash crunch started haunting the people of Kurnool with `no cash' sign boards hanging on the doors of Automatic Teller Machines (ATMs). People have suffered a lot during demonetisation of big currency notes in the month of November 2016. The same kind of position is being observed in the district.
The common people, farmers, employees, business persons and pensioners are in a state of quandary.
With the `no cash' and `out of order' sign boards hanging at the ATMs is panicking the people. At some places, where hardly one or two ATMs are working, people are seen standing in long queues.
They have to bear with scorching heat as they are just concerned about the cash.
The available cash in the ATMs hardly serves the purpose of very limited people, and majority of them have to leave the premises bare hand. An electrical merchant, Obulesu in Kurnool town has complained that he wanted to purchase some electrical goods, but due to elections he could not purchase them.
He had gone to ATM to deposit the required amount towards the cost of electrical goods. But he has to return without depositing due to non-functioning of ATMs, he complained. He also incurred a loss of Rs 3 lakhs due to decline in business.
Another person, Devendranath Reddy, resident of Santosh Nagar has complained that he toured almost all ATMs in the town but none was seen functioning. All the ATMs are seen hanging sign boards of "No cash-Out of order".
When The Hans India asked the reasons behind hanging no cash-out of order sign boards at ATM, the All India Bank Employees Association (AIBEA), district general secretary, E Nagaraju said, the banks did not receive cash from Reserve Bank of India.
Due to election code, the supply of amount was stopped from February, said Nagaraj.
He further said that whatever the amount was lying in the bank was distributed to Self Help Groups and even the political leaders were also withdrawn amount from their accounts.
More over the indent of cash requirement placed by the State Level Bank Committee (SLBC) was also not sanctioned. This cash crunch is likely to continue till the finalisation of election results, added the general secretary, E Nagaraj.