Congress signs off Huzurnagar campaign with impressive show of strength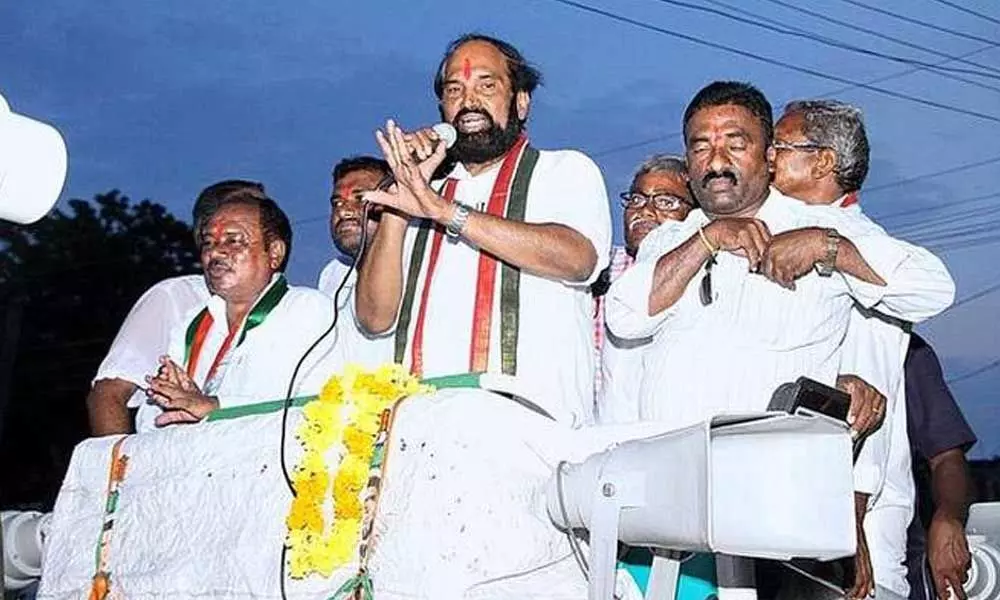 Highlights
The Congress party has displayed a massive and impressive show of strength on the last day of campaign for Huzurnagar bye-elections on Saturday.
Huzurnagar: The Congress party has displayed a massive and impressive show of strength on the last day of campaign for Huzurnagar bye-elections on Saturday.
All three MPs - TPCC President Capt. N. Uttam Kumar Reddy, Working President A. Revanth Reddy and Komatireddy Venkatreddy, several MLAs and other senior leaders of the party, along with candidate Uttam Padmavathi, participated in a seven-hour long massive roadshow which ended at Huzurnagar crossroads at sharp 5 pm. There has been
Addressing the meetings, Uttam Kumar Reddy said that the victory of Congress party was certain and it would sweep the by-polls. He said that the Huzurnagar bye-elections would bring an important change in the politics of Telangana. He said people were vexed with the dictatorial and arrogant regime of Chief Minister K. Chandrashekhar Rao and by giving a humiliating defeat to TRS in the by-polls, people of Huzurnagar would act as representatives of entire Telangana to convey a strong message to TRS Government to either perform or perish. He said farmers who were cheated on the promise of crop loan waiver, students who neither got a job nor promised unemployment allowance, Muslims and STs who were duped with the promise of 12% reservation, Dalits who were yet to promised three acres of land, BCs who faced continuous discrimination and cut in quotas and other sections who remained neglected by TRS Govt would defeat the TRS in these by-polls.
Condemning use of huge money and liquor by TRS leaders to lure voters, Uttam Kumar Reddy said that the ruling party has no ethics, morals or respect for democracy He said KCR thinks that he could buy anything and anyone with his ill-gotten money. He said people of Huzurnagar would not sell their self-respect and vote in favour of Congress party. He said defeat in Huzurnagar bye-elections would be the beginning of KCR's end. He said the results would inspire and motivate people across Telangana to fight against the TRS Government for the injustices meted out to them.
Uttam Kumar Reddy reiterated that he and his wife Uttam Padmavathi would dedicate their lives for the service of people of Huzurnagar. "We have no children and therefore, we consider you as our family. We've served you for the last three decades and will continue to do the same till our last breaths," he said. Listing out his achievements for Huzurnagar, he said TRS Government did nothing for Huzurnagar in the last five years, but it still expects people to vote for it.
He urged the Election Commission of India to keep an eye on the distribution of money and liquor among people by TRS party. He also asked the Congress workers to stay cautious till the end of polling.
TPCC Working President and Malkajgiri MP Revanth Reddy delivered impressive speeches exposing the failures of TRS Govt. He said TRS neither waived off crop loans, provided jobs to youth nor constructed double bedroom houses for the poor. He said there was not a single contribution that makes TRS eligible to seek votes. However, he said TRS leaders, including ministers, legislators and MPs, tried to lure the people of Huzurnagar with fake promises.
He said after initial attempts, TRS leaders realised that it was difficult to fool the people of Huzurnagar. Therefore, they later started offering money for votes. He advised the people to take whatever is being offered to them by TRS leaders, but vote for the Congress party on October 21. He said no TRS MLA was in a position to raise or resolves issues pertaining to his/her constituency. Therefore, Huzurnagar will be subjected to neglect if TRS wins the polls. He promised that the constituency would witness huge development if Uttam Padmavathi wins the bye-elections. He also promised that all three MPs of Congress party would extend their support to ensure fast pace development of Huzurnagar constituency.
Bhongir MP Komatireddy Venkatreddy said that the response to Congress campaign since the first day was tremendous. He asked the people to maintain the same momentum till the end of polling on October 21. He expressed confidence that the Congress party would win the bye-polls with a huge majority.
Meanwhile, Congress candidate Uttam Padmavathi said that her victory would signify the political empowerment of woman. She condemned CM KCR for sending a large contingent of TRS leaders just to fight a woman. She said she was contesting the elections not only to fill a vacancy in the Assembly but to fight for the rights of common people.