Frobel's School holds Kala Utsav at Malkajgiri, Hyderabad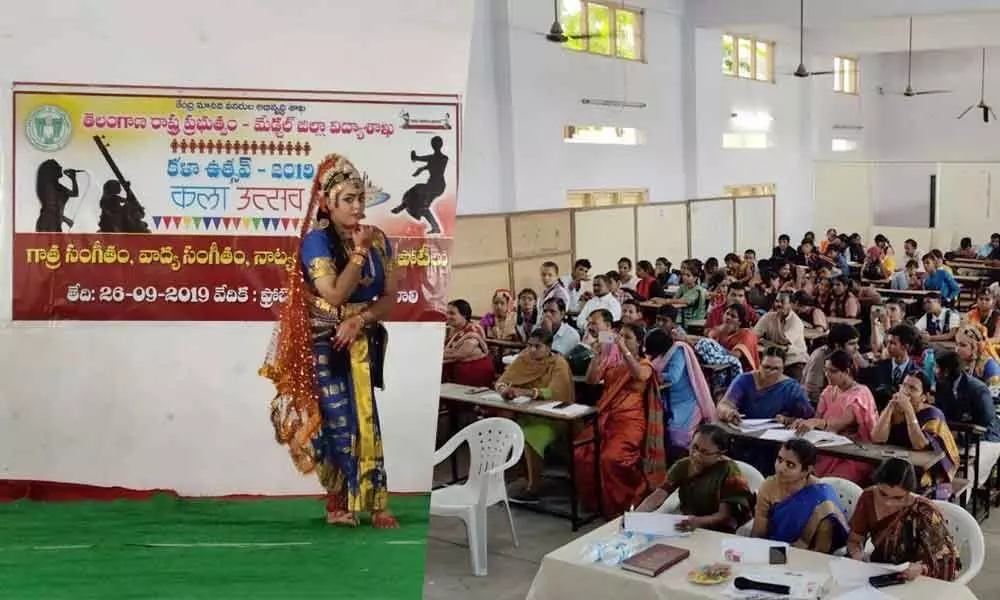 Highlights
The District Cultural Art programme was held at Frobel's Garden High School on Thursday at Malkajgiri.
Hyderabad: The District Cultural Art programme was held at Frobel's Garden High School on Thursday at Malkajgiri. Vijaya Kumari, District Education Officer and Madhana Chary, Mandal Education officer of Malkajgiri Mandal were the chief guests.
The state government had recently announced that it's mandatory to conduct Kala Utsav, the district cultural art programme. This is an opportunity to let the students come out of the stressful study routines while entering into the world of extracurricular activities.
The Telangana government has concentrated on this programme by bringing back the vocal, instrumental music, painting and dance activities which are innovative in nature including ancient arts abilities to bring out the best from the students.
The students who are selected to the Mandal level will take part in the State-level contest. The primary objective of this event is to make students learn more and more about the arts by taking steps not only through playing sports but also by engaging them in these cultural events, by chosen district candidates in the state competition to be held in Ravindra Bharathi later.
More than 60 private and government schools participated. The talented competitors presented mesmerising cultural events such as dances, instrumental music, vocal music, plays, painting, etc.
The programme was organised by P Sridhar, the Principal of the Frobel's Garden School. It aimed to bring out talents of students such as western dance, classical dance and fine arts.
This is primarily intended for the identification of students in them with halting those talents in this stage, so that the schools can be encouraged, primarily by competent respondents to display their talents.
The primary objective of this event is for students to carry out their talents themselves, encouraging the ancient arts, not only to play sports, but also to take part in these cultural activities.
This event is also aimed at organising since there are many events held by other than Telangana government, and also to introduce these activities from school events.
District Education Officer, Vijaya Kumari said 'We decide to conduct these events for a day. However, at the state level they will be conducting for two days.
I advise students to participate not just in these events but also in events conducted by school which will exhibit their talent' she added.