Hyderabad: Leopard continues to elude traps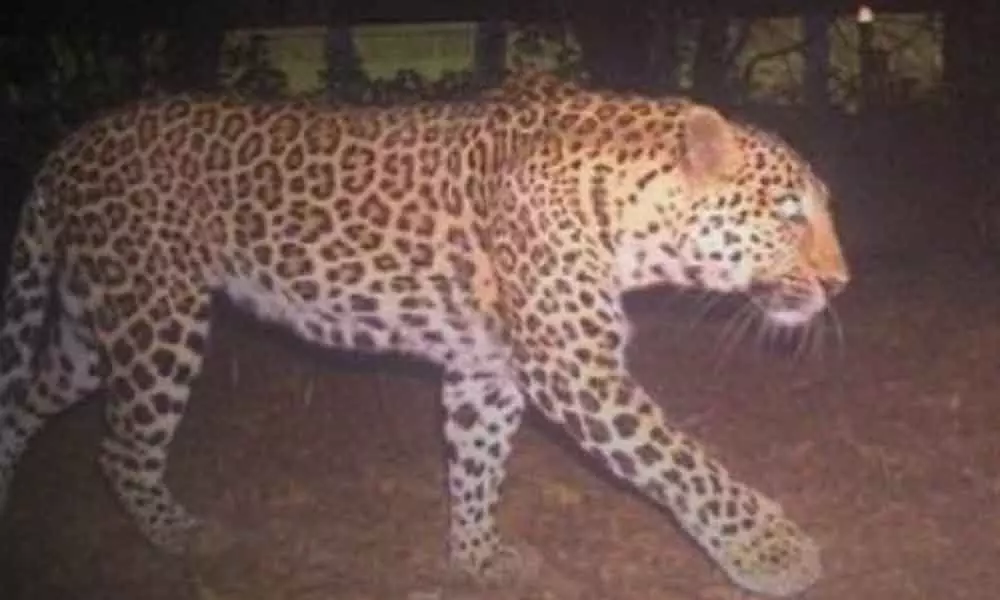 Highlights
• Reports of its prowling giving sleepless nights to residents of NAARM and NIRD campuses
• Forest teams step up efforts to catch as it keeps sneaking closer to human habitations
The green cover surrounding the institutions in Rajendranagar is inhabited by many wild boars which might be attracting the ravenous leopard. Fearing for their lives, people are confining to indoors
Hyderabad: The elusive leopard continues to give sleepless nights to employees and their families living residential quarters of National Academy of Agricultural Research Management (NAARM) and National institute of Research and Development and Panchayat Raj (NIRD-PR) under Rajendranagar area.

There are several institutions of Indian Council of Agricultural Research (ICAR) such as MANAGE, Poultry Research, NAARM, SAURGAM, Directorate of Rise Research (DRR), Grape Research Station, Veterinary University and Research facilities, National institute of Plant Health Management (NIPHM) beside Firing Range of State Police Academy.
Besides NAARM, there are over 200 families living in NIRD-PR quarters. The employee residents are living in a constant fear as reports suggest that the leopard has taken refuge in the green expanse around these institutions.
"We are living in constant fear as the leopard was seen close to our quarters twice in a week. We are confining ourselves within indoors especially at night hours as our lives are at stake. Last week the wild cat was spotted inside Agriculture University while on Tuesday night the CCTV camera caught the leopard roaming at a stone's throw away between MANAGE and the Firing Range," informed an official of NAARM.
The families of employees and officials living in 40 to 50 quarters inside NAARM are scared due to frequent spotting of wild cat.
"The green cover surrounding the institutions is inhabited by many wild boars which might be attracting the ravenous leopard. Everyone is afraid of the wild cat fearing for their lives," said the official.
In the last one week the wild cat was spotted at least two times roaming inside the premises of Agriculture University and NAARM.
Meanwhile, four teams consisting of officials from forest and police department are keeping an eye on the situation. District Forest Officer, Rangareddy district, Bheema Nayak and FDO Shamshabad Shivaiah are supervising the forest teams. CCTV cameras have been installed at several locations to spot the big cat who has been on the run since May 14 the day when the leopard spotted for the first time.
Interested in blogging for thehansindia.com? We will be happy to have you on board as a blogger.