Hyderabad: RTC clears decks for rollout of cargo services by month-end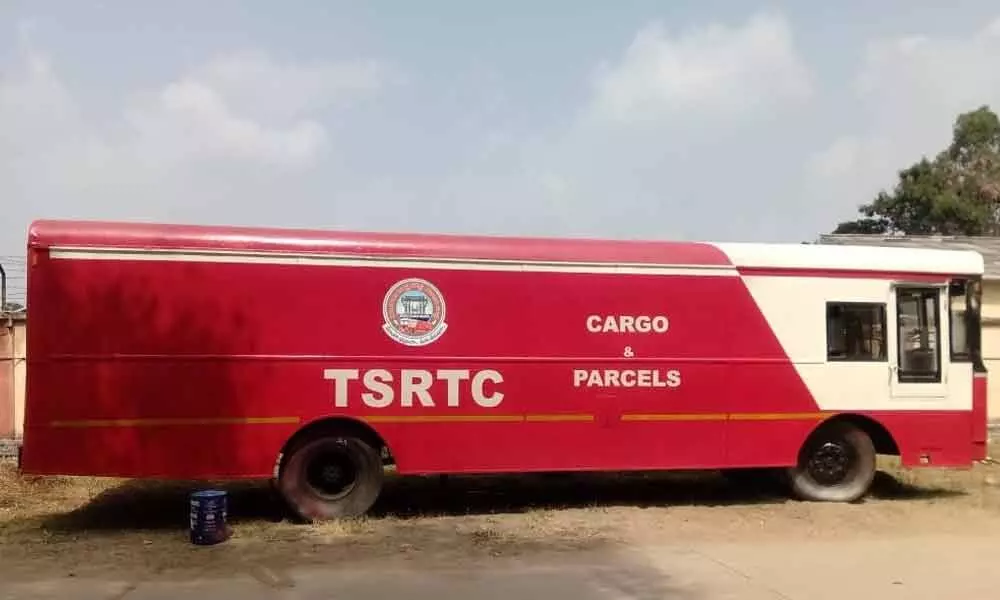 Highlights
RMs (Regional Managers) and DMs (Depot Managers) are asked not to accept any parcel from existing agency and also not to undertake any booking The corporation had planned the cargo service from April/May but it had to postpone since lockdown was imposed due to coronavirus outbreak
Hyderabad: The TSRTC is moving ahead with plans of starting cargo services by this month-end as the management has asked the regional managers of the Corporation not to take up any parcel from the existing agency SS Cargo and also to stop bookings in depots.
The State- owned TSRTC is contemplating to start cargo services in its bid to generate revenues other than tickets. The Chief Minister K Chandrashekar Rao had suggested the Corporation to start cargo stating that it had huge potential. The Chief Minister also said that the government will ensure Bathukamma saris, note books, medicine, liquor and other goods are transported by RTC. Earlier, the services were to be started from March-April but it had to postpone since the lockdown was imposed in wake of coronavirus outbreak.
The Corporation had also came up with new cargo buses. The corporation was ready with 50 buses in the first phase and also made arrangements like utilising excess staff as managers, computer operators, security guards etc. According to the officials, services of over 1,200 workers including drivers and conductors would be utilised in the Cargo services. Already, staff has been appointed for the business, and 112 personnel are being trained.
According sources, the RTC management has issued instructions to all the regional managers regarding cargo services. Until now the Corporation had M/s Sri Siddhartha Traders as the agency to oversee the transportation of parcels by the TSRTC buses in the State. The management wrote to the RMs stating that "in view of the termination of contract with the agency from June 11, officials should follow guidelines issued as part of preparatory arrangements like- not taking any new bookings from SS Traders with immediate effect."
The regional managers have also been asked not to accept any parcel, luggage from the agency. The regional managers were asked to sensitise the depot managers and also the supervisors about the changes made. Sources said that the Corporation is ready to start the logistic business by this month end and are waiting for a green signal from the government.