Hyderabad: Sigh of relief for government as junior doctors relent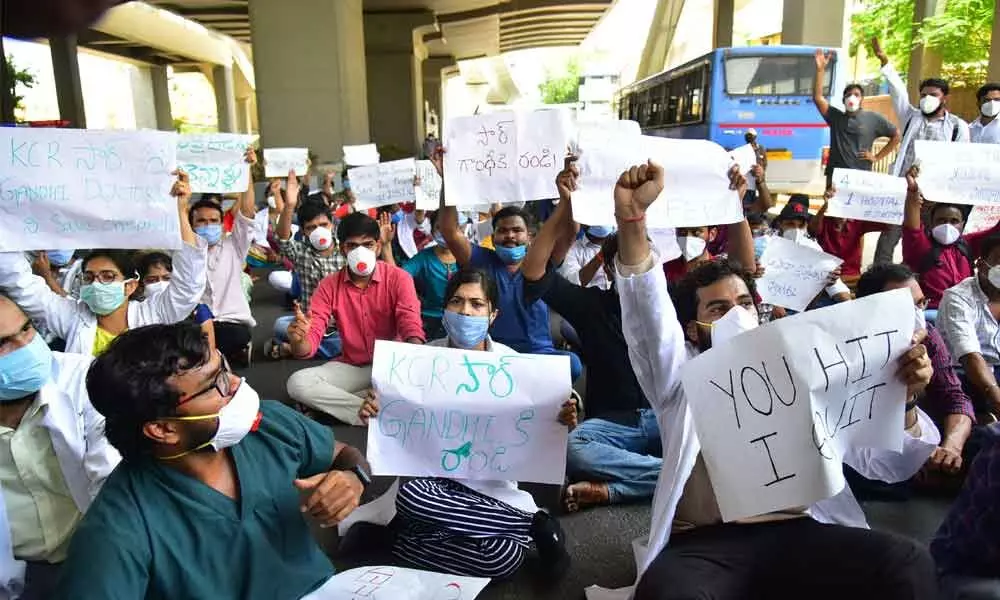 Highlights
Doctors question lopsided policy of government
Eatala assuages them to call off strike
Hyderabad: After slogging it out for the last three months on Covid-19 duties at the government-run Gandhi Hospital, about 150 junior doctors, who had played a great role as frontline warriors ever since the Covid-19 outbreak, took to protests demanding the government to decentralise the treatment process in the state.
Only one Covid hospital for four-crore population is not justified, they argued, while holding related placards during the rasta-roko staged in front of the Gandhi Hospital on Wednesday. The junior doctors who belong to various departments boycotted their duties from Tuesday night after a patient's attendants assaulted a junior doctor on duty.
Their anger was clearly visible as despite police trying to thwart their attempts, they succeeded in sitting on the road holding placards which read, 'One hospital for four crore population', 'One CM is enough for the state not one hospital', 'You hit, I quit', 'Here to serve..not to suffer', while chanting 'We want justice' and 'Raavali Raavali CM Raavali' slogans.
It may be mentioned here that at present Gandhi is the only Covid treatment hospital with all positive patients from all districts shifted here for treatment. Recently, the Health department took decision to treat mild symptomatic positive cases in district and area hospitals and shift only moderate and critical patients to Gandhi.
Dr Shashidhar from Gandhi sought to know from authorities why Gandhi is made the exclusive Covid hospital while other hospitals in the country are functioning with a Covid and Non-Covid blocks.
"There are medical colleges and teaching hospitals in the state in Warangal, Adilabad, etc, which can have COVID blocks as well so that mild cases can be treated instead of shifting them all the way to Hyderabad. This will reduce patients load on Gandhi," he said.

Dr Manoj, General Medicine PG student, felt the government lacked preparedness and they are just managing the cases with all the infrastructure at Gandhi and they don't want to send the cases outside.
"The government is over-burdening one facility with all the COVID cases. We need infrastructure, nursing staff and enough manpower to handle this big rush. Authorities have increased the 100 beds ICU ward into 300-bed ICU without recruiting any staff. With all the workload on us if some patient dies the resident doctors' lives are at stake," he said. Dr Navyadeep, General Surgery PG student, who is doing COVID-19 duty for the last three months, has not been practicing surgery as the hospital has now turned into a COVID-19 hospital. "Our careers are at stake now. We are sacrificing our lives and career here. For a surgeon, regular practice is necessary but I didn't operate in the last three months," he rued. The hospital has now made all floors in the in-patient building into a COVID ward and is ready to treat 2,150 patients, which includes 1,000 beds with oxygen facility.
Meanwhile, junior doctors expressed concern as they were not swab tested for virus infection, if any, despite being involved in Covid duties for the last three months.
With junior doctors boycotting duties except those in ICU wards, patients had a tough time. It was left to assistant professors and nurses to manage the workload.
Health Minister Eatala Rajender had called the striking junior doctors for discussions at the Secretariat. However, the striking doctors insisted that he visit the hospital personally. He came in the evening and held discussions with junior doctors in Gandhi auditorium. The Health Minister positively responded to their demands and appealed to them to call off the strike immediately.