Khammam: Rythu Bandhu Samithi performs Palabhishekam to KCR portrait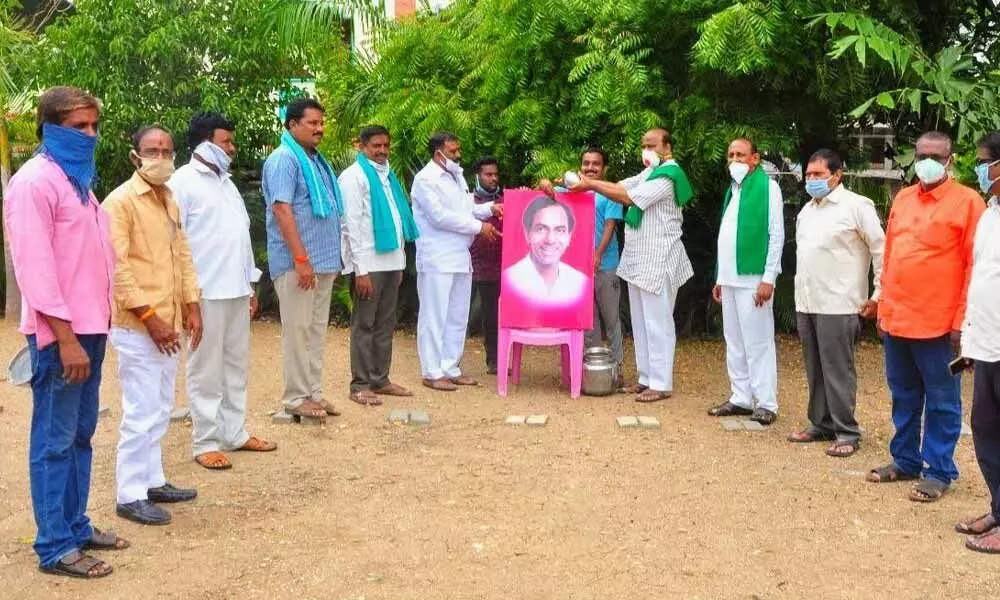 Highlights
District Rythu Bandhu Samithi thanked Chief Minister K Chandrashekar Rao for releasing funds for Rythu Bandhu scheme and directing the officials to credit farm incentive amount into the farmers' bank accounts within the next 10 days
Khammam: District Rythu Bandhu Samithi thanked Chief Minister K Chandrashekar Rao for releasing funds for Rythu Bandhu scheme and directing the officials to credit farm incentive amount into the farmers' bank accounts within the next 10 days. Showing their gratitude, Samithi district convener N Venkateswar Rao, members Mandadapu Sudhakar, M Ramesh and others performed 'palabhishekam' to the portrait of the Chief Minister here on Tuesday.

Speaking on the occasion, they said even as the entire country is facing financial crisis following coronavirus pandemic and lockdown, Chief Minister KCR had released funds for Rythu Bandhu Scheme (RBS) for monsoon.
Samithi convener Venkateswar Rao said the State government has already transferred Rs 5,500 crore into the account of Agriculture Commissioner for crediting farm assistance amount of Rs 5,000 per acre to all eligible farmers enrolled under the RBS.
The CM also assured that another Rs 1,500 crore would be released soon for the disbursement under RBS, Venkateswar Rao reminded, adding that it reflects the government's commitment towards farmers' welfare.
As suggested by the Chief Minister, farmers in the erstwhile Khammam have decided to stay away from maize crop in this agriculture season, he informed. The convener asked the farmers to make effective use of the farm incentive provided by the government for taking up cultivation and not to go to money lenders. Samithi members Ch Vijay, A Venkat Reddy, TRSV State general secretary Radam Suresh Goud and others were present.