Miryalaguda: Extend olive branch to RTC staff, Congress demands KCR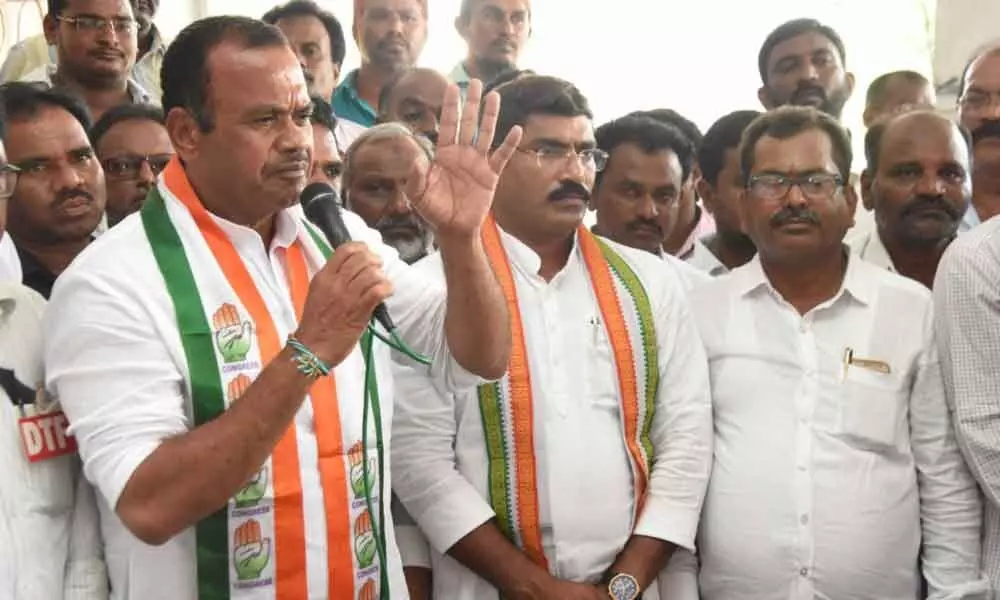 Highlights
Suggests the government to remember the role played by the Corporation employees during the separate Statehood movement and solve their issues by holding discussions in an amicable way
Miryalaguda/Nalgonda: Congress senior leader and former Minister K Jana Reddy stated that Chief Minister K Chandrashekar Rao has to keep all the promises he made to RTC workers during the Sakala Janula Samme taken up separate statehood.

On Monday, he expressed his solidarity to the RTC strike in Miryalaguda. Addressing the workers, Jana Reddy said it was the duty of everyone to save the democracy and its values.
He urged the RTC workers to not to take any extreme steps under pressure, and informed that demands should be met with peaceful agitation.
He urged the TNGOs to support the RTC workers strike to mount pressure on the government.
The veteran Congress leader suggested the State government to not to forget the key role played by the RTC staff during the Telangana agitation and remembered the promises made by the K Chandrashekar Rao to the Corporation workers at that time.
Condemning the comments made by the ruling party leaders on leaders of Opposition parties with regard to recent suicides, Jana Reddy advised the Chief Minister to hold discussions with the agitating RTC workers for an amicable solution before the protests intensify.
Similarly, Bharatiya Janata Party leader and former MP Vivek Venkataswamy expressed his solidarity to the agitating workers in Miryalaguda.
Meanwhile, Bhongir MP Komatireddy Venkat Reddy met the agitating RTC workers at the Nalgonda RTC bus stand and extended his support.
Addressing the gathering, Komatireddy alleged that the Chief Minister was eying on RTC assets and described him as a cheater. He urged the workers to not to lose confidence, and added that the Telangana people and their support was with them.