RTC Khammam region incurs 3 crore loss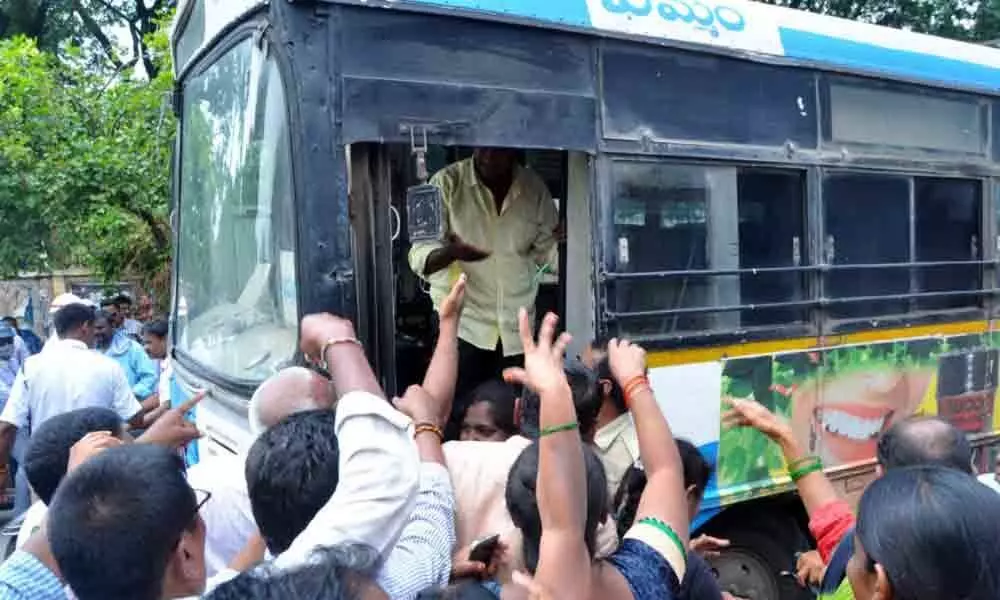 Highlights
Employees intensify protests; CPM burns CM effigy
Khammam: The third day of Telangana State Road Transport Corporation employees strike saw several protest rallies and dharnas in Khammam on Monday. The agitating staff were joined by the political leaders from all opposition parties.

On Monday early hours, all the trade unions took out a protest rally from the depot to Telangana martyrs' statue, where the employees and trade union leaders raised anti-government slogans. They stopped the buses and got into a tiff with the temporary staff. They also stopped Khammam Mayor Papalal's vehicle and raised slogans against the government. The CPM leaders, extending their support, had burnt an effigy of Chief Minister K Chandrashekar Rao at Aswaraopet. In Kothagudem, Bhadrachalam, Wyra and Madhira, the JAC leaders conducted various protest programmes against the government.
However, undeterred by the strike, the RTC officials continued their duties and provided over 60 percent services by employing drivers and conductors on temporary bases. The police also continued tight security at all depots. According to official sources, the Corporation has incurred Rs 3 crore in the Khammam region in the last three days of the strike.