Telangana BJP holds strategic meeting on winning MLC elections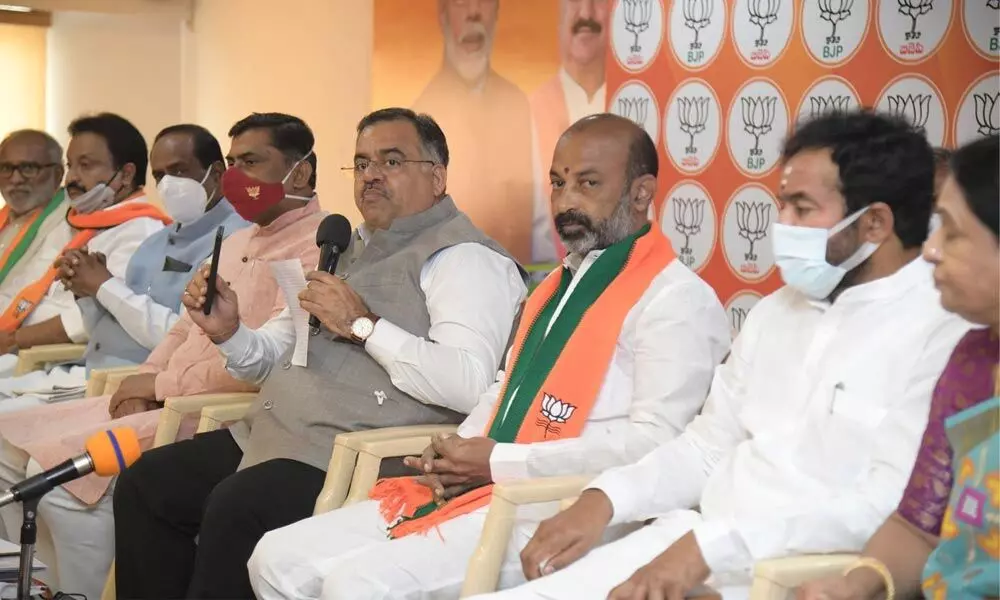 Highlights
Decides to reach out 6 lakh voters through one to one contact
The total enrolment of voters might go up to 6.2 lakh
BJP leaders allege that the TRS MLAs and leaders are being used by the TRS chief as he could not face the State BJP chief
Hyderabad: Telangana BJP on Thursday finalised its strategy to reach out about six lakh voters of the two graduate constituencies going for elections. A meeting attended by BJP national general secretary and Telangana State in-charge Tarun Chug, Union Minister of State for Home Affairs, G Kishan Reddy, BJP OBC national morcha president Dr K Laxman, State president Bandi Sanjay Kumar and 70 other leaders have deliberated on the party's strategy on winning and retaining its seats in Hyderabad-Ranga Reddy-Mahbubnagar and Nalgonda-Khammam-Warangal graduate constituency seats in the upcoming polls.
Addressing the media, party State general secretary Dugyala Pradeep Kumar said the party has completed constituting district, assembly, mandal and booth level committees.
Tarun Chug asked each of the leaders to take charge of 10 to 50 voters and keep in touch with them. To ensure people repose their trust in the party. Currently, about 5.8 lakh voters have enrolled. Out of this, the BJP and its allied organisations have caused enrollment of more than three lakh votes. The total enrolment of votes might go up to 6.2 lakh votes. The party leaders were asked to work with team spirit and to keep one to one contact with voters to encourage them to exercise their vote.
He said that the party which has taken up the cause of the students, employees, teachers would continue to agitate until they get justice. The employees, pensioners, teachers have not got PRC. Besides, there is none to address when they are taken ill, he pointed out.
Similarly, the TRS has not delivered its electoral promise to resolve the unemployment problem. Only notification is being issued and appointments are not taken care, Kumar said.
Meanwhile, the BJP leaders lashed out at TRS MLAs Balka Suman and Dasyam Vinay Bhaskar for making unacceptable remarks against their party State chief Bandi Sanjay Kumar.
Addressing the media, party State general secretary Bangaru Sruthi, State leader S Kumar, K Basha said the TRS MLAs have no standing to criticise the Karimnagar MP and Telangana BJP chief Bandi Sanjay Kumar.
Instead of making baseless allegations and accusation against TS BJP chief, they asked them to question their leader and Chief Minister K Chandrashekar Rao.
Bangaru Sruthi asked the MLA Suman to ask the TRS chief as to what had happened to the electoral promise of three acres of land distribution to the Dalits, double bedroom houses? The BJP leaders accused that TRS leaders have never raised their voices when the Dalits are being at the receiving end under the TRS rule. They alleged that the TRS MLAs and other leaders are being used by TRS chief as he could not face the State BJP chief.