Hyderabad: TSPCB conducts rally on vehicular pollution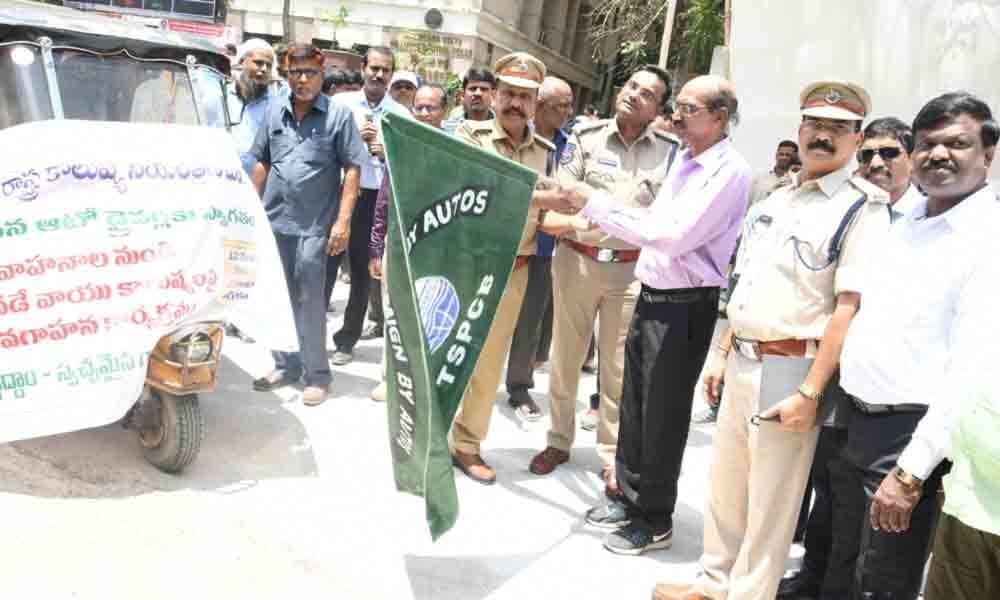 Highlights
50% of the Particulate Matter is being contributed by the vehicular emissions
Hyderabad: Telangana State Pollution Control Board on Thursday organised a rally involving more than 150 auto drivers with an objective to promote awareness on air pollution caused by the vehicles. The rally was conducted from TSPCB Sanathnagar office to Erragadda Rythu Bazaar.

V Anil Kumar, member secretary, TSPCB, addressing the auto drivers informed that about 50% of the Particulate Matter was being contributed by the vehicular emissions. The air-quality in Hyderabad was in the range of satisfactory to moderate and if proper measures were not taken, the air pollution would increase, and the air quality index may fall to poor. Anil also urged drivers to be responsible and reduce emission and prevent health issues.
Vijay Kumar, DCP, Cyberabad Zone, emphasised on regular maintenance of the vehicle in similar lines to have a cleaner air and healthier life. Further, the auto drivers shall adopt measures to improve their fuel efficiency and reduce the emissions in order to protect themselves from air pollution as they would be spending most of the time on the roads where air pollution was more.
Bapu Reddy, ACP, Bala Nagar, Traffic police, reminded citizens' duty to protect the environment. Pratap Raja, MVI, RTA, advised that all the vehicles should get their PUC verified at regular intervals as per the norms.
Mukherjee, Bhagyanagar Gas Limited and other senior officials of the TSPCB and the representative of the local GHMC corporator were present.