3 smugglers jailed for 11 years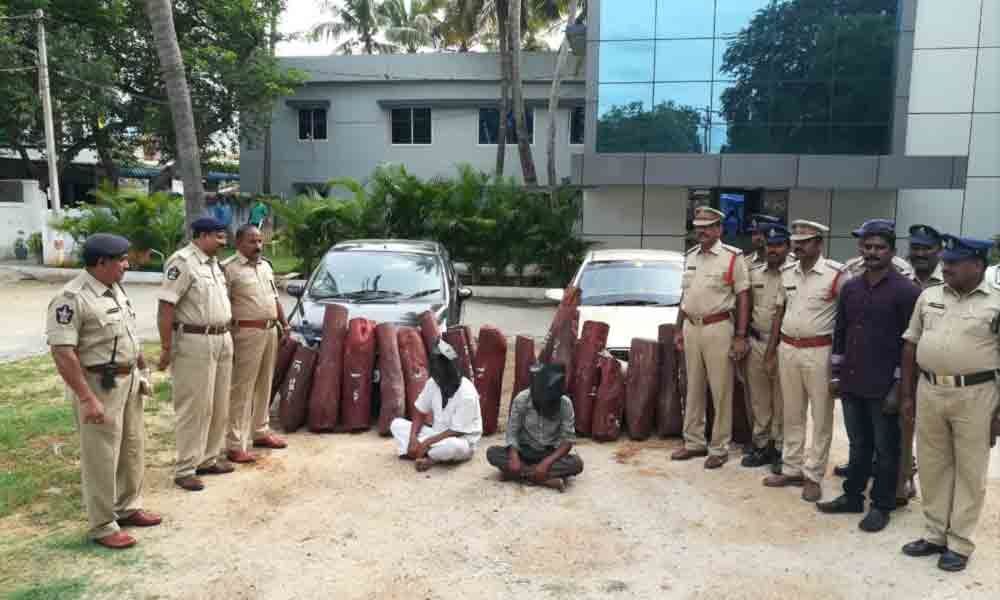 Highlights
RSASTF personnel arrested the accused on Aug 10, 2016.

Recovered 54 red sanders logs weighing 1,096 kgs from the accused.
Tirupati: In a first of its kind, three red sanders smugglers were sentenced by Principal Sessions Judge (PSJ) Court here to undergo 11 years imprisonment and also a fine of Rs 6 lakh each.

Principal Sessions Judge Edukondalu on Wednesday convicted the three smugglers from Tami Nadu for 11 years imprisonment and a fine of Rs 6 lakh each. If they fail to pay the penalty, they have to undergo imprisonment for two more years.
Disclosing the details of the case and court verdict against red sanders smugglers here on Wednesday, Red Sanders Anti-smuggling Task Force (RSASTF) in-charge head SP P Ravisankar said that the three convicted smugglers include Ponnu Swamy (39), Tirumalai (29) from Tiruvannamalai district and Kumar (27) from Dharmapuri district of Tamil Nadu.
According to prosecution, the task force personnel combing the forest in Karakambadi forest area found the trio at Muggurallathippa in Sri Venkateswara National Park (SVNP), Tirupati range and arrested them and recovered 54 red sanders logs weighing 1,096 kgs from them on August 10, 2016.
On the basis of the complaint from Deputy Range Officer L Ramaiah, cases were registered under various sections of forest act and IPC in Task Force police station here while CI Madhu Babu investigated the case for prosecution of the three smugglers. The Forest Act sections includes 32 (A), 36 (A) and 379 IPC for trespassing into reserve forest and possession of red sanders wood more than 20 kgs etc.
Public Prosecutor Venkatanarayana who filed the case in the PSJ court contented in his prosecution that the trio committed the offences including trespassing into the reserve forest, cutting and possession of red sanders logs violating the forest act, concealed the logs in the forest and tried to transport the same and also theft of red sanders wood without valid orders from the Forest department.
Upholding the public prosecutor charges against the smugglers, the Judge proclaimed five-year imprisonment and fine of Rs 3 lakh each under various sections and another five-year imprisonment and fine of Rs 3 lakh under Section 32 (A), Section 36 A to 32 (A) for possession of red sanders logs more than 20 kgs and one year imprisonment and Rs 1 lakh fine under 379 IPC section.
SP Ravisankar said that it is the second case registered by Task Force police station resulting in the conviction of red sanders smugglers and observed that the maximum punishment of 11 year imprisonment would deter the smugglers indulge in the illegal act of red sanders smuggling, the precious wood endemic to Seshachalam forests.