Air quality index reaches 'unhealthy' levels in city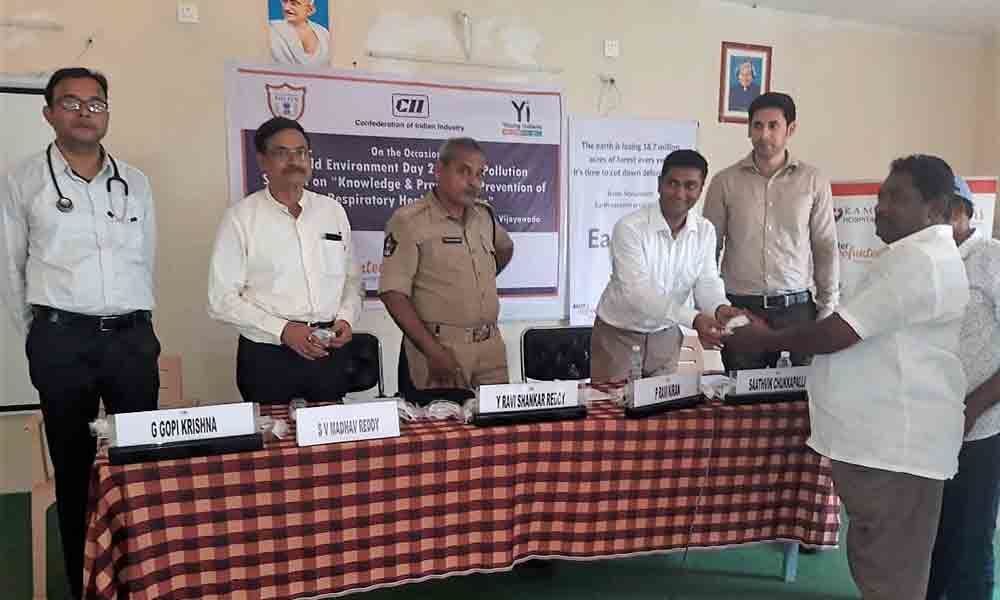 Highlights
DCP (Traffic) Y Ravi Shankar Reddy hails the efforts of CII and Ramesh Hospitals in bringing various stakeholders under single platform to address the pollution issues in the city. Says the toxic emissions from vehicles will directly affect the lungs, eyes and cause sleeplessness and asthma among the traffic police. Ramesh Hospitals conducts pulmonary function test to 70 traffic police personnel and distributed air pollution masks
Vijayawada: The traffic police personnel were the first to be affected from the increasing level of air pollution in the city, said . On the occasion of World Environment Day, CII Vijayawada Zone and Yi Amaravati-Ramesh Hospitals jointly organised an awareness programme on 'Beat Air Pollution' at KS Vyas complex, MG Road here on Wednesday. Speaking on the occasion, Ravi Shankar appreciated the efforts of CII and Ramesh Hospitals in bringing various stakeholders under single platform to address the pollution issues in the city.

He said that air quality index in the city has reached 'unhealthy' levels and crossed the national ambient air quality standards. After the announcement of capital city, the vehicular movement has increased rapidly in the last five years, he said.
The traffic policemen, who work at the busy traffic junctions get exposed to vehicular emissions directly and suffer from respiratory diseases, he said and added the carbon monoxide, carbon dioxide and sulphur dioxide, the toxic emissions from vehicles, directly impact on lungs, eyes and cause sleeplessness and asthma and respiratory problems and breathlessness among the traffic police.
CII Chairman Ravi Kiran said that the World Environment Day was celebrated every year on June 5 with an objective to create awareness on pollution issues among all sections of the people. He said that their main focus was on air pollution, which is a matter of grave concern for all. He further said that last year, the CII focused on plastic pollution hence several steps and recommendations helped in reducing the usage of plastic in the city. "The objective of our meet is to spread awareness, take necessary steps and policy recommendations as well," he added.
He said the particulate matter (PM) was 10 in the air of city which is a worrying sign and out of top 20 polluted cities in the world, 15 are in India. A report indicates, 30 years ago 80 per cent to 90 per cent of lung cancer patients were smokers and majority were male, but the recent data shows that 40 per cent of lung cancer patients were non-smokers due to air pollution and dust, he explained.
Dr G Gopi Krishna, Consultant of Pulmonary wing, Ramesh Hospitals, Group Company of Aster DM Healthcare, said air pollutants were largely caused by burning of fossil fuels for generation of electricity, transportation and heating as well as from industrial activities, poor waste management and bad agricultural practices. Simple measures like using respiratory masks, regular check on their respiratory health and shifting the staff from polluting to non-polluting areas on a rotation basis can help to avoid it, he pointed out.
On the occasion, air pollution masks were distributed and pulmonary function test (PFT) was conducted to 70 traffic police personnel.
Additional DCP-Traffic S V Madhav Reddy and Chairman, Yi Amaravati Chapter Saathvik Chukkapalli were also present.