Girl students keen to join Sri Padmavati Mahila Visvavidyalayam in Tirupati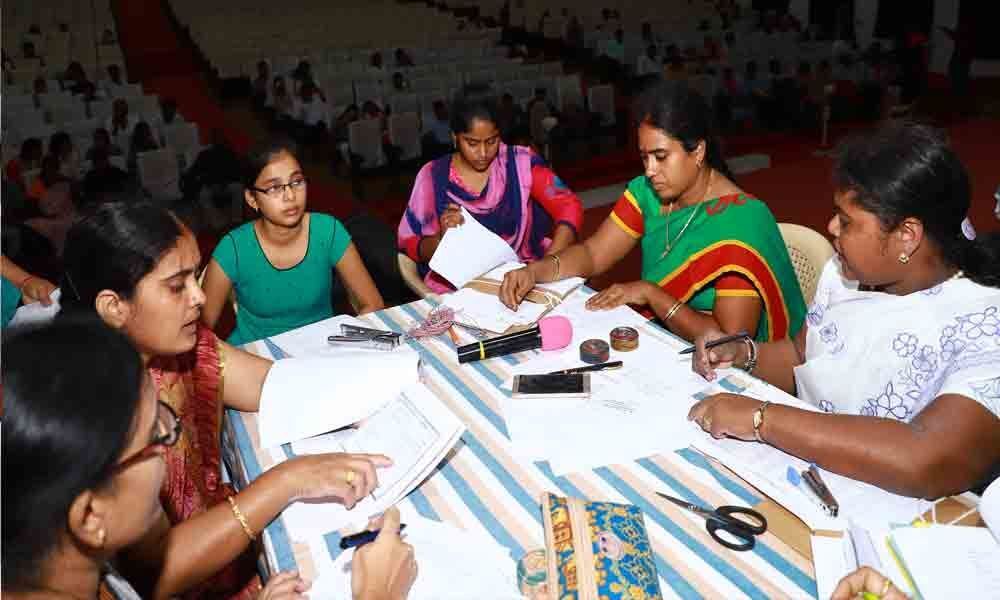 Highlights
1. They prefer the varsity as it provides pleasant and safe atmosphere to pursue higher education.
2. Counselling for admissions into PG courses begins.
3. Admissions are made based on the merit list of PGCET-2019.
Tirupati: Girl students attending the counselling for admission into PG courses in Sri Padmavati Mahila Visvavidyalayam (SPMVV) were saying that the University is their first choice to pursue higher education.
The counselling for admissions into various PG courses and diplomas has started at varsity auditorium on Wednesday and will last up to June 25. The counselling was being held at two different stages for science and humanities separately and in forenoon and afternoon session for two different subjects.
It started with admissions into MSc Biochemistry and MA English in the morning session and MSc Microbiology and English Literature in the afternoon session. Candidates, who were qualified in the PGCET-2019, have attended the counselling. The Varsity's Indira Priyadarshini Auditorium was abuzz with students and their parents. SPMVV In-charge Vice-Chancellor Prof V Uma has given the admissions allotment order to the meritorious students in those courses.
With a lot of enthusiasm, the students have expressed their wish to join the SPMVV. When The Hans India posed a question, "What prompted to choose SPMVV ahead of other universities," several of them have given the same answer that it provides them a decent and pleasant academic environment to go ahead with their higher education plans.
More importantly, the science students have been saying that SPMVV has well equipped laboratories, which are key in acquiring practical knowledge in science subjects. After due enquiries with their seniors and old students of SPMVV, they were aware of several advantages in the campus.
Unlike other universities, their class work normally will not suffer in the names of strikes or agitations and everything will go as per the academic calendar. It has conducive atmosphere to prepare for competitive examinations along with PG courses, felt some of the students. Some others felt that it has ragging free campus and provides safe and secure atmosphere for them and their parents can send them more confidently.
"The education standards of the university were also good and may give us an opportunity to pursue research in the same field here. Some of the seniors have said that we need not go out for anything as everything will be available on the campus itself," said M Vyshnavi, a student aspiring to join MSc Biochemistry and came from Nellore.
Some other candidates like B Swetha, K Indumathi, K Mamatha and several others have also expressed similar views and were confident of getting admission to fulfil their dreams. The Director of Admissions Prof P Suvarnalatha Devi has said that there was good response for admissions from students.
As the SPMVV has been in the Tenth Schedule, students from Telangana and Andhra Pradesh are eligible for joining the courses.
Those who secured more than the cut off marks can attend the counselling and admissions will be given purely on merit basis following reservation guidelines too, she clarified.