Guntur: Farmers cheer as cotton price soars in open market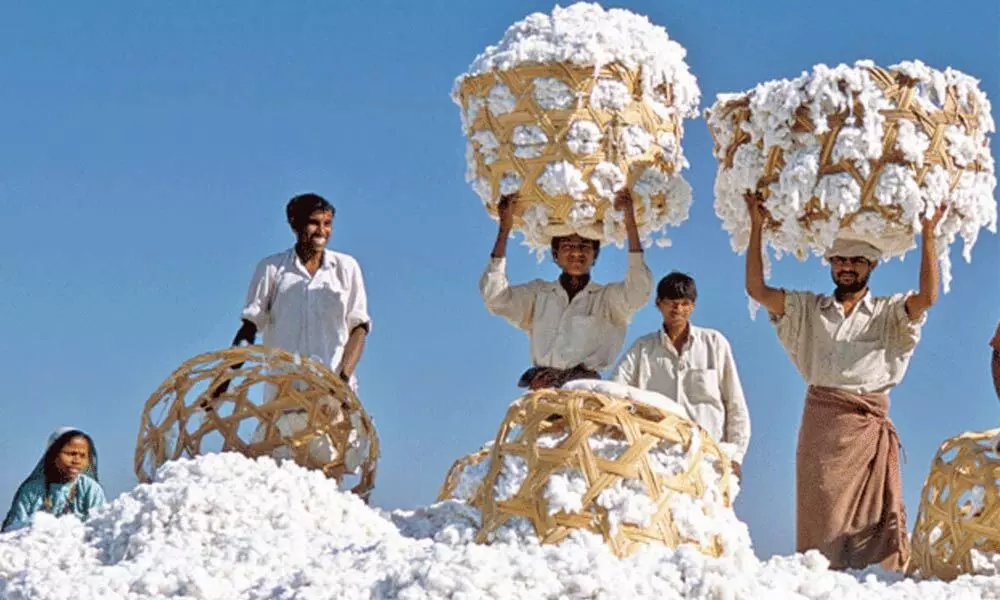 Highlights
Quality cotton fetches between Rs5,600 -Rs6,000 per quintal
The -Price is expected to increase further as demand goes up due to less production
The traders are offering better price than the one fixed by the CCI and purchasing cotton from the farmers
The farmers feel that the private traders will purchase the cotton at their doorsteps and make payment at the earliest
Guntur: In open market, cotton is being sold at prices ranging between Rs 5,600 and Rs6,000 per quintal due to increase in demand caused by reduced production. The price is expected to increase further.
While the Cotton Corporation of India has fixed Rs5,825 per quintal for quality cotton. Due to increase in demand, the traders are offering better price than the one fixed by the CCI and purchasing cotton from the farmers.The farmers are feeling that the private traders will purchase the cotton at their doorsteps and make payment at the earliest. They will save cotton stock transport cost to the yard. Taking this into consideration,the farmers are preferring to sell cotton in the open market.
According to official sources, cotton farmers switched over to chilli crop to get a better price. As a result, the cotton sowing area in the district decreased during this season. Continuous heavy rains in September and October coupled with cyclones damaged the cotton crop in the State. This resulted in damage of cotton crop. Most of the farmers got less yield and suffered heavy losses due to crop damage.
The traders offered less price for damaged yield. They offered Rs3,500 to Rs 4,500 per quintal. When most of the cotton crop was damaged, the demand increased for quality cotton in the market.The traders are purchasing quality cotton for export and keeping stocks. It is one of the reasons for increasing cotton price in the open market.
A farmer, K Sambasiva Rao of Pidiguralla said, "A few farmers will benefit due to increase of cotton price in the open market. Most of the stocks already sold. Cotton price in the open market increased after the farmers sold their cotton stocks. I have cultivated cotton in two acres. Crop damaged due to heavy rains. I got 50 percent less yield this year and suffered heavy losses."