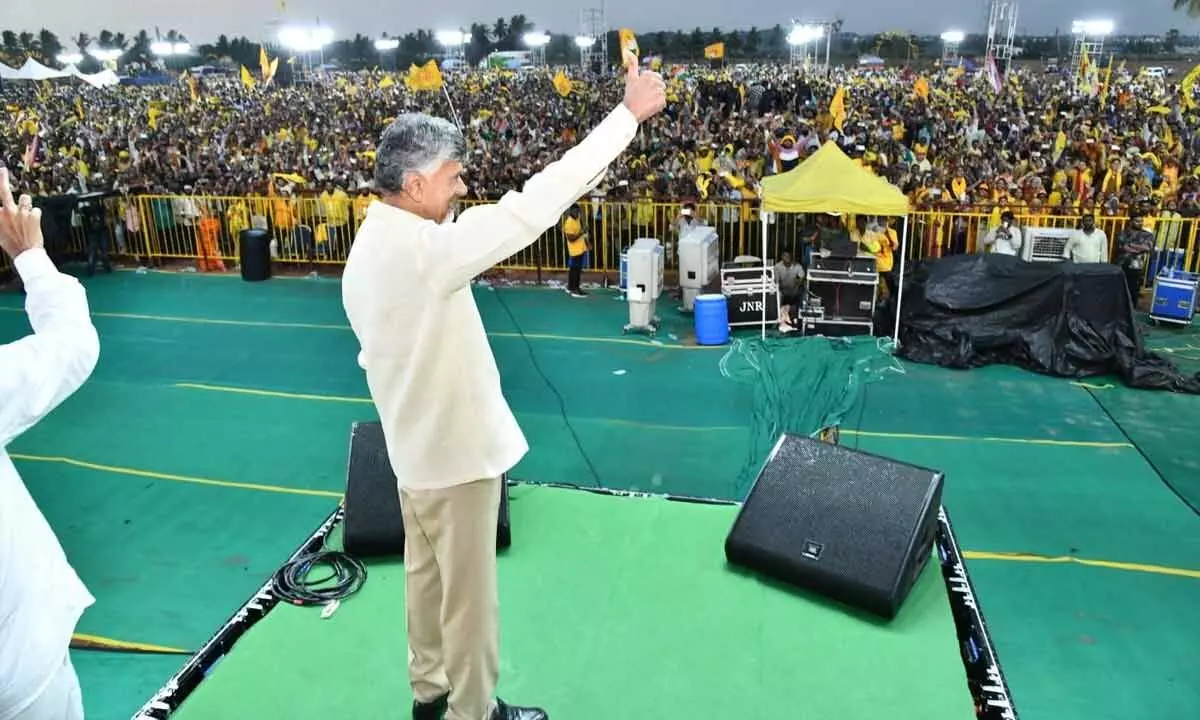 Highlights
Naidu announces many schemes
Vows to put state on growth trajectory
Rajahmundry: Blowing the poll bugle for the new battle of 'Kurukshetram,' the TDP on Sunday announced the first part of its manifesto -- 'Guarantee for the future' -- at the centenary celebrations of party founder N T Rama Rao. Amidst cheers from the people, TDP national president N Chandrababu Naidu said that he would take the responsibility of putting the state economy back on track. In order to attract women, Naidu announced Maha Shakti scheme for women. Under this scheme, the TDP would give Rs 1,500 per month for women in the age group of 18-59 years.
It would be known as 'Aada Bidda Nidhi.' Once they attain the age of 60, they would get the government pension. In five years, they would be getting Rs 90,000 in their account.
As Amma Vodi failed, the TDP would introduce 'Tall Ki Vandanam' scheme under which the mothers would be honoured with Rs 15,000 per year per child without any restriction on the number of children.
In addition, the TDP would also amend the Act and remove the clause of restriction on contesting local body elections if they have more than two children.
He further announced that the TDP would give three LPG cylinders free per year to help reduce financial burden on women. Along with that women will be entitled for free travel in RTC buses within their district. For the youth, the TDP announced creation of 20 lakh jobs in five years and till then Rs 3000 per month as unemployment dole. Naidu asked the youth not to get embroiled in politics of caste and religion. He also reiterated that 40% of seats would be given to the youth in elections.
For farmers, Naidu announced Rs 20,000 per year in addition to all the existing benefits. He said his party would convert agriculture into a profitable profession. He said a detailed programme would soon be announced.
Announcing another new programme -- 'Poor to Rich', he said special programmes under private, public partnership would be devised to see that poverty is eradicated and the state will witness new governance. Another scheme announced by the party was Tap Water to every house. He said they would also bring a special Act to protect atrocities against the BCs. Special schemes for their economic growth would also be announced soon.
Naidu said this was just the beginning and after interacting with the people of other districts, the TDP would come up with many more such schemes.