Visakhapatnam: Micro-artist eyes place in Guinness Book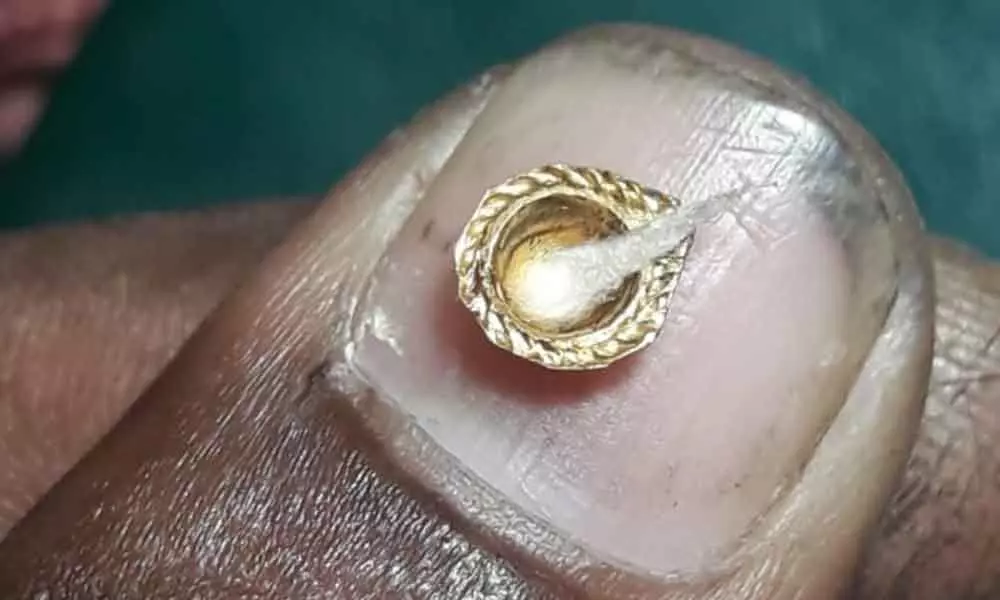 Highlights
Asks people to go for pollution-free Diwali celebrations
Visakhapatnam: It took an hour for Kottapalli Ramesh Achari to complete the designing of the tiniest 'deepam' with 22-carat gold. Just a day ahead of Diwali, he came up with this little wonder that is 6 mm wide and 2 mm long, weighing 20 mg.

"I wanted to convey a message to people to go for pollution-free celebrations and hence created it," Ramesh told The Hans India.
A goldsmith by profession, Palasa-based micro-artist is also a ventriloquist and a mimicry artiste. With his latest micro creation, Ramesh eyes Guinness Book of World Records.
Although he has found a place in Wonder Book of World Record, Bharat World Record, Golden Star World Records for smallest World cup with a ball during the ICC Cricket World Cup, he says that his dream is to gain an entry into Guinness Book of World Records.
The goldsmith, who has an experience of 25 years in the field, also gained an entry into Telugu Book of Record for designing 0.8 mm long India map and a 0.8 mm long tricolour, marking the 73rd Independence Day. "The specialty of the golden flag is that the Ashok Chakra has 24 spokes," he elaborates. Most of his golden marvels fit on a fingernail. A tiny pair of spectacles weighing 60-mg and a 100-mg logo engraved with 150 years of Gandhi's birth anniversary, Vikram lander and Pragyan (Rover) weighing 750 mg, which earned him Bravo International Book of World Records, form a part of his collection. "This way, I can add value to the line of work I am passionate about, improve speed, accuracy and preciseness in designing ornaments," says the 38-year-old goldsmith, who is adept at making chains for 'mangalasutram.' Next, he wants to gift a 0.6 mm long and one cm wide golden fan to Chief Minister Y S Jagan Mohan Reddy on his birthday falling on December 21. This tiny party symbol comes with the image of 'AP CM Jagan' engraved on it.
Subscribed Failed...
Subscribed Successfully...