Visakhapatnam: MLA Vasupalli Ganesh Kumar sells onions at subsidy in city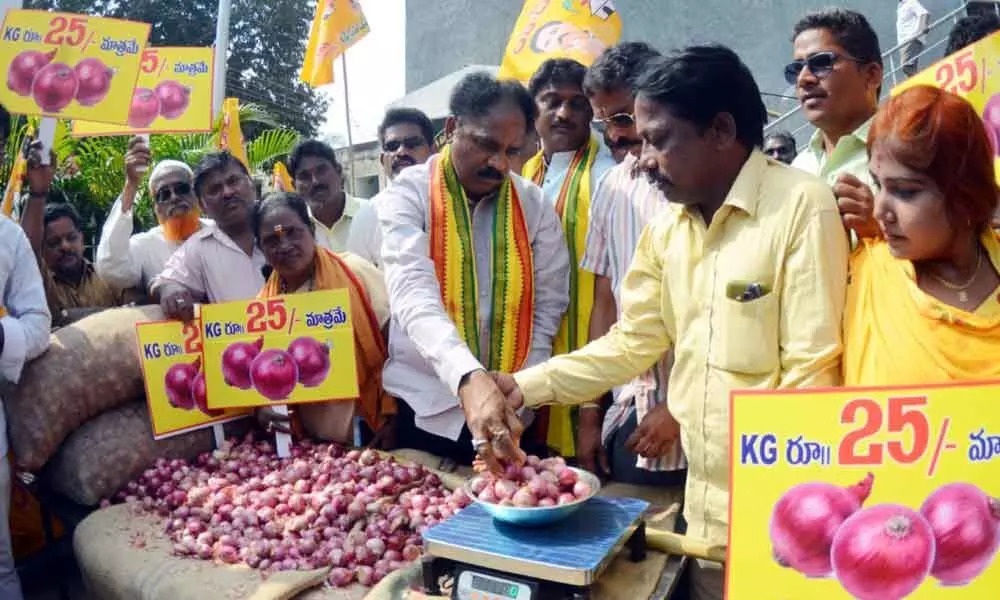 Highlights
Visakhapatnam South MLA Vasupalli Ganesh Kumar procures onions for Rs 75 and sells them at Rs 25 a kg to consumers
Visakhapatnam: Protest against soaring onion prices takes a new route on Wednesday as Visakhapatnam South MLA Vasupalli Ganesh Kumar procured onions for Rs 75 and sold them for Rs 25 a kg to consumers.

With the vegetable price continue to soar, the MLA expressed his unhappiness over the State government's failed efforts in bringing down its price for the consumers.
Speaking on the occasion, the MLA said, "The protest also aims to cater to approximately 300 families at a subsidised price. Though I bought the onions from the wholesale market for Rs 75 a kg, I sold them at Rs 25 a kilo to the consumers."
Further, the MLA stated that the quantity available at Rythu Bazaars was not sufficient and most of them were of inferior quality. "Though it is a small contribution for the looming problem, I decided to do my bit for the denizens," Ganesh Kumar said.
The subsidised onions were made available for consumers by the MLA near King George Hospital. "It is very disheartening to note that Minister for Municipal Administration and Urban Development Botcha Satyanarayana compared Amaravati with a burial ground. But in reality, the State is now turning into a graveyard and I hope the Ministers would realise it soon," he added.
After seeing the struggles of the consumers waiting in long queues, the MLA said he wanted to do his bit to help them access the most-priced vegetable.