Mukunda Foods leads in kitchen automation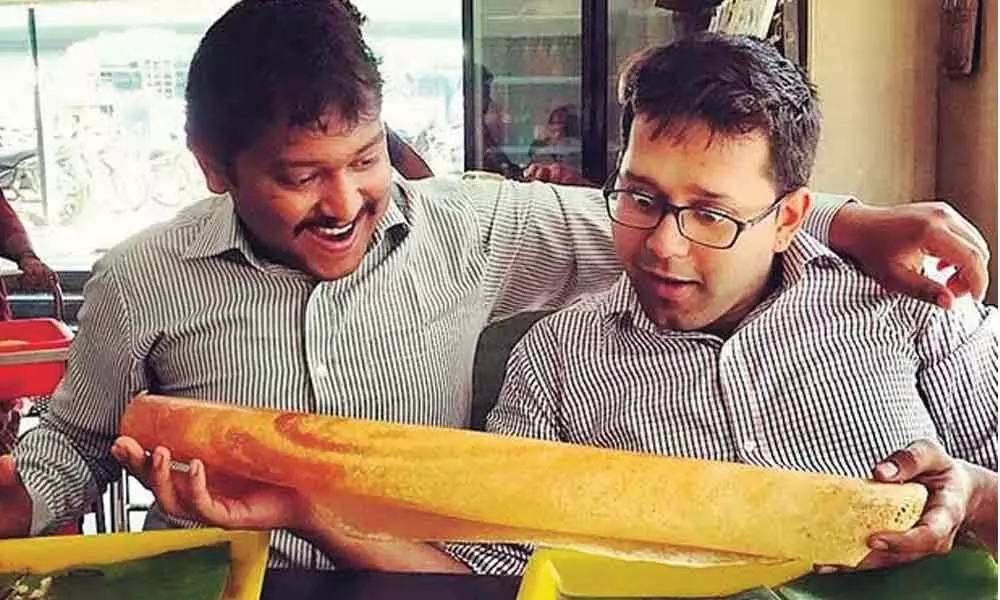 Highlights
Gone are the days of spending time kneading the dough and scraping through preparing round rotis. The smart kitchen technology is revolutionising the kitchen industry.
Gone are the days of spending time kneading the dough and scraping through preparing round rotis. The smart kitchen technology is revolutionising the kitchen industry.

Much before Eshwar Vikas and Sudeep Sabat ventured into smart kitchen technology they had started a quick service restaurant (QSR) brand with a vision to become the McDonald's of Indian food.
"But when we tried expanding more outlets, we started facing major challenges. The three challenges which we faced were: People, Product and Process.
Initially our kitchen bots were for our internal usage and thus was the birth of DosaMatic. Once we started installing, we started getting a lot of media coverage and also a lot of hotels started to inquire about commercial prices for the machine. We ended up selling 2000 units of DosaMatic in two years. This is when we realized the gap in the kitchen automation segment," explained Eshwar Vikas, co-founder of Mukunda Foods.
Considering the invention of Microwave Oven in the year 1946 and the Mechanical Wet Grinder in 1955 as trailblazing moments, Sudeep Sabat, co-founder, Mukunda Foods, opines that post that there has been hardly any real innovations.
"Where other industries are looking at 4.0, we are probably at 2.0. We at Mukunda Foods have a vision to take the kitchen automation at 4.0. We have now a range of solutions covering every aspect of cooking. We have an Automatic Eco-Fryer for frying, to an Automatic Cooking Station which can cook automatically almost all varieties of curries with world's first IOT enabled menu management. We have now an Automatic Rice Machine (RiCo). It cleans, soaks and cooks your rice as per your SOP with the traditional water dispersion method. We have technologies in making pizza, biryani, curries, flatbread and pooris," Sabat explains.
It is not that only the big restaurants are being benefited with kitchen bot the small scale eateries can also put them to use.
Vikas explains that their machine products give return on investment (RoI) in nine to 12 months.
"So far Kitchen Automation has remained a fascinating topic then being actually being used. People become amused at seeing a kitchen bot, but you don't stare at your dishwasher/washing machine as it washes your dishes/clothes in fascination, because you know it's going to work every time. Let's get robots to that stage of reliability and affordability.
Our bots are helping increase employment across the food industry. Brands are able to expand faster, hire more operators to operate the machines & scale faster due to automation.
Even street side QSR shops are using automation to add more cuisines in their outlets and are helping their revenue to increase, resulting in them opening an additional outlet," he says.
Their machines have found their way to the Rashtrapati Bhawan. The co-founders say that they are part of the Make in India initiative.
"Though we have more than 3,000 plus installations, having a machine at Rashtrapati Bhavan gives us immense satisfaction and proud feeling. In fact, we have been told that during one of the President's visits to Bulgaria, he saw our bot at one of our client's locations and ordered one for their staff. Post that we have got so much recognition including being part of the top 15 cohorts to visit TechXchange UK. We are also one of the top 10 robotics startups of India, 2020," Sabat says.
He states the Indian market is potentially the largest hub for kitchen automation.
"Initially we had to educate the benefit of kitchen automation to clients and then pitch our solutions. But post installing 3000 plus bots across 27 countries and pandemic, we are seeing more traction.
We are now going to the next stage and all our machines are connected to each other and connect to the cloud. The biggest advantage has been that our customer can sit at any corner of the world and see the machine's performance online. There have been many instances where our customers were able to add/edit menus of their food items online without any physical visit to any outlet," the co-founders say.