A startup that connects weavers to customers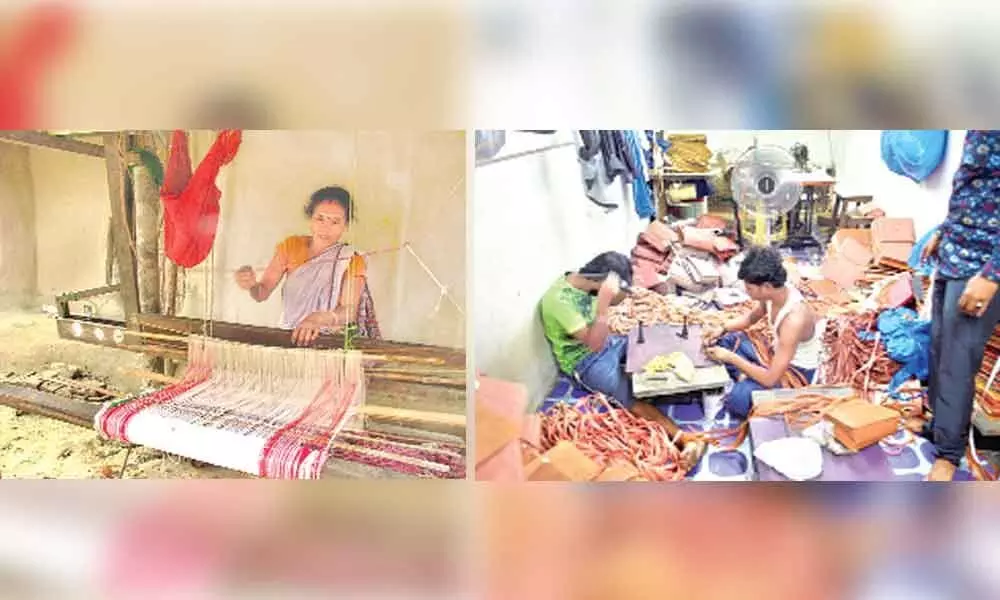 Highlights
India is endowed with rich art, culture and heritage. Representing flavours of these, deep rooted in the history of the country is sari, an attire that has strongly made its mark in the western world.
India is endowed with rich art, culture and heritage. Representing flavours of these, deep rooted in the history of the country is sari, an attire that has strongly made its mark in the western world.
Amid industrialisation, the art of making a sari has shifted from handloom to machines, making weavers to drift away from ancestral occupation to newer opportunities.
PickMyCloth, a Hyderabad-based online retail platform, is making a concerted effort to keep handlooms sector and the art of weaving alive.
NIT Warangal graduates, M Ram Kalyan, Surum Dinesh and P V Abhishek, formally launched their first startup, Native Handlooms and Handicrafts India Private Limited, as co-founders in October 2018.
Speaking with The Hans India, Kalyan, said, "While studying at NIT, I had a friend hailing from Pochampally revealing ground reality about weaver families.
We see photographs in the newspapers of government official displaying support for weavers. However, the truth is different from what we get to hear or see."
While at college, Kalyan unearthed different PhD thesis about handlooms and found out marketing as the major setback. "If a handloom weaver is able to sell his product, only then will he be able to earn money for buying more raw material so as to weave and sell.
Without marketing, the rotation cycle is hindered, leading to losses which forces weavers to give up their work and find alternatives for making a living."
First time entrepreneurs, Kalyan gained experience in the clothing segment by working for college festivals. After graduating, he ventured into research and meeting handloom weavers from different States.
During this period, he supported these weavers to make sales through offline channels, here the third co-founder Abhishek was roped in to manage cash on delivery orders and finances.
Later Kalyan realised, weavers needed technology to maintain inventory and directly upload products for speeding sales. In 2017, he and Dinesh got down to develop a seller application, now available for Android and iOS users.
From 2018, the seller app and payment gateway have been introduced, the latter being for customers.
With this application in place, a handloom weaver can maintain inventory, upload photograph directly from the phone's camera and generate labels on a product.
A customer when places an order on PickMyCloth portal, the weavers are notified about the same, who then pack the product in the packaging material provided by the startup and dispatch.
Going forward, Kalyan plans to introduce handmade packaging, while the seller app is under continuous upgrading for introducing new features.
"Being online is a different game for handloom weavers, they are able to showcase their product to buyers across the globe. In comparison to our competitors, we have been successful in introducing a seller application, while they haven't.
PickMyCloth is a platform connecting handloom weavers and buyers, whereas others are mediators following a standard process of collecting stock from the weavers (includes machine weavers), photo shooting it and then uploading products online. This means, the mediator grabs higher commission for the service provided," the co-founder informs.
PickMyCloth has a payment gateway through which customers make payments. For cash on deliveries, the startup pays these weavers and later receives the amount from the buyer. As the seller application is free to download, handloom weavers are charged five to 10 per cent on the sales made in a week.
The startup has networked with handloom weavers from Telangana, Andhra Pradesh, Bihar, West Bengal, Tamil Nadu and Maharashtra. In TS, there are six to seven handloom clusters, in AP there are around six weaver's cluster.
Under each cluster there are more than 30 handloom weavers, and over 280 uploading their product on the platform. The founders have employed one representative, also a weaver, from each handloom community.
They are trained to familiarise usage of the seller app, and further assist other weavers in utilising it. Also, these representatives check the product for quality or damages if any, before packaging and dispatching to the buyer.
The product from a new seller is first delivered to PickMyCloth office in Hyderabad and then forwarded to the customer.
On the platform, there are 12,000-13,000 products, Kalyan claims, adding that the plan is to take the count to 40,000. As he informs, handloom weaves are from Shantipur in West Bengal, available from a starting range of Rs 1,000; over Rs 2,000 is Paithani from Maharashtra, Gollabhama, Uppada, Pochampally available above Rs 7,000 are from the Telugu speaking States, Kanchipuram from Tamil Nadu is above Rs 14,000 and Patola from Gujarat is around Rs 1 lakh.
Other than sari, the platform provides dupattas, dress materials, lehengas and fabrics. Besides, the startup has an option of customising a sari based on pre-orders. Along with textile, PickMyCloth has connected with leather product makers from Dharavi in Mumbai, to provide leather bags and jackets, which are otherwise exported to different countries.
Revealing about expansion plan, Kalyan said, the aim is to onboard 7,000 – 10,000 weavers and employ more number of representatives from the weaving community by 2021. The startup is an eight-member team involving technical, operations, customer relation and weaver relation.
The co-founder said, the initial investment of Rs 4 lakh was bootstrapped, the same utilised for developing the platform, app and research.
"As a startup, we have circulated the earned revenue of Rs 30 lakh on technical and operations, it would take at least two years for us to see profits," he adds.
According to the startup, they have serviced more than 1,350 customers till date. Besides, they have seen delivery of around 1,000 products and aim to increase sales to 15,000 in next few years. Their customers are from Hyderabad, Bengaluru, Chennai and Tier 2 cities in India, along with the US, UK and Germany.
In conclusion, Kalyan said, India has over three lakh weavers and 60 – 70 variety of weaves from these clusters. "But we get to see the diverse creativity of our weavers only as filed records in books.
The need of the hour is to give life to handlooms that the current generation has quit."