Cornitos winning with flavours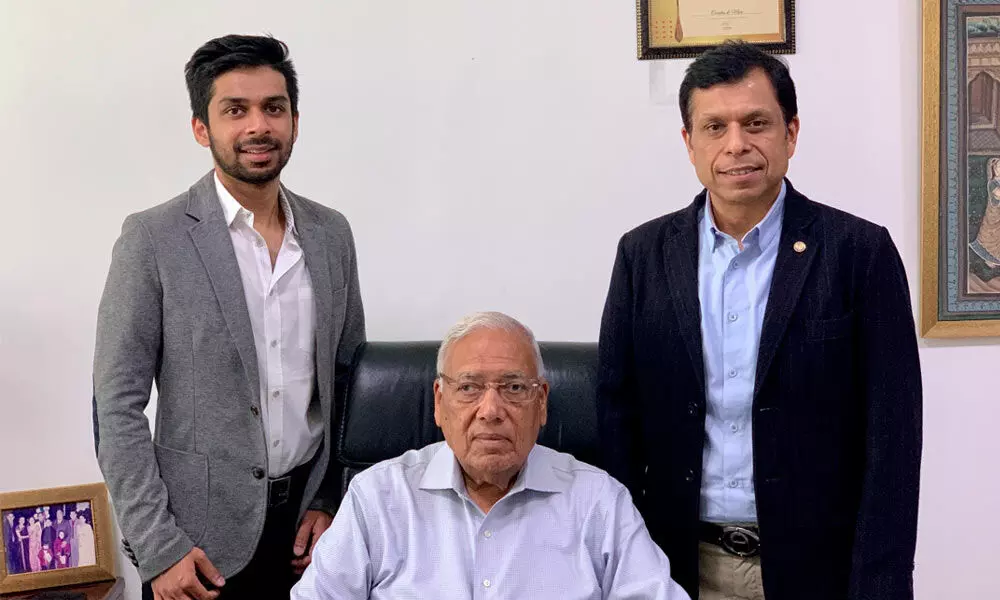 Highlights
In demand because of less added preservatives
Cornitos is a Made in India brand, which started operations in 2009. The unique flavors and healthy ingredients make Cornitos stand out amongst other brands in the market. In an exclusive interview to Bizz Buzz, Shobhit Agarwal, Director, Cornitos, unveiled how the company is winning the flavor game
What is the complete range of products in your portfolio?
Cornitos is a Made in India brand, which started operations in 2009. The unique flavors and healthy ingredients make Cornitos stand out amongst other brands in the market. The brand portfolio includes Nacho Crisps, Veggie Nachos, Taco Shells, Dips, Mexican Delights, Nuts & Seeds, Combo Packs, Festive Packs and Tortilla Wraps.
Cornitos Nacho Crisps are Gluten Free, No MSG, Cooked in Corn Oil, Zero Trans-fat Snacks. Cornitos are made by the Mexican Lime-treatment process of making traditional MASA using Stone Ground NON-GMO Corn, which is procured through contract farming. We have 11 varied flavors of Nachos which suits the Indian palate very well –Sour Cream and Onion, Peri Peri, Sizzlin Jalapeno, Cheese and Herbs, Tomato Mexicana, Tikka Masala, Sea Salt, Lime and Mint, Sweet Chili, Barbeque and Wasabi.
Cornitos innovative Veggie Nachos are with goodness of quinoa, spinach, white bean and beetroot Natural extracts blended with Corn Masa. Each vegetable gives a nutritional benefit and natural color to Nacho Crisps.
The company also sells a range of condiments. Cornitos range of Salsa Dips made from farm fresh Ingredients and is available in two flavours - Hot and Mild. Cheese Dip is available in Jalapeno flavour in 100g and 300g Jar packing.Cornitos Chunky Salsa is made with fresh Ingredients, slow-cooked in small batches to conserve flavor. Salsa is 100% Vegetarian Product with no added preservatives and moreover Gluten-free.
Cornitos Mexican delights range includes Jalapeno Peppers and Gherkins which are fresh, crispy and firm, smooth skinned Mexican pickles. They are available in Sliced and Whole variants in 180g glass Jar packing.
Cornitos Do it yourself Range product portfolio includes Bite sized, 4 inch and Bigger 6 inches Crunchy Taco Shells made of Non-GMO corn and cooked in Corn Oil. Also available Shells made of natural vegetable extract- Spinach Garlic Tacos and Beetroot Chili Tacos. Cornitos POP N Crunch range is available in Solo Daily Nutri Packs, and also available in re-sealable multi-time use packs. POP N Crunch range includes Premium handpicked, Cashews & Almonds, Long Peanuts, Roasted Pumpkin Seeds, Natural Sunflower Seeds, Party Nut Mix, Coated Green Peas, processed in latest technology through imported roasting line. Super Seeds (Seed Mix) and Roasted Corn Nuts launched in 3 flavours is in pipeline post Diwali.
For festivals and special occasions, we have innovative Gift packs that come in attractive packaging, they are - Nachos Fiesta, Party Pack, Festive Blaaast and recently launched Nuts and Seeds gift packs - Utsava and Indie Nuts.
What are the special promotions for Diwali?

Cornitos has come with the range of Innovative yet unique gifting ideas. Cornitos Gift packs are for all health-conscious consumers; looking for value without categorization. They have a holistic and exquisite packaging.
Nachos Fiesta gift pack adds a Mexican twist with exotic Nachos crisps and lip-smacking dips. Cornitos diamond shaped 'party pack' might surprise the guests with its exotic Nacho Crisps & Party Nut mix. Festive Blaaast is a pack which makes you experience the fun of firecrackers in the Cornitos way.
Cornitos Indie Nuts - The Box of Royalty is packed with Cornitos premium nuts. The pack beholds Premium range of Lightly Salted Cashews, Pepper and Herbs Cashews, Lightly Salted Almonds alongside Smoky Barbeque Cashews. Cornitos Pop N Crunch anytime and anywhere theme packs offer a unique combination of almonds, party mix, sunflower, pumpkin seeds, peanuts, almonds and coated green peas.
Cornitos introduces their Reusable Bag of Happiness- Utsava, a jute bag which gives the feel of royalty in design as well as flavors. The bags, which come in three different variants, each contain 4 Re-sealable multi-time use packs of Nuts and Seeds which are a perfect blend for party lovers, health conscious individuals and peeps who prefer luxurious taste.
Cornitos strategy behind launching products during festive season is to provide a platform for captive audiences that are ready to pick modern gift offerings which are unique and hold value proposition.
Apart from launching new packs, the festive range is being promoted on our Social media handles with engaging content.
How are your products different from other brands in the market place?

Cornitos Nacho Crisp is a Mexican snack in International flavors catering to the Indian palate. What makes Cornitos nacho crisps contra distinct is its unique flavors and healthy ingredients. It is a Gluten Free snack, cooked in Corn oil and made by the Mexican Lime-Treatment process of making traditional masa using Stone Ground non-GMO Corn. Also, consumer preference and choices are changing slowly towards healthy snacking. Gourmet food has created a new category into the domestic snack food market and there is growing acceptance for new and innovative products. Taking care of these factors Cornitos products are Non-GMO, Zero Transfat, Zero Cholesterol and High in protein and fiber with nature identical seasoning. For festive season and special occasions, there are very few brands that offer festive packs in the market and Cornitos is one of them. We have the widest range of festive gift packs this year and have also come up with environmentally friendly themed jute bag gift packs that have immunity booster products.
Are your products available pan India? Any exports?

Cornitos has an extensive distribution network across Pan India. Complete Range of Products available in Retail, E-Retail and Modern Trade stores. Institutional sales across through Airlines, Horeca, Multiplexes and Cafes. Cornitos products are exported globally, to over 30 countries - Canada, Australia, UK, Middle east and South East Asia to name a few.
How prospective is the Indian marketplace?

The Indian Market place is quite promising and is a growing market for new flavors of snack. With time, we have observed tremendous changes in the market. The changing tastes of the Millennials and the emerging health trends, the consumer is willing to experiment and has become receptive to fresher, newer ideas. A number of factors like mass media, social media and frequent international vacations, have become the catalysts for fostering these changes. These platforms are introducing the Indian taste buds to new global delicacies and flavours and gaining access to information about them is just a click away.
Consumer preference and choices are changing slowly. This is evident from the fact that earlier nachos and similar products were displayed alongside international gourmet products by modern trade channels. Now this has changed, and these products are displayed alongside domestic chips and other snack products. This clearly shows that gourmet food has moved into the domestic snack food category and there is a growing acceptance for new and innovative products.
What are the challenges you face for your brands?

During pandemic, we faced operational difficulties on multiple fronts Labour, Raw Materials, Transportation and dip in sales. In a post lockdown scenario we hope for a revival of demand and in-home consumption, so we need to focus on establishing new benchmarks, new strategies with long term planning.
An integral challenge currently is linking the broken supply chain and procure raw material. Production unit is bringing process efficiency at micro level through cost control on consumables, controlling process waste, process automation, ensuring breakdown prevention and increasing production efficiency.
We are ensuring availability of our products to boost sales. We have strengthened use of digital technology around customers, employees and business operations. Cornitos Social Media handles are being used for digital marketing, online services and e-commerce. Cornitos has recently launched e-commerce website https:// shop.cornitos.in/ as part of our Post covid strategy.