Put writers shifting to higher bands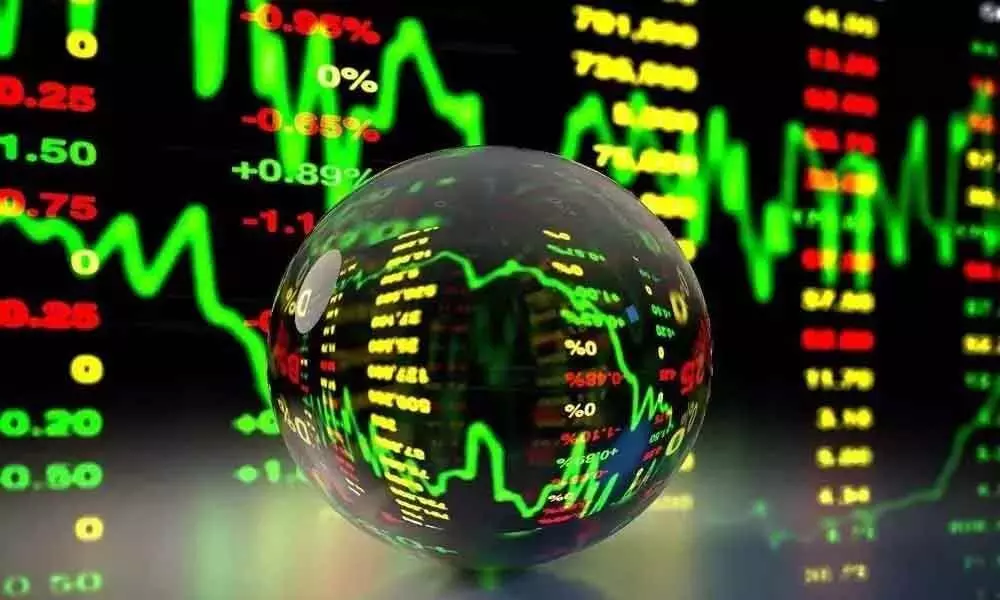 Highlights
Implied Volatility of Calls at 19.76%, for Put options at 20.34%; Nifty VIX at 21.10% may remain volatile
Highest Open Interest (OI) addition was concentrated at same strike i.e. 14,000 points, while second highest OI addition on Call side is at 14,200 strike and at 13,900 on Put side. This is suggesting a narrow range of trading movement for the week ahead, observe derivatives analysts.

Dhirender Singh Bisht, senior research analyst (derivatives) at SMC Global Securities Ltd, said: "From derivatives front, Put writers were seen shifting towards higher bands, while Call writers at 14,000 strike unwind the positions."
The 14,000 strike has highest Call OI of 27.80 lakh contracts followed by 14,200 strike, which witnessed Call OI build-up of 12.76 lakh contracts, with 27.03 lakh contracts, 14300 strike, which also recorded maximum addition of Call OI (13.13 lakh contracts), with 25.85 lakh contracts and 14,500 strike with 20.75 lakh contracts. 14,700 /14,500/14,000/14,800 strikes recorded reasonable addition of Call OI.
Coming to Put side, highest concentration of OI (25.22 lakh contracts) recorded at 14,000 strike, which also witnessed maximum Put OI addition of 12.16 lakh contracts, followed by 13,900 strike, which recorded Put OI build-up of 6.70 lakh contracts, with 20.89 lakh contracts, 13000 strike with 18.54 lakh contracts and 13,700 strike with 18.04 lakh contracts. Further, 13,900/ 13,800/ 13,700/ 13,000 strikes recorded modest Put OI addition.
"Indian markets welcomed 2021 with a positive note as Nifty closed above 14,000 level for the first time as stocks across the sectors cheered with mid and small-cap stocks at the forefront. First Day of the New Year buoyed by record GST collections along with consistent foreign inflows," remarked Bisht. Based on the options data, Nifty recorded continued long rollover for the third consecutive month. Majority of the upmove included a mixed bag of short covering and long addition as expiry-on-expiry. The Nifty OI rose just five per cent. The rollover was 75.94 per cent as against the three-month average of 75.59 per cent with positive rollover cost of 35 points indicating majority of the long positions got carried forward to the January F&O series.
The Nifty futures began the January futures and options (F&O) series with an Open Interest of 1.27 crore shares versus 1.20 crore shares. Nifty rollover to January month was at 75.94 per cent versus 78.68 per cent. The market-wide rollover was 91.90 per cent versus 93.28 per cent.
According to the derivatives data from Sharekhan.com, FIIs were net long in index futures throughout the December series. FIIs are also net long in index futures with around 69,522 contracts and they have carried forward more longs compared to short index futures.
Bisht forecasts: "From technical front, the markets are seen trading in a rising channel with formation of higher bottoms which suggest that bulls are likely to remain on front foot in upcoming sessions. It is expected that as far Nifty is trading above 13,800 levels, the bias is likely to remain bullish. However, if any dip into the prices is witnessed on back of profit booking, traders should use it to create fresh longs."
"The Implied Volatility of Calls closed at 19.76 per cent, while that for Put options closed at 20.34 per cent. The Nifty VIX for the week closed at 21.10 per cent and is expected to remain volatile. Put-Call ratio of OI for the week closed at 1.47."
Bank Nifty
The NSE's banking index Bank Nifty closed at 31,225.85 points, a net gain of 823.65 points or 2.70 per cent from 30,402.20 points. Bank Nifty January month rollover was 78.13 per cent versus 79.35 per cent. For the December series, Bank Nifty gained about six per cent, however, Open Interest decreased by one per cent. The Bank Nifty concluded the December F&O series above its major Call base of 31,000 strike as short covering was experienced across the board. The NSE's banking index relatively underperformed the Nifty during November as other sectors took the lead. Analysts believe the current trend of underperformance may continue and the price ratio of Bank Nifty-Nifty may move towards 2.20 in coming days.
As per the ICICI Direct.com, the Call OI base is relatively higher than the Put OI base suggesting some intermediate consolidation in the index. Similarly, the Put base is also placed at the 31,000 strike. Derivatives analysts predict a range bound move in the near term.