Salom power solutions to enter Indian market creating 800 employment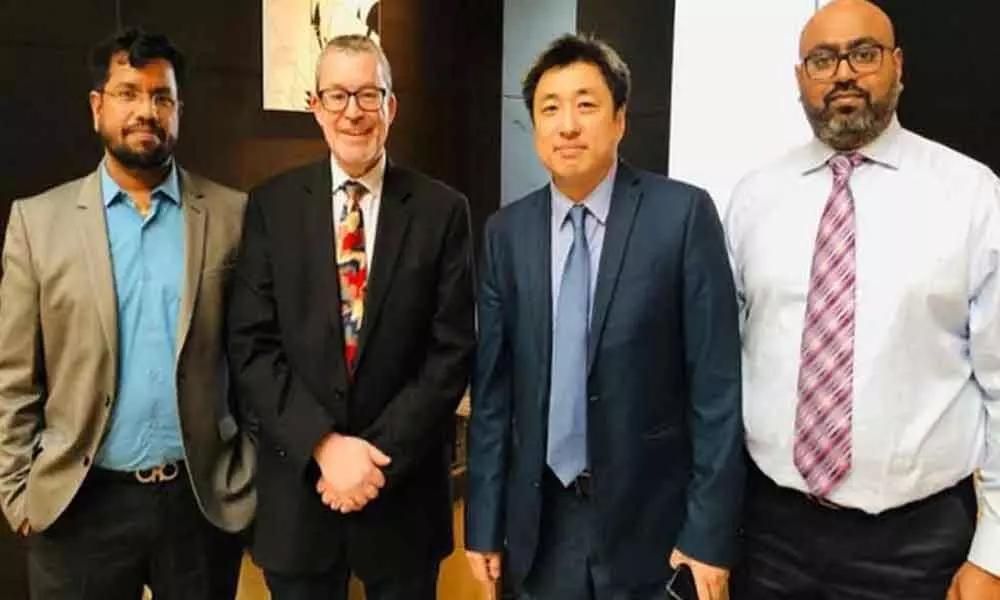 Highlights
Chinese power solutions manufacturer Salom is all set to make its entry in the Indian market.
Chinese power solutions manufacturer Salom is all set to make its entry in the Indian market. For over 50 years, Salom has become a brand behind the brand for many Fortune 100 companies worldwide.
Salom products are seen in almost every household and offices powering smartphones, shavers, portable wi-fi routers, walkie-talkies, set-top boxes, vacuum cleaners, and many more.
With its headquarters located at Xiamen city which is in South-East China and after expanding its production facility to Brazil and Indonesia, now Salom eyes on the Indian market.
As part of the expansion process, the Salom's Chief Operating Officer Kiff Wang, India-US President Leo Yaus, Chanaka Tillakaratna (BDM Europe/Asia), and AS Rajkumar (Director) were in Hyderabad. On this occasion, Salom team has received a grand welcome at Park Hyatt here in the city, where they exclusively spoke with The Hans India and shared their views.
Q. What's the impact of Covid-19 on China manufacturing sector and how it opened doors to India?
Kiff Wang: We been committed and had the concept of India since 2017. So India was already attractive to us. But there have been two important events since then which only underscored the correctness of our decision back in 2017.
The first one was the creation of tariff from the Modi's government to restrict items coming in from China. Not that they can't come in, but a significant tariff must be paid on them. So this created a strong incentive for us to have local manufacturing.
Then the second event is the Covid-19 phenomenon that the world is seeing right now, and we don't yet know how long it going to last or what the long term effects will be. But one thing we do know for sure that this made many multinational companies think very seriously about reducing their risk by having at least some significant fraction of their manufacturing in someplace other than China.
We are well-positioned as a company to help them whether it is manufacturing in India, Brazil, China or in Indonesia we would be manufacturing in all four locations. So we are in an ideal partner for these multinational companies.
Q. About Salom and its turnover?
Kiff Wang: We are USD 200 million turnover company right now, we serve customers on all continents, we are a 50-year-old company, and core competence is wall plugin power supplies. It might be the charger for your mobile phones, power supply for a modem, a setup box, or a wifi router. We have a wide variety of applications for all kind of products that's our core expertise.
Q. Amid of US-China trade war, how do you see Trump-Modi friendship?
Leo Yaus: Well, I think a lot of labels are incorrect. Yes, it's called a trade war, but it is not the name that was chosen by China President, Trump, or Modi. This name is being applied by the media. Media are responsible for the name trade war.
So, yes its is something that relatively new phenomenon we had a lot of free trade agreements in the past, but it's time for a market correction on this type of thing. We see movements towards nationalism. Trump prefers to have "make America great again" policy.
The present Modi's government is imposing tariffs on products that would be coming in from China to cause India to be more motivated for local manufacturing. The European Union has its own tariffs and Japan has the tariffs of its own it's not really just about Trump and China President. So this is a good thing. Now eventually we would like to see these types of barriers, tariffs and things go away and the only way that they could go way is by having bilateral agreements.
I think it's a wonderful thing that Trump and Modi have decided to get together like this and I am so grateful that the nation of India received our President Trump so well and if you notice at their press conference that followed they have a graphic on the backdrop that graphic showed partly the American and partly Indian flags and above it had the words 'Enduring Friendship, and down at the bottom Boundless Commitment' I agree with it and happy to see it.
Q. Does Salom's supply chain got effected due to Covid-19 phenomenon in China?
Chanaka Tillakaratna: Well, we would like things to continue in China as they have been and certainly the Covid-19 phenomenon is something affecting us right now in the short term and would be a couple of main effects of it.
Every year, China goes on Chines new year holiday, it's like two weeks long vacation. Covid-19 happened on the new year, and one of the first effects was that the China government required us to extend our Chines new year holidays and make it last for a longer period of time.
The next way was that it was much slower for the labour force to return to work because many of these people travel some distance to go home to see the family during the holidays and there is always some delay in coming back, but this year it's a much longer delay, so these are the primary effects. We gonna have the shortage of materials, well the business and our suppliers we stabilized following this event.
Q. How Salom's India expansion is going happen initially?
Rajkumar: We will be setting up an office in Hyderabad with the staff to manage our local business. Right now we don't have any plans to up brick a factory of our own, instead, we will work with existing companies here in India to help us in our manufacturing. However, we do plan to establish an R&D (Research & Development) team here in India to take good of intellect and capabilities of the fine people of the country.
Moreover, in the coming weeks, we are going to have a signing-in ceremony with a leading electronics company here, and this initiation is going to create employment opportunities for more than 800 youth.