Mem Famous: Sumanth And Sharath Chandra Thank Rajamouli For His Review And Are On Cloud Nine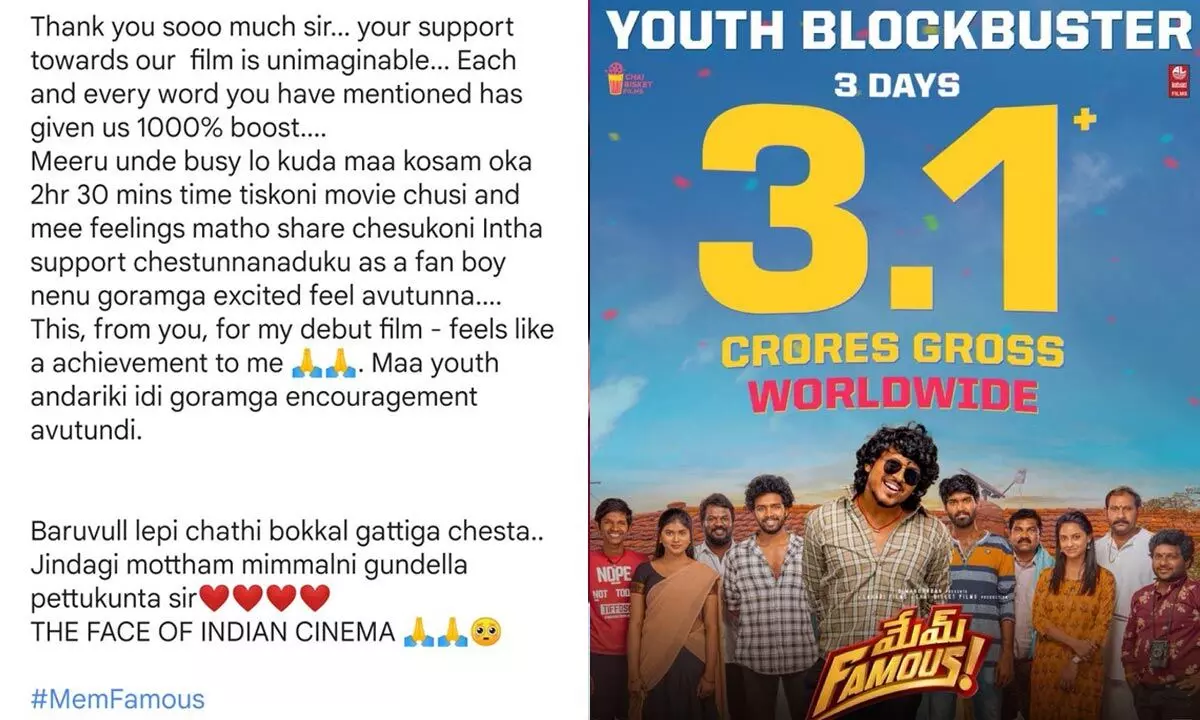 Highlights
SS Rajamouli and Kaala Bhairava praise Mem Famous movie and drop their review on social media!
Even producer Sharath and lead actor Sumanth thank the ace filmmaker for dropping their review of Mem Famous!
Sumanth Prabhas and Sharath Chandra's Mem Famous movie is not only running successfully in the theatres but also winning the hearts of ace film stars. Already Mahesh Babu dropped his review and praised the young talent and now even SS Rajamouli joined the bandwagon. Sumanth and Sharath who always stays active on social media thanked Rajamouli and are on cloud nine with his appreciation.
Sumanth Prabhas
His post reads, "Thank you sooo much sir... your support towards our film is unimaginable... Each and every word you have mentioned has given us 1000% boost.... Meeru unde busy lo kuda maa kosam oka 2hr 30 mins time tiskoni movie chusi and mee feelings matho share chesukoni Intha support chestunnanaduku as a fan boy nenu goramga excited feel avutunna.... This, from you, for my debut film - feels like a achievement to me. Maa youth andariki idi goramga encouragement avutundi. Baruvull lepi chathi bokkal gattiga chesta.. Jindagi mottham mimmalni gundella pettukunta sir. THE FACE OF INDIAN CINEMAA #MemFamous".
Sharath Chandra
He replied to SS Rajamouli's post and wrote, "Sirrr!!! Idi kalaa nijamaa annattundi. What a pleasant surprise!!!! We are overjoyed and on cloud 9 sir. Means a lottt - no looking back for our young team after these words of encouragement from you sir."
SS Rajamouli's tweet reads, "After a long time thoroughly enjoyed a film in the theatre. Watch out for this guy Sumanth. He has a bright future both as an actor and director. All the characters were nicely etched and actors performed naturally. Especially Anji mama. Highly recommend it to everyone. Youth ni encourage cheyyale. Dham dham cheyyoddhu. #MemFamous".
Even Kaala Bhairava also shared his review and praised Sumanth and his team for their wonderful work…
His tweet reads, "Watched a beauty called #MemFamous it's the most heartwarming movie I've watched in a long time. I found myself smiling and experiencing pure joy throughout the entire movie. The characters, writing, the performances, the music, songs very thing were just so soulful! esp.. Anji Mamaa. For those who haven't watched it yet, you're seriously missing something amazingly beautiful! Congratulations to the whole team of #MemFamous for the BLOCKBUSTER".
Speaking about Mem Famous collections, within 3 days, the movie minted Rs 3.1 crores at the box office.
Mem Famous movie is directed by debut filmmaker Sumanth Prabhas who is also playing the lead role in this movie. It also has Mani Aegurla, Mourya Chowdary, Saarya, and Siri Raasi in prominent roles. This movie is produced by Anurag Reddy, Sharath, and Chandru Manoharan under the Chai Bisket Films banner. It was released on 26th May, 2023 and is running successfully in the theatres.