A clear mandate for performance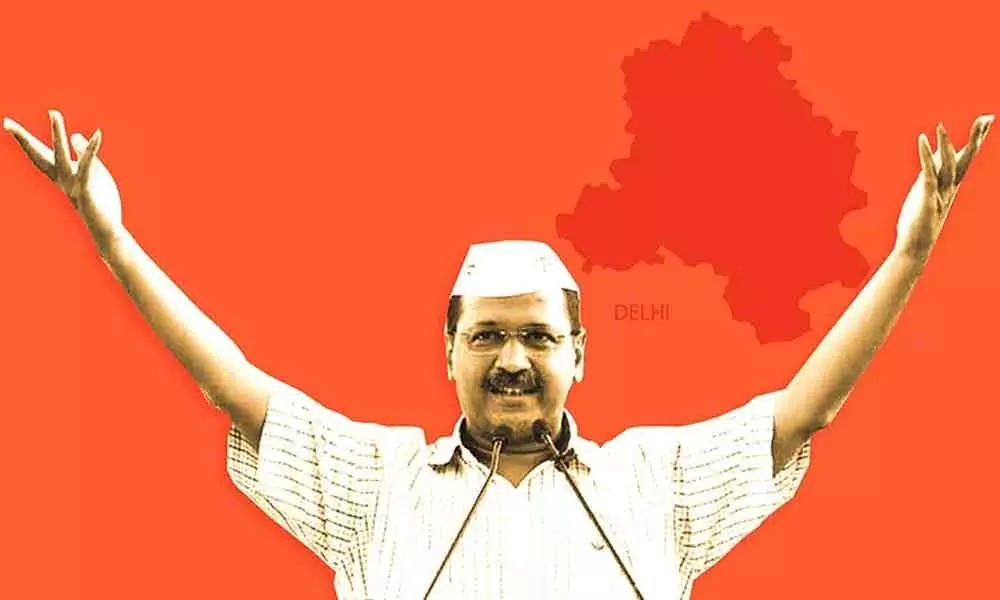 Highlights
Encomiums are raining on the Delhi voters for the 'Disha Nirdeshan' they have done for the country through these Assembly elections.
Encomiums are raining on the Delhi voters for the 'Disha Nirdeshan' they have done for the country through these Assembly elections. Before analysing or evaluating what has happened we must recall, what Aravind Kejriwal has said before his victory lap while addressing a vast gathering of people at his party headquarters.
'Kaam ki Rajneeti" has won as humbly preferred to say seeking the blessings of the people the next five years to continue the good work.
Aam Aadmi or the 'Mango People' as Robert Vadra once derisively termed, are simple down-to-earth bunch of people in this country. They are hardworking and honest. They seek a little bit more of money and a little bit less pain in daily life.
But, if their hard work and prayers do not give them back what they deserve, they continue to smile and continue their hard work. They don't want any grandiose plan and talk or seek what is not theirs. Freebies are welcome and there is nothing wrong with them because they are paying taxes anyway. So, if the government gives them back something, they are happy with it.
This Aam Aadmi of Delhi is usually a middle class or lower middle class or even poorer section of the society which does not grudge his city's billionaires or the rich and the powerful. All these years he did not have an alternative and hence confused.
Provide him with a clear alternative, he does not hesitate to join hands with it. He may be called a Hindu, Sikh, Isaai or Muslim, his needs remain the same. 'Roti, Kapda aur,Makaan', "Bijli, Paani aur, Sadak" and a good 'Aspatal' to treat him in times of need. If you throw in decent roads, a metro and free bus ride in addition? Well, he loves it. And Delhi loved it in the last five years.
Arvind Kejriwal is intelligent enough to understand it and he talked about yet another chance to continue his good work. Not only that, he also urged people of "BJP, Congress or Left" to remain loyal to their parties to vote for AAP for development. "There is no other 'muddha' he had reiterated. Voters reasoned and said 'well, he is right'. That is it. A commoner does what is common to sense.
As for the BJP, it can take some credit in raising its numbers a bit and the increased vote share too. Victory may have been marginal on several seats. After all, Delhi had returned all the seven MP contestants of the party to power in 2019. It was a time when a larger picture of the nation was looming.
Delhi gave itself a government and was happy with it in 2015. So in 2019, it was all Modi. It happened in Rajasthan, Madhya Pradesh and Chhattisgarh later. There is two-tier outlook of the nation. One is confined to the 'local and the now factor' and the other is for the "future and the long run". It makes sense. This is some Presidential form of thinking.
This has to lead to some introspection among the BJP. This 'Zinda Tilismath, Har marz Ka Ilaaj' concept does not work. Narendra Modi meant a difference in 2014 and 2019. He should know why. As for the also rans.... Let dynasties run their families.
There is no longer any need to run the nation. Once it was fight between Congress and others. The others became regional parties and became the other Congress in different States. We shall see the other Congress taking on the BJP in future. The message: "Aam Aadmi ka Haath, Vikas ke Saath".