Preserving the moving heritage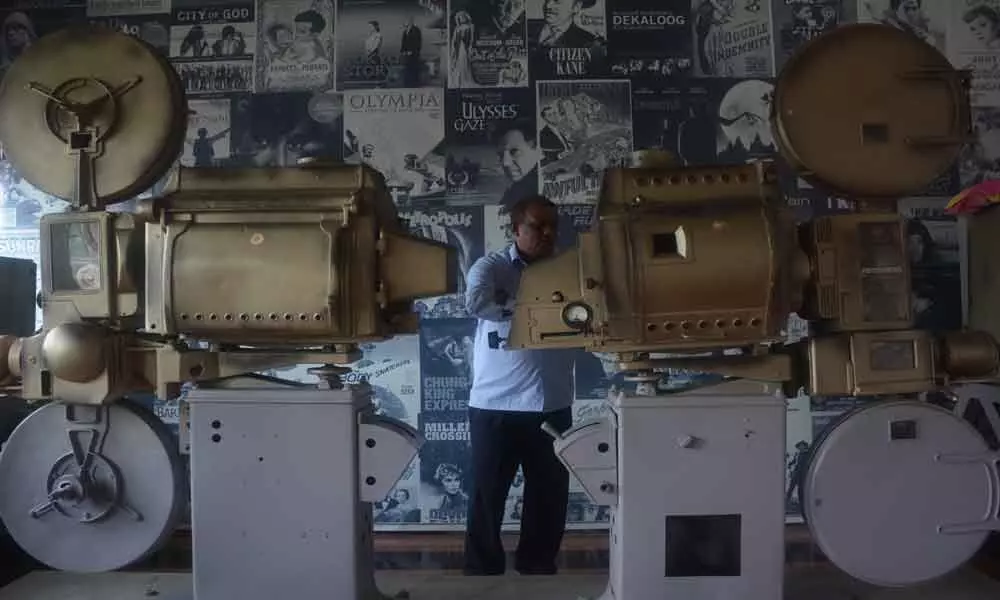 Highlights
Anything of any cultural value to anyone is old. It is this inheritance that peoples throughout the world look up-to, to trace their own cultural...
Anything of any cultural value to anyone is old. It is this inheritance that peoples throughout the world look up-to, to trace their own cultural roots. To the individual, it imparts a sense of belonging.
There have always been a few amongst us who saw it fit, to record history for eternity – so future generations could look back on the times gone by – and learn how we got here, what got us here and predict where we are headed. Passed on through the ages; first, orally.
Then, through drawings. Later, through the written word. Our heritage may be eternal but the mediums we have used, so far, to record it - are not. In the modern era, we have found the most popular medium of communication today; Films! However, we could not preserve our 'firsts' and several others due to many reasons.
A lost era
We could not preserve all firsts Telugu films as no movies of the silent era made by Telugu pioneers survived and it is the same case for films from this era made all over the country. The statistics say it all: 1338 silent films were made in India of which about 29 survive and several of these in fragments.
In the silent era, the Madras film industry made 124 silent films and 38 documentaries, none of which survive except for the Malayalam film 'Marthanda Verma' (1931). Nothing remains of the first Telugu silent film 'Bhishma Pratigna' (1921) or the first Telugu talkie 'Bhakta Prahlada' (1932). By 1950, we had lost 70 to 80 per cent of our films. This is excluding the numerous missing short films, animation films, television programmes, advertising commercials, home movies, etc.
There are several reasons why we have lost so much of our film heritage. Early films were shot on cellulose nitrate which had a high silver content and was highly inflammable in nature. Many early films were stripped for their silver content or lost in fires.
If stored in damp conditions, nitrate could decompose and if stored in the heat, it could ignite on its own. Many early nitrate films were destroyed in fires in vaults, studios and even during projection, till the advent of a more stable base, cellulose acetate, which is known as safety film. India's first feature film, Phalke's Raja Harishchandra was lost to fire, forcing Phalke to reshoot the film in 1917.
After 1951, producers began to adopt cellulose acetate (considered more stable and non-inflammable than nitrate both in terms of usage and storage). However, cellulose acetate had its own problems, being prone to a form of decay known as 'vinegar syndrome'.
If cellulose acetate is not stored in humidity-controlled conditions at the correct temperature, it tends to deteriorate: a process characterised by shrinkage, brittleness and buckling of the emulsion, as well a pungent smell of vinegar. Meanwhile, colour films brought in a fresh set of problems: if prints were not stored properly, after a while the colours would fade to red.
Poor storage conditions were and continue to be a major factor in the loss of our films. For many Indian producers, storage meant dumping cans in warehouses without any facilities for temperature control.
India's film industries developed in the three major colonial port cities of Bombay, Madras and Calcutta (now Mumbai, Chennai and Kolkata), where climactic conditions were not ideal for preserving films. Thus, high humidity and temperature levels took their inevitable toll.
Those producers who stored their films in laboratories faced another kind of problem. The usual practice was for producers to pay an annual deposit fee to a laboratory to store the original camera negative of the film.
However, if the film had not been a great success, the producers would sooner or later stop paying the deposit fee, resulting in the labs dispatching the cans to some old warehouse, where storage conditions would be less than ideal.
Preservation dilemma
The root cause of India's tragic loss of its cinematic heritage is the way cinema has always been regarded in this country. It has been viewed merely as a medium of mass entertainment, and never as an art form integral to our social and cultural fabric.
Even today there is scant respect for this art form even by the film industry itself for whom preservation is a low priority or not a priority at all. Even within the industry and the government, the dialogue about films is confined to taxes and censorship. We have to look beyond the commerce of filmmaking and see the artistic and historical value.
We have a rich cinematic heritage, but we also have a treasure of documentaries, short films, new reels, independent and artist films, etc, that have been terribly neglected.
Take the Telugu film industry itself that is ruled by film dynasties that trace their roots back to the beginnings of cinema and who continue to make big-budget extravaganzas, but so little has been done to preserve this rich legacy.
The industry has to respect their own work and feel that it has value beyond the box office if they need to devote time, money and resources for the preservation of their films.
I am so happy that we have started the dialogue with Annapurna Studios and D Ramanaidu Studios about preserving their heritage. I also think it was fantastic that the Chief Minister visited the legendary filmmaker K Vishwanath at his home and told him how he had watched the film 'Sankarabharanam' (1979) 25 times.
This just shows the impact a great classic film can have, and it would be wonderful if a film like 'Sankarabharanam' and other landmark Telugu films could be preserved and restored and shown to the public again in all their glory.
How to safeguard cinema
Preserving our cinematic heritage requires several things: a change in attitude to the cinema; trained archivists; support from the government and the industry and funding.
The government, the film industry and the public need to recognise that films are an art form and a visual record of our times.
We should aim to preserve not just feature films, but all forms of the moving image including documentaries, newsreels, experimental and avant-garde films, television content, advertising films, music videos, etc. The government should take the lead by allotting funds for film preservation and restoration and also offering incentives to the film industry that will encourage them to take up the cause of saving our film heritage.
One of the best ways would be to include the preservation of film heritage and archiving as part of the CSR mandate which would encourage industry to make funds available for this much-neglected area.
A national plan must be implemented to save Indian films and make them more accessible to the public. Film preservation requires passion, knowledge, expertise and funding. Public-private partnership is the way forward. While the government can support film preservation through policy decisions, infrastructure and funding, they lack the expertise as film preservation is a highly specialised field.
This is where the private sector can fill the gap by providing education and technical expertise by building a resource of passionate trained film archivists.
Each film industry in the country should have its own regional archive that should have a mandatory acquisition policy.
Film storage facilities need to be improved, expanded and optimised as saving original source material of films is of utmost importance. They also need to understand and invest in the long-term preservation of digital films.
While these are practical measures to put the preservation of film heritage on the cultural map, the real challenge will be to change the age-old attitude which regards cinema as mere entertainment.
The restoration process
Preservation means the acquisition, collection and documentation of film and film-related material. This would include conserving and preserving all moving images in their original format using best storage practices and the cataloguing and digitisation of the material to improve public access.
By definition, restoration means the process of returning an item, in this case, a film format, to a known earlier state. It involves not just the repair of physical damage or deterioration of the film but takes into account the intent of the original creator, the artistic integrity, accuracy and completeness of the film.
It involves complex and exacting processes including research, selection, physical repair, cleaning and various photochemical and digital techniques for repairing the image and creating new materials.
The approach for restoring a movie is the same as restoring a manuscript or a work of art. You don't work on a photocopy but restore the original and it involves months of work.
The task of restoration also involves studying the film and its production history, understanding the filmmaker's vision or his limitations, knowing the work of the cinematographer, the art director, the costume designer, etc and this is where the preservation of film ephemera like scripts, director's notes or diaries, posters, lobby cards, song booklets, shot breakdowns, etc.
plays a crucial role as they can give the restorers clues to any gaps of information they might be hampered by. It begins with research, the involvement of the director and the cameraman if they are still available, the search for the best possible source material and repair of the original camera negative or print before scanning and digital restoration.
The usual process is to identify the best source material, inspect, clean and repair the celluloid material before doing a scan, followed by a digital clean-up and colour correction and then output on DCP, Blu-ray or a new celluloid preservation print depending on the plans for an exhibition and public access.
Currently, restoration being done in India does not fall into this definition of full-fledged restoration. The usual practice here is to do a digital scan and clean-up while ignoring the repair and restoration of the source material which usually results in poor quality scans, to begin with.
Public role
The public plays a key role. It has been said that 'preservation without access is hoarding'. Films are meant for public consumption and right from the earliest days of cinema, watching films has been a communal shared experience.
Therefore, restoration, as well as exhibition, curation and public access, are key elements of preservation which is why we have devoted several sessions in our workshop to this. The idea behind preserving our film legacy is that future generations will get the opportunity to view the works of filmmakers and artists that came before.
Restoration becomes important in this context as when you restore a film, you give it a new life. World-class film restorations of classics are given red-carpet premieres at the most prestigious film festivals: Uday Shankar's classic 'Kalpana' was restored by Martin Scorsese's The Film Foundation's World Cinema Project and the restored version was given a red-carpet premiere at the Cannes Film Festival in 2012.
Similarly, Satyajit Ray's 'Apu Trilogy' was restored by the Academy of Motion Picture Arts & Sciences and The Criterion Collection and the restored films were given a theatrical release in the United States. Also, quality Blu-Rays and DVDs, streaming platforms and film festivals ensure that these films are made available for viewing all over again and there is definitely an audience for these films across all platforms.
If the film industry believes there is an audience for our film heritage and an interest in our film history, which there is, they will see the benefits of preserving their films.
Digital era
Most people are not aware that celluloid is still considered the best archival medium that has a proven longevity of over 100 years if kept in proper conditions. The preservation of digital films comes with its own challenges.
As a matter of fact, the Academy of Motion Picture, Arts & Sciences published a study titled 'The Digital Dilemma' that concluded that despite technological advances, there is still no proven format or technology for the long-term preservation of digital formats. The reason is that the digital format is plagued by continual hardware and software obsolescence that requires constant upgradation making it a painstaking expensive proposition.
For instance, hard disks are not considered a preservation medium as they are prone to corruption and have a shelf life of just three to five years. Currently, films are archived on LTOs (linear tape open) which need to be migrated every few years to keep up with the constantly changing hardware and software.
That is why we have devoted a large part of our workshop to digital preservation and data management as it is important for people to understand that there is a whole system that needs to work for digital films to survive.
- The writer is founder-director of Film Heritage Foundation (FHF) and is an award-winning filmmaker, archivist and restorer. FHF is conducting Preservation and Restoration Workshop 'Saving India's Cinematic Heritage' in Hyderabad from Dec 8-15.
Subscribed Failed...
Subscribed Successfully...