Red hues of healthy life - Pomegranate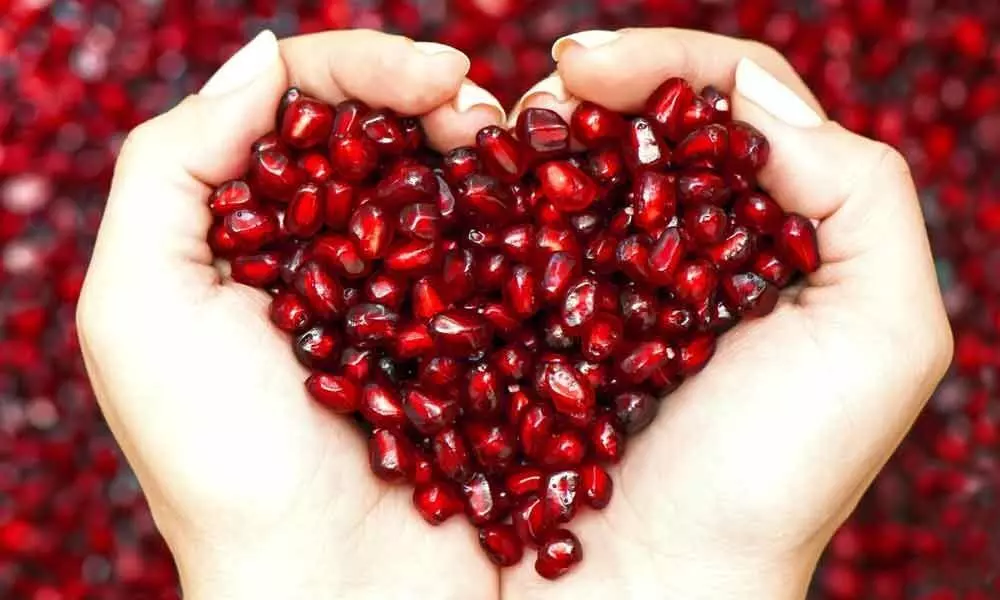 Highlights
These little clusters of red seeds, pack in three times the amount of antioxidant activity than a glass of wine or a cup of green tea
These juicy little seeds, more precious than rubies. These jewel-like seeds are so easy to include in your foods in any form. I normally would never advocate mixing fruits with food, but the pomegranate is one exception.
I love the vibrant deep red hues of the pomegranate. The fruit gets this deep colouration from polyphenols which are powerful plant-based antioxidants. We are now entering the period when the best pomegranates flood the markets. So, your go-to season for pomegranates is October to January.
These little clusters of red seeds, pack in three times the amount of antioxidant activity than a glass of wine or a cup of green tea. In this season, I am constantly telling my clients to add in a handful of pomegranate seeds daily to boost their immunity and prevent diseases.
You will be so happy to know that 30 percent of your daily requirement of Vitamin C can be obtained from eating this deliciously juicy fruit. When I am charting out diets of people low in iron, I always tell them to toss in pomegranate in their food. Pomegranate is a good source of folate which assists in the absorption of iron. Eating pomegranate is a double whammy for those people who need to increase their iron levels.
Inflammation in the body can create so many problems, arthritis being one of them. The flavonoids that are present in pomegranate have anti-inflammatory properties. As I say a handful of pomegranate seeds will cut your inflammation, thus reducing overall pain and may also prevent it.
Heart diseases and blood pressure both these problems can be resolved by consuming pomegranates. The juice of this little seed keeps the blood pumping and unclogs the arteries; this will automatically keep blood pressure at optimal levels.
If you look at all the RDA contents you will understand how amazing these sparkling little beads of the pomegranate fruit are and all of you must reap the benefits. It contains 7 grams of fibre, 3 grams of proteins, 30 percent of the RDA for Vitamin C, 36 percent of the RDA for Vitamin K, 16 per cent of the RDA for Folate and 12 per cent of the RDA for Potassium.
I know an instantaneous cure for loosies – just fast the whole day on only pomegranate juice. You can also add a dash of rock salt to it. Not only will this stop the runny motions but give you instant energy with its natural sugars.
Nutritional immunology is very dear to me and I am constantly researching on how one can improve one's immunity to prevent retard and reverse chronic diseases. There have been test-tube studies that have shown reduced inflammatory activity in the digestive tract that may aid in reducing the growth of breast cancer and colon cancer cells.
My go-to food to satisfy any of my sweet cravings is pomegranate, as it is the one fruit, which I recommend mixing with any food. A little bit of pomegranate after the meal satiates and prevents me from hitting out at chocolates and sweets. It is a tried and tested method by my clients and by me!
Toss pomegranate in your salads, mix it in with your chatpata chaats, add it to your yoghurt or your raitas, garnish your pulaos. Given that we are talking about the pomegranate fruit, it is necessary to end off on a sweet note as this valuable fruit is not just super healthy but also juicy and deliciously sweet.
Subscribed Failed...
Subscribed Successfully...