Chennai's singing sisters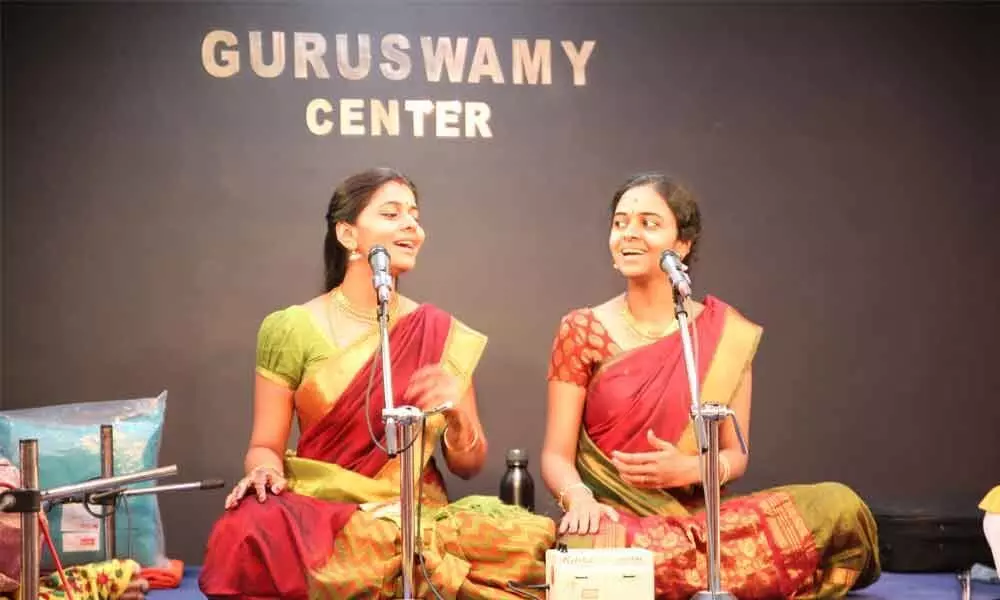 Highlights
Anahita and Apoorva, popularly known as Ravindran Sisters, believe 'individual exellence is important to be able to perform together as a team.' The duo says they had their own share of ups and downs, and gave up a lot during their growing years to reach where they are today…
It was a Sunday morning, usually devoted for long stretched rendezvous over newspaper and coffee; social media and some catching up friends, who are now only fingertips away.
However, people started filling the small yet acoustically well-replenished, and fairly new performing stage in Secunderabad, Gurumurthy Centre, and in a short time it was a full house.
On the stage were these two young girls, who, if you didn't know better could be mistaken for amateurs, looking simple in their demeanour, but tough in the way they dealt with the soundcheck.
It was taking time, but they weren't going to settle for anything less. And then it began, a revelation of amazing talent, gained through years of dedicated tutelage and gaining through experience and a continued keenness to improve and master the craft of Carnatic music.
There are a few musicians, who emphasise the craft, and a few others, who give importance to the 'bhavam'. The approach may be different, but mastery in every form continues to dazzle the 'rasikas'.
Add to it a good diction, especially while rendering compositions from other languages including mother tongue, and you have this unique set of artistes.
The two sisters during a concert organised by Tarang Hyderabad, a cultural organisation, were in perfect synchrony, as if two voices turning into one, and yet distinctly standing on their own showcasing a variation in tenor and tone that contributed to making every 'kriti' that they presented, special.
They chose from a lot of well-known poets and some rare compositions, constantly gauging the audience's reaction and keeping them tapping to their music all through the close to two hours of their concert.
Anahita and Apoorva, more popularly known as Ravindran Sisters, from Chennai, are steadily marking their space as seasoned musicians, who can carry a concert on their young shoulders with aplomb.
And, they have the makings of the unique set of musicians, who know how to balance craft with 'bhava' and show respect to the poetry of great 'vaggeyakars' by displaying clarity in diction, be it Tamil, Telugu, Kannada or any language they choose to sing.
What does each one of them bring to the concert – Apoorva shares, "It's wonderful to be together. We can support and complement each other, and the synchrony happens also because of the small age gap. Anahita agrees, "I think she can easily gauge the audience.
What happens on stage is opposite of what we plan. You must be ready to adapt, decide what ragas and composers to sing for a certain audience.
I bring in the commitment and ensure that no matter what happens we must practice these many hours. I guess it's beautiful to sing together."
Adapt they do, and, the duo is also open to experimentation. During their recent concert in Hyderabad , after the Thyagaraya Kritis 'Samaja Varagamana' in Hindolam and 'Shambho Mahadeva Shankara Girija Ramana' in Panturavali, they chose to shift pace and sing Subbaraya Sastri's 'Janani Ninu Vina' in Riti gowla.
"It's a meditative kind of slow kriti. The audio has to be good, and it needs the right kind of audience to appreciate," says Anahita.
The audience did appreciate the sisters, who sang a lot of Thyagaraya, Annamacharya kritis, and also entertained the Tamil audience with beautiful renditions like that of Pananasam Sivan and Oothukadu Venkatasubbaiyer.
They ended the concert with a Narayana Theertha Tarangam and Mangalapalli's Thillana.
Speaking about the balance in choosing the right mix for a concert, the sisters mention their Guru Chitravina Ravikiran, who is a maverick with his veena, a vocalist and adept at many instruments.
He also teaches mridangam and flute, composes music and dance productions as well, "While training under him, we had a panoramic view of music. He taught us what it is to be a musician and a performer.
We learnt not just music, but how to behave, how to carry ourselves, teaching methodologies. He involved us in so many projects that we gained knowledge without even realising. And we learnt about the importance of the right balance in a music concert."
The two had their own share of ups and downs and gave up a lot during their growing years to reach where they are today. They give concerts across India and abroad and also teach music.
"It takes a lot of practice – No Sundays, no holidays, we practice every day, first individually, and then together. There are no short cuts to success.
We are amidst so many stalwarts in music from across south India, it's like an ocean of vidwath. And, we are constantly taking inputs, learning constantly even from our peers. We were also taught to analyse our own concert.
We still have books that had two columns, one for the high points and one for the mistakes we made during concerts, and each time we try to correct ourselves, introduce innovations and better ourselves," they share.