Naari Shakthi: The Ratans of Taj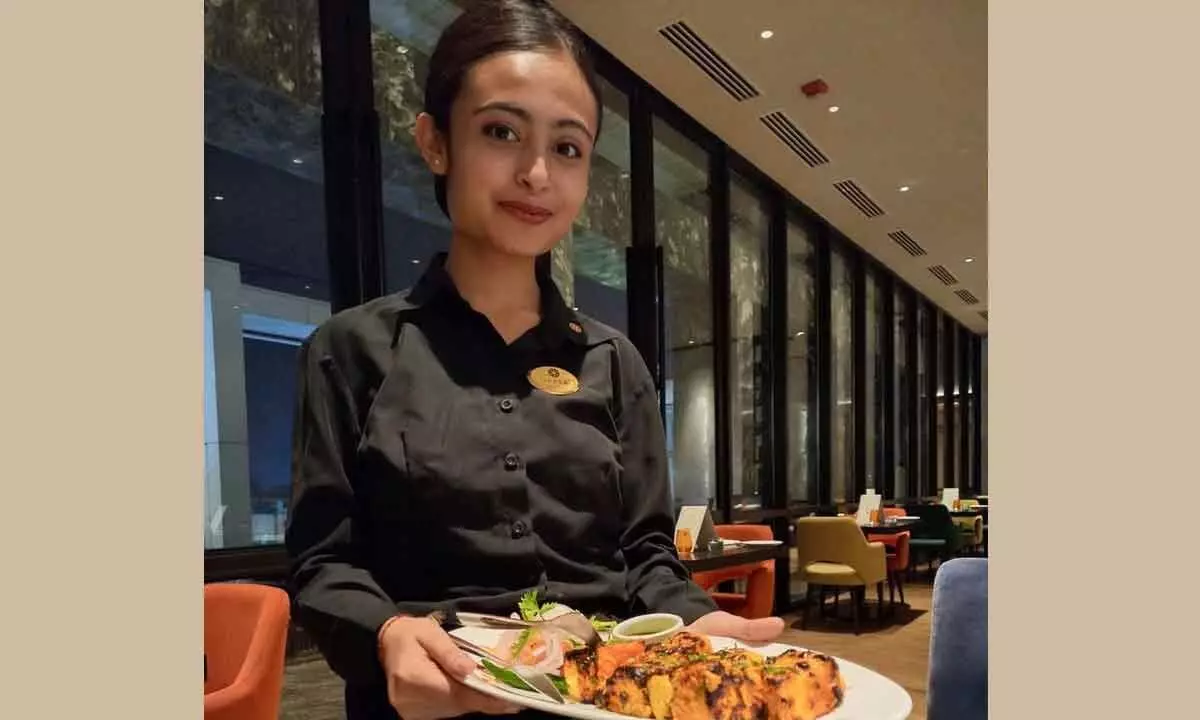 Highlights
Taj Wellington Mews at Chennai which is being run by all women is bringing back memories of 1960s' traditions to customers
Recently I accompanied my husband who was on an official tour to Chennai and we planned to stay at the Taj Wellington, Mews. I was so excited to be there once again at the Taj Hotels.

I had the privilege of staying at the Taj , Gate of India and at Taj Landsend a few years ago when he was on the Board for Tata communications Ltd. for a brief period. The warmth, the comfort, the hospitality, the food, the ambience the pleasant faces of the staff and ofcourse the service. I felt so blessed to be there. I lived like a queen with the complimentary spas, saunas and the luxury of the swimming pool that was so serene n pristine and the pampering I experienced from A to Z of the staff whomever I interacted with. I have no words. The surprise return gift of the sindoor packet, a few beautiful clay bangles and a small cloth bag while checking out, gave me a feeling that I was leaving my mom's place. For in south India when the daughter leaves the mother's place the daughter is given "suhaagan ka samaan" as a blessing from the parents, that gift the Taj hotel gave, made me a lot too emotional while leaving .
It was a memorable stay for my life time at both the hotels nay homes.
That is one aspect of the story. The Chennai's Taj
Wellington Mews, has a completely different story to tell. When we entered the premises, I saw security staff at the main gate, trim in their uniforms n caps, saluting like professional army guys. As we were about to get down the car to head into the lounge, a few women in their spic n span uniforms came to us to open the door of the car. Beautiful ladies in their lovely colourful sarees gave arathi, garlanded us, put teeka and gave us a royal welcome. I felt like a Maharani again. I was comfortably seated at the reception for a few minutes when I observed that its all women at the desk , some busy with their computers, some billing, some pleasantly talking to customers but I felt something is really missing.
As our room keys were handed over to us, one lady came to shift our luggage and help us to the room. I went to the lounge to relax for a while before going into the room, I saw a floral rangoli that attracted me and I saw two women staff were fully engrossed into decorating it with variety of flowers, then they lit diyas and incense sticks and the atmosphere in no time felt so divine.
I felt something special in this Taj but could not guess.
As I was unpacking my suitcase inside my room, the door bell rang, a young lady from housekeeping came to enquire if we needed anything else. We both freshened up and went to have food downstairs, walking along the pool side saw a lady swimming instructor helping the guests and kids in the pool. The pool was so vibrant and the families were enjoying and having great time in the cool waters in humid summers of chennai .
A small cute table was booked for both of us on the pool side.
I went to the kitchen counter to order authenic idiappam n dosa. Something striked in my mind. Yess! This is it! Young Chefs, waitresses, all women. It reminded me. Yes! Right from entering into the green and clean premises of the hotel ,all the staff here are women. I was quite curious to know about this. I could not trace any male staff. I asked the busy chef and she asked me to wait for a minute. The chef I suppose called somebody on the intercom, a beautiful young lady appeared in few seconds. She is the manager and she introduced herself to me.
She spoke to me so confidently and cleared all my doubts. She said "Right from General Manager to all the staff, the Taj Mews is predominantly run by women, except for few plumbing and electrician works and that the authorities are planning to post women in these two sectors very soon and that Wellington, Mews is South Asia's first women run Luxury hotels and that IHCl inaugurated it recently a few years ago."
I was so excited and started speaking to the wonderful staff there, licking the yummy food that young and smart and smiling chefs made so quickly. It was so comfortable talking to everyone them.
The staff hail from all across India, Arunachal to Gujarat, from Kashmir to Kanyakumari . They said they were taken care of by the authorities so well, they are happy and proud to work there. "We don't miss our homes," they said.
They are taken care of their physical safety while at work, while commuting to their respective places in odd hours, taken care of their health, food and hygiene. They feel their workplace as a temple and not as a boring tedious job. Everyday, they take their work as a challenge and give their best to all guests who include kids, elderly, physically abled too. Humanness is the common denominatoter which I noticed and experienced. The parties, weddings, gatherings small and big meetings that happen there are well managed by the women staff.
It's a great feeling for me as a woman to see how women are excelling in the hospitality industry. It's all new for my generation (my kids call me a 1966 model). In those times this industry was like a taboo. Women were not encouraged by the families much. But times have changed, working along with men is different, but to run a five star luxury hotel isn't an easy job. But all this is happening so meticulously with precision because of education, discipline, training, coordination, excellent team leaders, team spirit, and the strong desire to work to be financially independent and the will to explore new job avenues. Women empowerment! Though everything happens mechanically there, the underlying love , warmth affection and the courteousness and the spirit to serve, the 'seva bhaav' can't go ignored .
The IHCL company said it was their 'yet another step towards creating an equitable workplace, celebrating and empoweringwomen in the hospitality industry'.
I have experienced the love of my daughters, my mother, my sisters, my friends in the staff at Wellington. They all are well qualified, dignified, confident girls, working with a perenniel smile ,joy, caring and sharing irrespective of the posts they hold, working in tandem. Kudos to all of you. "The Ratans of The Taj".