An agenda for Covid-resilient schools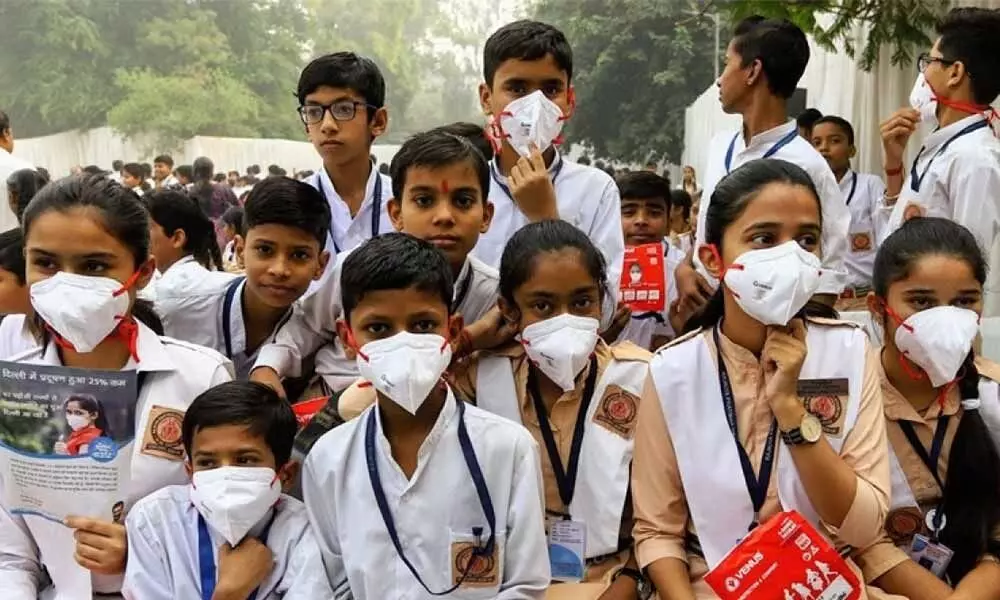 Highlights
Covid-19 has created a pandemic-like situation and anxiety and stress among children due to sudden closure of schools as part of social distancing to minimise the transmission of the virus
Covid-19 has created a pandemic-like situation and anxiety and stress among children due to sudden closure of schools as part of social distancing to minimise the transmission of the virus. According to UNESCO as of April 14, 188 countries around the world have closed schools and nationwide it has affected over 1.5 billion learners and represented more than 91 per cent of total enrolled learners.

In Telugu States, Governments have closed all the schools and chosen alternative methods for fulfilling the norms of no detention policy under RTE Act 2009 and promoted the children from Class 1 to 9 based on the CCE (Continuous Comprehensive Evaluation) considering Formative Assessments (Formative Assessment 1-4) and Summative Assessment-1) in the current academic year.
Due to the sudden closure of the schools, children have been confined to home and they have missed the learning routine, play, peer meets and are facing the symptoms of depression due to the uncertainty of their schooling and their examinations etc.
Parents and caregivers are trying to keep children occupied, feeling safe, and attempting to keep up with schoolwork as best as possible. None of these are easy, but it helps in reinforcing a sense of control and to re-assure children that they are okay and that the situation will get better.
There are many challenges to manage the schools post Covid keeping in view of physical distancing and safeguarding the children from virus spread and stabilising the learning curve among the children. There are 35.6 per cent children in private schools and 64.4 per cent children in government schools. Challenges are remaining same with crowded class rooms in private schools and inadequate infrastructural facilities in government schools. Availability of space, number of children, teachers, facilities, budgetary provisions, commitment of managements, allocations of budgets by the government and as a nutshell there are challenges are inprotecting Right to Education with safety.
Regarding the infrastructure facilities as per the ASER 2018 in schools of Telangana and Andhra Pradesh, no kitchen sheds available for cooking mid-day meal in AP is 27% and Telangana 14%, no drinking water facility in 12.7% schools in AP and 20.4% in Telangana, drinking water facility is available but no drinking water in 29.2% schools in AP & 22.4 % in Telangana , no toilet facilities in 2.9% school in AP & 3.5% in Telangana and toilet facility is available but not useable in 10.6% in AP & 19.5% in Telangana.
In this situation, Government need to work on different strategies to bring back the normalcy in schools.This is the need of the hour to considering the School safety as priority under the lenses of 'Home To School- School To Home' as per the guidelines given by National Disaster Management Authority and Save the Children's Safe School concept. Establishing adequate infrastructural facilities and protecting rights of the children including education, protection and survival and fulfilling the parent's expectations on their children education.
Few important steps to make schools as Covid resilient including disinfection of all education institutions, safety audit for school/ Anganwadi Centres (AWC) if used as quarantine centre/ Godown, easy transition from lockdown to schools without making children overburdened with adding backlogs, psycho social support for children & parents, analysing the infrastructure facilities in all schools to look at the space and student ratio rather pupil & student ratio to maintain physical distances, provide freedom to the managements to run the schools with flexibility, increasing in grant in aid for government schools for equipping with health &hygiene kits for all the schools, adopting shift system based on the infrastructure availability with wash platforms, adequate water supply and toilet facilities for boys and girls, bearer free environment, psycho-social counselling arrangement for children and parents and avoid discrimination with professional counsellors & Special provisions and mechanisms for residential schools & hostels.
Health and hygiene:Displaying messages or posters on hand washing, hygiene behaviours, Do's and Don'ts, ensure handwashing practice with soap and water for at least 20 seconds, safe disposal of sanitary use materials and organising age appropriate awareness on health and hygiene practices etc.
Curriculum: Need to reduce the curriculum and working days, Following the physical distancing by giving individual assignments, Reducing the academic calendar, establishment of suggestion boxesat the school to learn about children challenges, Flexible examination system, Performance assessment through CCE method, Academic sessions on shift system, encouraging children to write stories and experiences&Taking time for restorative activities like exercises, meditation, reading etc.,
Learning enhancement: Introducing workbooks from class I to VIII, conducting special online sessions and examinations for higher classes, providing Tablets for all children to have on and offline teaching and learning.
Nutrition: Supply of dry ration to the children under Mid-day mealto maintain health and hygiene for at least 6 months &supply of Branded Vitamin biscuits with packets at schools
Games and Sports: Encourage individual sports and games, facilitate physical exercises with physical distance& Introduce yoga and meditation. These strategies and measures will definitely bring schools to normalcy and making Covid resilient schools.
In the recent past, Save the Children started its efforts for reaching children, parents and teachers to create learning with a special webinar and WhatsApp group to promote the concepts and strategies for making schools as Covid-resilient schools. It placed a detailed guideline for schools and Anganwadi centres to make Covid resilient institutions to recommend measures to the Government. The government also established special platforms for teachers and children through TSAT, Door darshan, SIET, YouTube channel and counselling session for children etc. in Andhra Pradesh and Telangana.
(The author is Education Lead, South India, Save the Children. The above views are truly personal and not related to the organisation)
Subscribed Failed...
Subscribed Successfully...