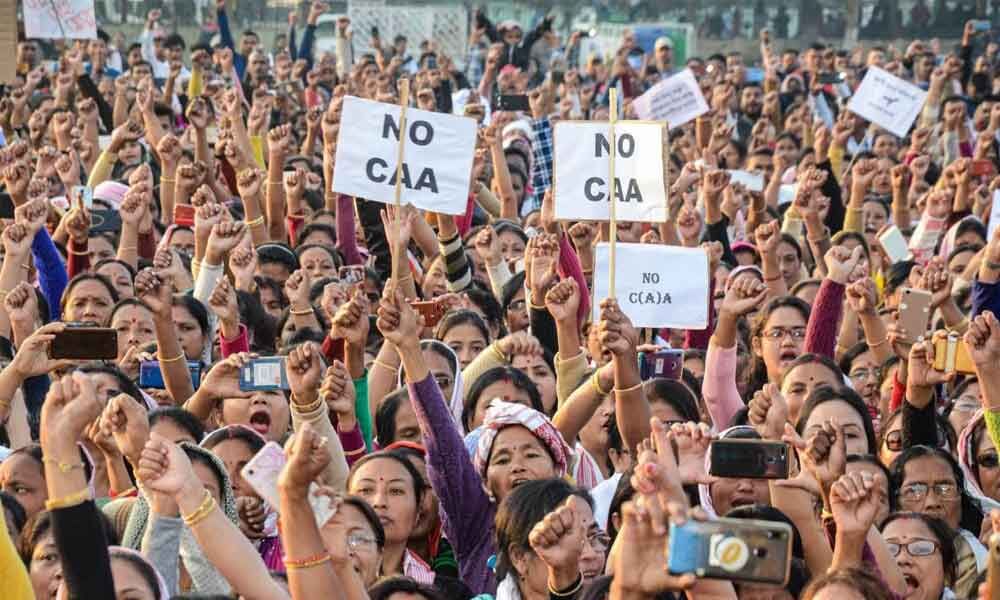 Highlights
Out of 3 crores plus population of Assam, at least 19 lakh residents are in a Stateless situation, facing detention centre on one hand and litigation...
Out of 3 crores plus population of Assam, at least 19 lakh residents are in a Stateless situation, facing detention centre on one hand and litigation in High Court on the other. The SC supervised NRC process in Assam has created havoc. The daughters are asked to prove that they are born to their parents. Brothers get citizenship while sisters do not. The courts approve this strange phenomenon. Muslims and Hindus, the problem is same for all, lack of documents about residence, parentage and citizenship.
In Sarbananda Sonowal v Union of India (2005) 5 SCC 665 the Supreme Court struck down the Illegal Migrants (Determination by Tribunals) Act 1983 and Rules made thereunder as unconstitutional. The illegal migration was considered as 'external aggression within the meaning of Article 355 and held that 1983 Act worked in reverse direction.
Latest status report filed by the government in Writ Petition No. 125 of 1998, which has been filed seeking deportation of all Bangladeshi nationals from India continuing influx of Bangladeshi nationals into India has been on account of a variety of reasons including religious and economic. There is a combination of factors on both sides which are responsible for continuing influx of illegal immigration from Bangladesh. The important 'push factors' on the Bangladesh side include:
(a) steep and continuous increase in population;
(b) sharp deterioration in land-man ratio;
(c) low rates of economic growth particularly poor performance in agriculture;
The 'Pull Factors' on the Indian side include:
(a) ethnic proximity and kinship enabling easy shelter to the immigrants;
(b) porous and easily negotiable border with Bangladesh;
(c) better economic opportunities;
(d) interested religious and political elements encouraging immigration;
The States of Meghalaya, Mizoram and Tripura have also recorded high rates of population growth. Illegal immigrants from Bangladesh have also been using West Bengal as a corridor to migrate to other parts of the country.
1.2 crore illegal migrants
The Minister of State for Home Affairs submitted a statement to the Parliament indicating therein that the estimated number of illegal Bangladeshi immigrants in India as on 31/12/2001 was 1,20,53,950. Out of the total figure of 1.20 crores, 50 lacs illegal Bangladeshi immigrants were in Assam alone.

Stiff resistance to CAA
Our neighbour Bangladesh has the third-largest Hindu population in the world, after India and Nepal. There are more than 14 million Hindus in Bangladesh who have chosen to remain there, because that is their homeland. If the conflicts that happened in 1947 and 1971 recur, the North East people apprehend more such influxes of migrants. Unfortunately, the NRC and the CAA will increase the possibility.
The CAA has caused serious fear among the people of Assam that it might lead to lakhs of Hindus from Bangladesh swamping indigenous communities. This fear is prevalent except in Bengali speakers' dominated Barak valley, that it will be burdening resources and threatening their language, culture and tradition. CAA has a 2014 cut-off date, but protesters are claiming that Assam bore the brunt of immigrants from 1951 to 1971, while other states did not, and it is unfair to impose more on the State. Another reason for protests that the people do not trust the Centre and CAA will undo the Assam Accord. With CAA a new cut-off date of 31st December 2014 has been fixed, which is in violation of the Assam Accord.
While the rest of India has been protesting both the NRC as well as the CAA, the protests in Assam and Meghalaya have been directed mainly against the CAA. The entire State of Meghalaya was already exempt from the provisions of the CAA by virtue of the tribal areas being covered by the Sixth Schedule of the Constitution, administered by autonomous district councils. The number of pending citizenship applications from potential CAA beneficiaries in the State is in single digits. Even the States which are completely exempted from the provisions of the CAA, such as Nagaland, Mizoram and Arunachal Pradesh, where Indian citizens from other States require Inner Line Permits, and Manipur, which was added to the list of ILP States to assuage its residents are protesting. They consider the ILP is insufficient protection. The permit can be procured quite easily and while there is a system to check whether a person entering the state has the permit, there is no system to check if anyone with the permit overstays. The concern is that despite the exemption from CAA, people from Bangladesh, adjoining the North-East, are expected to be flooding into this region.
Ethnic insider or outsider is one significant factor that differentiate between the protests against CAA in the rest of India which are against the politics of religious nationalism, and in Assam the resistance is more to do with ethno-linguistic identity. The north-east is a vastly diverse region, with hundreds of different communities inhabiting its seven States, but the long politics of ethnic insider and outsider is a common thread that runs through them all.
Prime Ministers Narendra Modi and Shinzo Abe of Japan were scheduled to meet in Guwahati, Assam, days after the Citizenship (Amendment) Bill was passed by Parliament. But the protesters ripped off and burnt down hoardings near the secretariat in Assam's capital. Abe subsequently postponed his visit until further notice. The protests in Assam is because of a long and complicated history of hostility against immigrants from East Bengal, dating back to well before Partition. The fear that the CAA would open flood gates to refugees from East Bengal, today's Bangladesh, appears to have inflamed passions.
Reports suggest that the protests are intensifying in Assam and other north-eastern States because the people there are against granting Indian citizenship to any refugee or immigrant, regardless of their religion, as they fear it would alter the region's demographic balance, resulting in a loss of their political rights, culture, and land. They think such an offer of citizenship to foreigners will motivate further migration from Bangladesh which will be in total violation of the Assam Accord, which was a prior agreement reached with the Central government on migrants and refugees.
Indigenous tribes lose citizenship
The National Registry of Citizens was a promise made in the Assam Accord to identify and deport foreigners. By the time it was published, it became evident that majority of those denied citizenship were Hindus or indigenous tribes. Protesters fear CAA will make NRC redundant and bestow citizenship on illegal immigrants. But, Asom Gana Parishad believes Clause 6 of the Assam Accord will insulate Assam from CAA's adverse impact. Clause 6 of Assam accord relates to constitutional, legislative and administrative safeguards to protect, preserve and promote the cultural, social, linguistic identity and heritage of the Assamese people.
The Inner Line Permit (ILP) is a system introduced for border areas by the Bengal Eastern Frontier Regulation, 1873. People outside such declared areas can visit the places only if they have a permit. They cannot settle in such areas even with ILP. The system is now being used to protect certain areas from the purview of CAA. Places notified for protecting tribes under Sixth Schedule Areas of the Constitution too have been placed outside CAA's purview. ILP is applicable to most areas of other NE states in Assam, Karbi Anglong, Dima Haso and Bodoland are protected under the Sixth Schedule. They make only seven out of 33 Assam districts.
Centre's efforts to assuage
Home Minister Amit Shah tried to reach out to political parties, organisations and NE CMs while redrafting CAB to enlist their support. His assurance that CAA will not hit ILP and Schedule VI areas appeared to have convinced. In fact, there is ILP in Nagaland (with the recent inclusion of Dimapur), Arunachal Pradesh, Manipur and Mizoram. Meghalaya is also on the verge of getting ILP. The Question is whether ILP could wipe out fears of the people in Assam or not. As the apprehensions grow, the movement is intensifying in Assam. The students are leading the movement.
(Concluded)
(The writer is former Central Information Commissioner and Professor at Bennett University)
Subscribed Failed...
Subscribed Successfully...