Indian Delicacies to your Christmas Table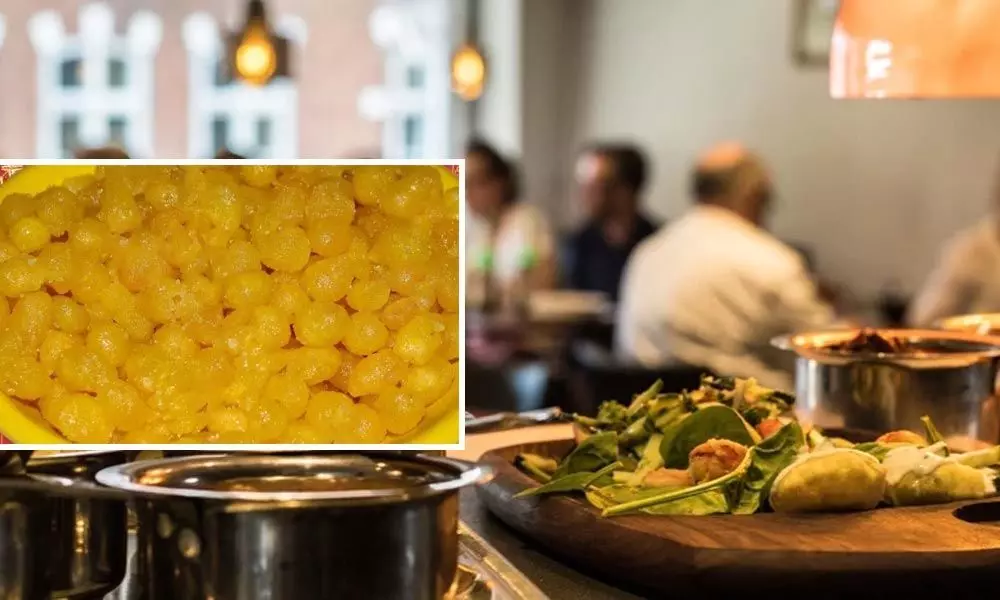 Highlights
These recipes for Indian desserts are easy to pull together and will add an Indian touch to your Christmas table
These recipes for Indian desserts are easy to pull together and will add an Indian touch to your Christmas table

Sweet boondi kheer ice cream
Boondi Ki Kheer Recipe is a delicious kheer. Sweet boondi dunked in reduced milk, flavoured with cardamom and rose to enhance the taste. Serve it as a dessert after a meal or along with pooris for a sinful Indian breakfast.
Boondi Ki Kheer Recipe is a lip smacking Indian sweet dish, where pearls of fried besan, popular as boondi are dipped in sugar syrup and kept ready.
Milk, is reduced to get a nice thick texture flavoured with aromatic rose, earthy cardamom and a hint of saffron, and the sweet boondi is then added to this delish kheer recipe, that you won't be able to resist.
This boondi ki kheer can be served both hot or cold, totally the way you like it.
Boondi ki kheer can be served as offerings to the deity during festivals and served as prasad, or as a dessert with your meal. Another interesting combination would be to eat it along with Puri.
Serve Boondi Ki Kheer Recipe as a dessert after a meal of Dal Bukhara Recipe (Punjabi Style Black Urad Dal), Cheese Garlic Naan Recipe, Pickled Onions, Pudina Mushroom And Soya Biryani Recipe and Coriander Tadka Raita Recipe
Prep in 10 M
Cooks in 20 M
Total in 30 M
Makes: 4 Servings
Ingredients
1 tsp full fat milk, warmed
A few strands saffron
5 cups full fat milk
5 bay leaves
5 tbsp sugar
¾ cup sweet boondi (or two boondi laddoos)
½ tsp rose water
1 tsp cardamom powder
1 tbsp pistachio flakes
Method
Dissolve the saffron in one teaspoon of warm milk. Set aside.
Heat five cups of milk with the bay leaves in a non-stick frying pan on a medium flame, bring to a boil, and simmer for 20 minutes, stirring continuously, until the milk is reduced to half. Discard the bay leaves.
Add the sugar, and cook for one minute, stirring continuously. Remove from the flame, and cool completely.
Add the sweet boondi, rose water, cardamom powder and pistachio flakes, and freeze for a few hours before serving.
Gulab jamun trifle
One can't imagine a sweetmeat shop that doesn't have Gulab jamun on offer, especially on special occasions. If you love digging into the sugary goodness, you are sure to love these fusion inventions around the treat too!
What happens when your desi favourite sweet meets the creamy European favourite? There's an explosion of flavours which can make any dessert-lover go weak in his/her knees. Now you may have seen many forms and variety of trifles like chocolate, berry, banana, butterscotch etc. but a gulab jamun trifle is nothing like anything you have had before. A carefully layered dessert assembled with spongy cake crumbs, custard, chunks of gulab jamun and sweetened whipped cream, this wholesome treat is an absolute must try.
Ingredients
1 cup whipped cream
2 tbsp gulkand (rose petal preserve)
1 tsp rose water
4 gulab jamuns, cubed
1 tsp chopped pistachios
1 tsp chopped almonds
1 tsp chopped rose petals
Method
Beat the whipped cream, gulkand, and rose water together. Set aside.
Divide the gulab jamun cubes into four shot glasses. Top with the whipped cream mixture.
Garnish with the pistachios, almonds, and rose petals. Chill for a few hours. Serve cold.
NUTRITIONAL INFO
Servings Per Recipe: 4
Amount Per Serving
Calories: 88% Daily Value *
Total Fat: 6 g 8.47%
Saturated Fat: 2 g 11.25%
Trans Fat: 0 g %
Cholesterol: 0 mg 0.04%
Sodium: 33 mg 1.39%
Calcium: 10 mg 1.01%
Potassium: 0 mg 0%
Magnesium: 0 mg 0%
Iron: 0 mg 1.51%
Zinc: 0 mg 0%
Total Carbohydrate: 9 g %
Dietary Fiber: 0 g 1%
Sugar: 4 g
Protein: 1 g
Alcohol: 0 g
Omega 3 Fatty Acid: 0 g
Omega 6 Fatty Acid: 0 g
Vitamin A 0%
Vitamin C 1.5%
Vitamin D
Coconut laddoos
Coconut ladoo are delicious sweet balls made with grated coconut, sugar & cardamom powder. These coconut laddus are a festive delight and are mostly made during festivals & celebrations.
Ingredients
1 tsp ghee
12 raw almonds, chopped
1 cup sweetened condensed milk
1 cup desiccated coconut + extra for rolling
Method
Heat the ghee and toast the almonds until golden. Remove, drain, and set aside.
To the same pan, add the condensed milk and desiccated coconut. Mix well, and cook on a low flame until the mixture starts to roll into a ball (about eight minutes). Remove and cool slightly.
Mix in the almonds, and cool the mixture further.
Make laddoos and roll them in the extra desiccated coconut.
NUTRITION
Calories: 111kcal | Carbohydrates: 15g | Protein: 1g | Fat: 5g | Saturated Fat: 4g | Cholesterol: 3mg | Sodium: 11mg | Potassium: 74mg | Fiber: 1g | Sugar: 14g | Vitamin A: 35IU | Vitamin C: 0.4mg | Calcium: 25mg | Iron: 0.3mg
NOTES
To make coconut laddu, if using fresh coconut then you can use only half cup milk or boil one cup milk till it thickens and reduces to half cup. Then add sugar and coconut.
Subscribed Failed...
Subscribed Successfully...