Dengue -The killer mosquito fever on rise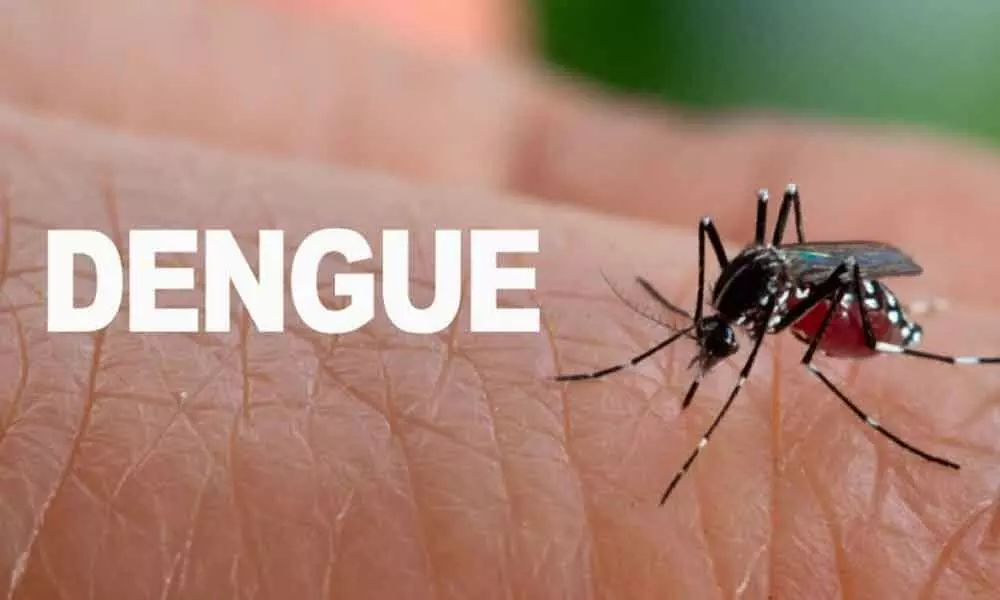 Highlights
Dengue, flu, and chikungunya are serious viral infections that are normally joined by severe side effects.
Dengue, flu, and chikungunya are serious viral infections that are normally joined by severe side effects. Furthermore, the symptoms of all the three are so similar, it tends to be very difficult, if not impossible, to make a conclusive identification without research and lab facility testing
Viral fevers on the rise!
An individual infected by the dengue infection develops serious influenza-like symptoms.
Dengue, flu, and chikungunya are serious viral infections that are usually accompanied by severe symptoms. What's more, since the side effects of each of the three are so comparable, it tends to be very troublesome, if certainly feasible, to make an indisputable distinguishing proof without lab testing.
DENGUE
Dengue is a mosquito-borne viral disease causing a serious flu-like sickness, now and again prompting severe complications. The dengue infection (DEN) includes four particular serotypes (DEN-1, DEN-2, DEN-3, and DEN-4) which has a distinctive stereotypes Flavivirus, family Flaviviridae. Once treated, humans become the fundamental transporters and multipliers of the virus, filling in as a source of the infection for uninfected mosquitoes. The infection circles in the blood of an infected person for 2-7 days, at around a similar time, that the individual builds up a fever. Patients who are as of now infected with the dengue infection can transmit the contamination through Aedes mosquitoes after the principal manifestations show up (during 4-5 days; most extreme 12).
Side effects
An individual infected by the dengue infection creates serious flu-like indications. People should speculate dengue when a high fever (40°C/104°F) is joined by two of the following indications:
♦ severe headache
♦ pain behind the eyes
♦ Nausea and Vomiting
♦ Swollen glands
♦ Muscle and joint pains
♦ Rash
These symptoms usually last for 2-7 days, following an incubation time of 4-10 days subsequent to being nibbled by a contaminated mosquito. Serious dengue is a potentially deadly complication due to plasma leaking, liquid accumulation, respiratory distress, extreme draining or organ disability. The notice signs to pay special mind to happen 3-7 days after the main side effects related to a diminishing in temperature (beneath 38°C/100°F).
Cautioning signs include:
Serious stomach pain
Persistent vomiting
Rapid breathing
Bleeding Gums
Blood in vomit
fatigue and restlessness
The next 24-48 hours of the critical stage can be lethal, and appropriate therapeutic consideration is expected to maintain a strategic distance from difficulties and risk of death.
TREATMENT
There is no particular treatment for dengue fever. Patients should look for medical advice, rest and drink a lot of liquids. Paracetamol can be brought to cut down fever and decrease joint pains. Be that as it may, headache medicine or ibuprofen ought not to be taken since they can increase the danger of bleeding.
For severe dengue, medical care by doctors and medical caretakers experienced with the impacts and movement of the malady can often possibly spare lives. Maintenance of the patient's circulating fluid volume is the central feature of such care.
PREVENTION AND CONTROL
The main current technique for controlling or forestalling dengue infection transmission is to viably battle the vector mosquitoes.
Legitimate strong waste transfer and improved water stockpiling works on, including covering holders to counteract access by egg-laying female mosquitoes are among different strategies that are supported through network-based projects.
CHIKUNGUNYA
Chikungunya is a viral malady transmitted to people by infected mosquitoes. It causes fever and serious joint pains. Other symptoms include muscle pain, headache, nausea, weakness, and rash.
Joint pain is frequently weakening and can vary in the duration
There is no remedy for the infection. Treatment is centered around soothing the side effects.
The proximity of mosquito breeding sites to humans habitation ais a critical hazard factor for chikungunya.
Analysis
A few techniques can be utilized for determination. Serological tests, for example, catalyst connected immunosorbent measures (ELISA), may affirm the nearness of IgM and IgG against chikungunya antibodies. IgM counteracting agent levels are most noteworthy 3 to 5 weeks after the beginning of the sickness and persevere for around two months. Tests gathered during the primary week after the beginning of side effects ought to be tried by both serological and virological strategies (RT-PCR).
TREATMENT
There is no specific antiviral drug treatment for chikungunya. Treatment is coordinated fundamentally at diminishing the side effects, including the joint pain utilizing antipyretics, ideal analgesics and liquids. There is no Commercial chikungunya antibody.
Avoidance AND CONTROL
During flare-ups, bug sprays might be showered to murder flying mosquitoes.
Essential precautionary measures ought to be gone for broke by individuals heading out to hazard zones and these incorporate utilization of anti-agents, wearing long sleeves and jeans and guaranteeing rooms are fitted with screens to keep mosquitoes from entering.
Flu
Regular flu is an intense respiratory disease brought about by flu infections which circle in all pieces of the world. There are four kinds of regular flu infections - types A, B, C, and D. Flu An and B infections flow and cause regular scourges of the illness.
Flu An infections are additionally ordered into subtypes as indicated by the blends of the hemagglutinin (HA) and the neuraminidase (NA), the proteins on the outside of the infection. As of now circling in people are subtype A(H1N1) and A(H3N2) flu infections.
Just flu-type An infections are known to cause pandemics.
SIGNS AND SYMPTOMS
Unexpected beginning of the fever, hack (normally dry), cerebral pain, muscle and joint agony, serious discomfort (feeling unwell), sore throat and a runny nose.
The hack can be extreme and can last at least two weeks.
Conclusion
Gathering of fitting respiratory examples and the utilization of a research center symptomatic test is required to build up a conclusive analysis.
TREATMENT
Patients that are not from a high hazard gathering ought to be dealt with symptomatic treatment and are encouraged to remain at home and screen themselves to recognize if their condition crumbles and look for medicinal consideration whenever required.
Patients that are in a gathering at high hazard for creating extreme or entangled ailment ought to be treated with hostile to virals notwithstanding symptomatic treatment at the earliest opportunity.
Avoidance & CONTROL
The best method to avoid the ailment is inoculation. Protected and powerful antibodies are accessible and have been being used for over 60 years. Aside from immunization and antiviral treatment, general wellbeing the executives incorporate individual defensive estimates like — normal handwashing, great respiratory cleanliness.
Step by step instructions to separate between dengue, influenza, and chikungunya
All present with fever.
Normal for dengue is fall in platelets and rash.
Influenza presents with cold and cough.
Chikungunya presents with serious joint pains. l Lab tests help in separation.
Subscribed Failed...
Subscribed Successfully...