MyVoice: Views of our readers 1st March 2020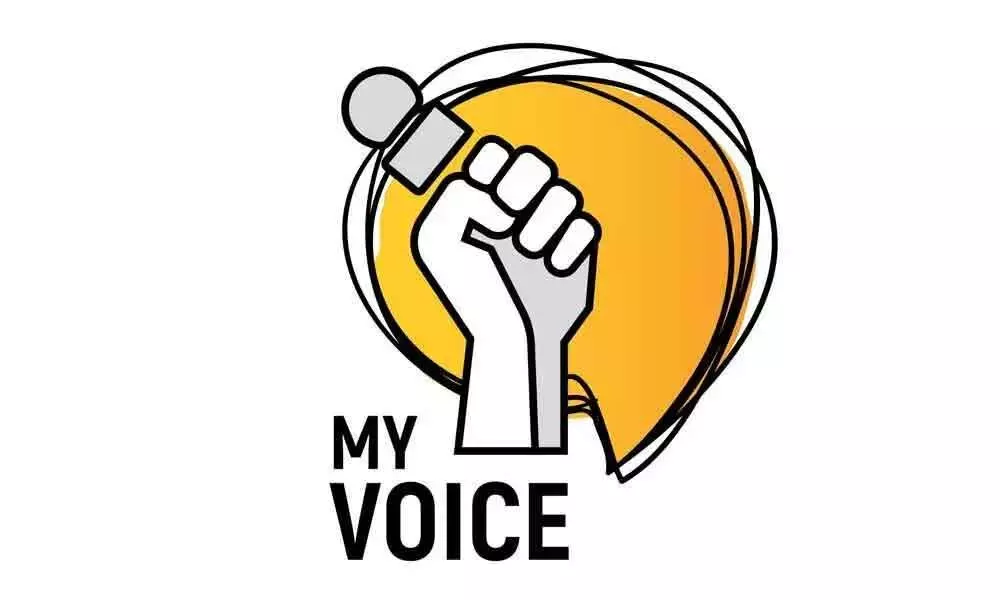 Highlights
MyVoice: Views of our readers 1st March 2020
India has more enemies from within than outside
India is a secular country means all religions can survive in our nation this is what it means in simple layman's language but is it true in current scenario? In the name of religion in this informative age India's capital witnessed communal riots how shameful is it.
Political parties ask vote in the name of freebies, religions, regions, caste, colour or creed no one ask vote in the name of development or nation. It is so painful that people kill each other in the name of religion, IB Officer Ankit Sharma who was brutally murdered by some spineless anti socials in Delhi riots and his body was putted in a dirty filthy sewage, an alarming thing which noticed by doctors during his post mortem around more than 200 body injuries were found over his body, how can a normal human being can do this massacre in such a way.
Tahir Hussain Councillor from AAP is behind the ruthless murder of IB officer as per his family and a FIR has been lodged by Delhi Police. Big economies like US, Russia, France Australia etc are totally concentrating on development issue whereas India is still sitting on a mindless issues like reservation, caste, freebies, religions etc.
Mughals, Britishers, Congress etc ruled us why because India was the greatest country in the world and see what did they do with us they divided us which means they simple cut each one of us in the name of religion and this they did just to rule us.
India's present biggest headache is that India have more enemies from within the nation than outside. There are certain factions in the country who are making nation weak from within and this is just an indication that their objective is to tear the country into pieces.
There are thousands of Sharjeel Imams, Afzal Gurus, Kahaniya Kumars, Omar Khalids etc in our nation we can't stop them until country don't pass a rule in the parliament to eliminate anti nationals in quick succession. India needs to bring such reforms then only nation can see a bright future for her upcoming generations. India needs to be more vigil systematically so that they can sketch out who is spreading poison in the country.
The present government has tried to clean such dirty factors but that's not enough we need more reforms to wipe out such anti-nationals. Population of the nation is also biggest fear for nation which will be a bombastic for future as resources are getting less which almost coming to nil. If India wants to become a superpower of Asia in this 21st century she needs to be more tough or our enemies will tear us apart within no time as their power is growing day by day.
S Sharadchandran, New Delhi
Even this shall pass
For the last few days, parts of Delhi have transformed into a war zone. Violent mobs roaming the streets, a hapless police force watching on, and an endless stream of communal slogans, have left more than 42 people dead, and almost 200 more injured.
The rest of the country has, meanwhile, responded to this unprecedented violence, as it does to most conflicts — with attempts to out-opinion each other, and be the first to release newer information, however unverified, on the internet.
Faced with an assault of alarming headlines, fact-checks by political commentators, and a stream of whataboutery from the internet regulars reminding us of the fallout of previous riots, there is obviously much to despair about.
But considering our reaction to the past conflict, it'll only take a few days before we end up getting desensitised to the actual violence, and move on from this carnage to the next pressing issue.
Javvadi Lakshmana Rao, Visakhapatnam
Our country is in a state of flux
Majority of us today seen to have forgotten that we are Indian citizens and so there is a complete absence of nationalism among the people. Mahatma Gandhi declared from behind the bars that "Patriotism is good, but it must not supersede the feeling of universal love for all humanity.
It must not make us indifferent to the growing concept of 'New World'". Patriotism and nationalism can never be taught, but these must be learnt.
No doubt, we have trained police force to tackle communal riots, but these (the riots) are mere gimmicks by our politicians to grab votes.
Our police can also act much better, if there is political will and if they are given a free hand along with the implementation of recommended police reforms.
The people in India must come to realise that India is their own country and they have a moral responsibility to build her up into a great land.
There is also a negative impact of social media in spreading rumours, disinformation, hate-campaign and fanning violence. Platforms like WhatsApp and Twitter have played an increasing role in sparking communal violence in India.
Today, our country is going through crisis. The steps taken by the government to inculcate the values of secularism are not enough.
There was a time when our leaders spoke of India's mission of spiritualising the world and the sentiment was applauded because it appealed to the patriot in each one of us and now our PM Modi is also inculcating the same. This is the time when we must do something and open our eyes to reality.
Vinod C. Dixit, Ahmedabad
Delhi riots is political conspiracy
As the sudden violence erupting in Delhi during the visit of U S President to India giving credence to a larger conspiracy hatched by vested interests cannot be altogether ruled out, the death toll rising in North-East Delhi and bodies found dumped in the drains is not only distressing and disturbing but also a clear revelation that the riots were pre-planned to draw the attention of one and all.
Even when the matter is seized by Indian leadership and making efforts to bring normalcy sooner, what was shocking is the cryptic remarks by none other than a democratic presidential hopeful Bernie Sanders slamming Trump for remaining non-committal on riots which only added fuel to the fire. In fact, it was not only uncalled for but a clever ploy to score brownie points before the presidential elections in U.S. by end 2020.
Similarly, when there is blatant human rights violations in Pakistan and minorities are systematically eliminated with brutal force with the blessings of administration, as a result many have fled to India and unwilling to return, Islamic Organisation of Islamic Cooperation instead of advising Pakistan terming the Delhi violence as alarming is not only amusing but akin to pot calling the kettle black.
In this context, the silence maintained by Congress to the brutal murder of a young IB official alleged to have committed by AAP Councillor Tahir Hussain even when AAP suspended him from the party after been booked by police based on prima facie evidence points to the fact that congress is insensitive to tragedy and that it can stoop low for the sake of Muslim votes.
Now as the situation is limping to normalcy after Prime Minister's appeal to peace and brotherhood, Congress leaders expressing surprise at cops deliberate inaction and finding fault with BJP functionaries for the violence when its own leaders were coming out with different versions to keep the pot boiling is a clear indication that that there is larger conspiracy behind the whole episode.
The remarks by Sonia Gandhi in the end that "now we have to decide, choose your side" confirms that the move by congress is not only dangerous but practically aimed to enlist the support of Muslims.
In fact, after Prime Minister had made it repeatedly clear that no Indian Muslim will lose citizenship if CAA is implemented, Congress and Opposition lost its political plot totally and in order to stay in the limelight, therefore, every effort is been made to create fear in Muslims even when nothing adverse is resorted to by the centre to make them stateless.
In the midst of criticism, the centre ordering SIT probe to unravel the truth is a right step in this tense situation as it would send a strong message that none of the guilty irrespective of political affiliation or religion to which one belongs would be spared.
All in all, as it appears that every political party to be responsible for the chaos and confusion and violence and destruction, it would be better to maintain restraint until the probe report comes out in the larger interest of the country.
K R Srinivasan, Secunderabad
Politics in college campuses disruptive
The Kerala High Court has come out with a verdict recently banning all forms of agitations by student groups in school and college campuses that disrupt functioning of educational institutions and cause inexplicable hindrance to the smooth functioning of educational institutions.
The HC has asked for banning of all forms of agitations including gherao and dharnas on the campuses. The HC further instructed that no one can be persuaded to participate in such protests. The court rightly said that educational institutions are meant for academic-related activities and not for protests. It also said no one has the right to violate the fundamental rights of other students.
The court three years ago had said if any student is found to be indulging in such activities, he or she would make himself or herself liable to be expelled or rusticated . Due to political interference and callousness on the part of stakeholders political conflicts continued.
The present verdict comes as a result of petitions filed by various college and school managements against agitations on campuses disrupting the peaceful atmosphere. The court said educational institutions can be made a venue for peaceful discussions and debates.
The court's judgement is laudable as campus politics is sadly going from bad to worse. In the past student politics helped students to train themselves as responsible citizens to work for the welfare of the student community as well as the society .
Violence was present in the past but not like what we see now- so heart breaking, brutal , horrendous and blood curdling .They are used as death squads by the political parties and factions for their selfish motives.
There are some Indian states that don't allow politics in the campus and is one of the reason that most of the campuses there witness students really enjoying their life and their studies and at the same time grooming themselves to become responsible citizens rather than becoming pawns in the hands of parties and organisations that exploit young hearts ,to achieve their vested interests.
M Pradyu, Kannur
A shining example of humanitarianism
The recent efforts yet again by Air India to rescue stranded Indians affected by the corona virus onboard Japanese ship is highly appreciated. As also India's efforts to provide relief materials and medical supplies owing to the outbreak arranged through special IAF plane comes at a crucial time to help our neighbour in China.
It must be noted that India was at the forefront to rescue Indians stranded in countries during the geopolitical crises and provided relief to neighbouring countries by burying strategical differences.
Some of the nations that have received aid from India include Maldives, Nepal, Libya, Yemen, Iraq, Kuwait in the past apart from assisting China and Japan in the current coronavirus outbreak.
India's generous stand should be taken note by international organisations such as the United Nations, Ramon Magsaysay Foundation and WHO- that insist nations to seek peace through a fair governance approach aimed towards a healthy society.
The powerful nations should otherwise come forward in rescue and relief efforts by burying strategical differences by taking a cue from India's humble approach towards rendering humanitarian aid. We as proud Indians highly appreciate this rescue effort yet again by the Indian government.
Varun Dambal, Bengaluru
Curb sex and violence scenes in cinema
An incident of a 14-year old boy sexually assaulting an 8-year-old girl came to light. Our so-called civilised society should in bend it's head in shame. It is a shocking news to the parents of girl children.
This incident flabbergasted me as to what instigated the boy to indulge in such a shameless and beastly act. Sex and violence are overpowering forces to drive the human brain to the devastating level.
The root cause of this demeaning culture is films. Most of the films are showing romance and violence indiscriminately. Immoral and amorous scenes pervert the young minds.
It is a natural phenomenon that human brain always capture evil more swiftly than virtue. Therefore, in the films even an iota of violence and sex should not be shown. Instead moral-oriented films should be produced and screened.
It is worthwhile to mention here that the life biopics of great personalities ought to be produced. Such films will instil noble traits such as control of senses, courage, patience, perseverance, positive thinking, selfless service attitude, gusto and gumption in the young minds. They will become torch bearers to the posterity.
Govt should take initiative to ban sex and violence in the films and in TV serials on war footing.
E Sreerama Murty, Yelamanchili
People in AP, TS happier than others
The opinion expressed in the essay, titled " indifferent rulers, hapless subjects",( THI, February 29) is one-sided and far removed from ground reality. In this regard, the biggest challenge the nation is facing today is not the internal security , nor it is poisonous communalism but the economic slowdown which has badly hit the economically weaker sections ,which constitute 65 per cent of the population in the society.
To overcome this unprecedented economic crisis, the two Telugu states ,Telangana and AP,have "rightly" chosen a welfare path, a pro-poor measure, which has given confidence, security and taken care of the basic needs of POP, which is in tune with the Biblical idiom "Doctor for the sick ,not for healthy" .
The tax payer is also happy because his money is well spent for the welfare of his brother, less fortunate. Hence the welfarism is seen by the majority people as a Brahmastra, to shield the poor from the ill-effects of economic slowdown.
Another notable achievement of the two Telugu states is that the ill feelings generated by CAA, in Delhi & UP, have not affected the Telugu people in two states, thanks to the good governance by the two CMs. It goes to prove that the people in the two well administered states are relatively happy.
P H Hema Sagar, Secunderabad