Who will protect the medical teams from the virus?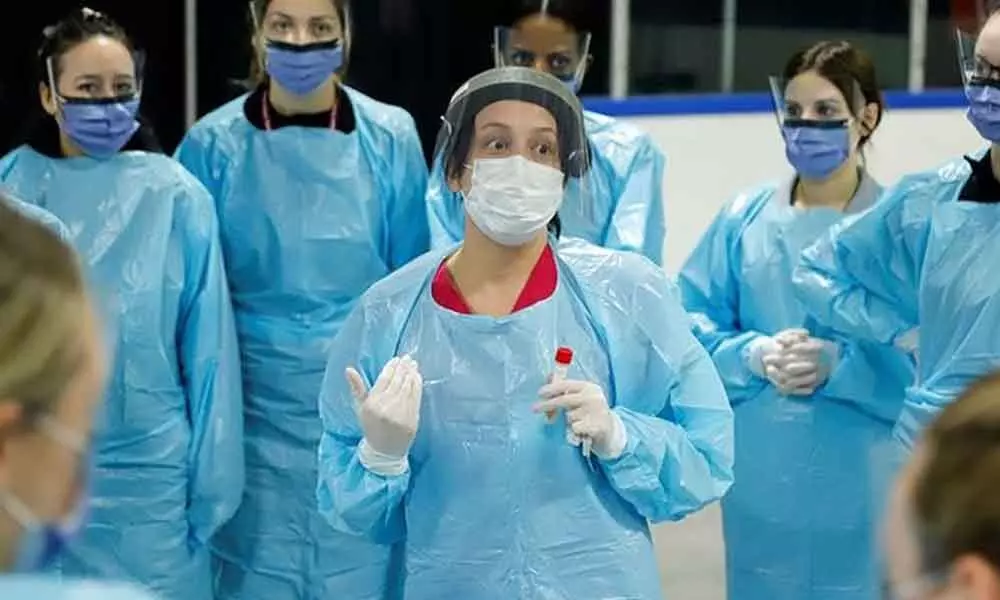 Highlights
Doctors, nurses, sanitary workers, the police and paramedical staff are the frontline warriors in treating the Covid-19 patients. They need to be revered and respected since they are serving the people in general and the patients in particular, risking their own lives.
Doctors, nurses, sanitary workers, the police and paramedical staff are the frontline warriors in treating the Covid-19 patients. They need to be revered and respected since they are serving the people in general and the patients in particular, risking their own lives. They need full protection for themselves and their lives. They need all their protective gears like protection kits, sanitizers, masks, body covers and medicine for themselves in case of any emergency.
But it is shocking to know that one anaesthesiologist was placed under suspension after he pointed out that there were no facilities for doctors to treat the COVID-19 patients. He was arrested on the charges of abusing the Chief Minister and the police. He was charged under sec 353 and 423 of the IPC. The doctor was reported to have been disrobed, hand-tied, thrown on the road and thus mishandled. This is really a sheer violation of human rights. Front line warriors treating the COVID patients need full protection for their lives and rights. The APHC has ordered the CBI to investigate the case and submit a report in this matter. This is really unwanted and unwarranted. They are the ground staff snd they only know the ills and wants of treatment.
Also, in Delhi, the doctors deployed for COVID-19 duty has been protesting to keep them under quarantine in the aftermath of their duties are over. Both these cases are genuine. They themselves should not be infected by the virus. And they should not take it home to spread among their family members and neighbours thus becoming a cluster.
It is on record that many doctors, police personnel and other frontline workers have lost their lives in the bargain. We are living now in a difficult period of time. The virus is spreading like wildfire. It is to reach its peak a little away from now. It is not known how many lives it will take yet. We are to be more careful. As such the front line warriors need all the safety gears for themselves right from the doctors to last line sanitary staff. It is the duty of the government too to do so, so as to keep the virus at bay.
Sravana Ramachandran, Chennai
Build an exclusive Corona hospital in Delhi
It is now clear that we have to learn living with corona with normal activities. Presently Out-Patient-Departments (OPD) in several big government-hospitals of Delhi are virtually closed because big hospitals like Loknayak Hospital and GB Pant Hospital in the same campus have been converted into corona-exclusive hospitals. But it has also affected working of several more institutions in the same campus including Guru Nanak Eye Centre and Maulana Azad Institute of Dental Sciences (MAIDS) apart from affiliated Maulana Azad Medical College (MAMC) and College of Nursing.
Delhi Government instead should start working to construct a big corona-exclusive institute in Delhi having exclusive corona-hospital, quarantine-center, paid private-ward and CNG-fired cremation-furnace. In the meanwhile as an interim measure, biggest government-hospital in Delhi may be converted in corona-exclusive hospital where CNG-fired cremation-furnace may be installed so that patients dying of corona may be cremated in the hospital itself.
System will resume normal health-related activities in rest other hospitals of Delhi government specially those in premises of Maulana Azad Medical College (MAMC). However extra-ordinary rush in hospitals of Delhi government must be reduced following principle of social-distancing by approaching Supreme Court to quash court-order so that OPD facilities in hospitals of Delhi Government may be available only for those having Delhi Aadhaar cards. However emergency-services may continue for anyone without requiring Delhi Aadhaar card.
Subhash Chandra Agrawal, Delhi
Will Covid-19 spark a neo- Cold War?
Post WW-II, the cold war between the Soviet Union and the United Stated ensued for decades by dividing the globe into Eastern and Western blocs. Now, nearly after three decades, in the wake of China's emergence as a tough competitor to the US and recent rifts between these two nations on several issues are giving signals to the beginning of neo- cold war.
Post COVID -2019, even when the entire human race is yet to return to normalcy, the biggies are under locked horns and exchanging verbal salvos. In this geo-political cold war like situation, sub continent has to play dual role by safeguarding it's sovereignity on one hand and not becoming a pawn in the clutches of either of these nations on the other hand.
Murali M. Mallareddy, Visakhapatnam
Time to support the Centre, not just criticise
The country is now experiencing worst of its days in the Indian economy. The Central Government taking a consolidated view of all the concerned has announced a massive package of Rs 20 lakh.crore for the revival of the economy.
The problems of migrant workers is an age old problem which the present governments both at centre and states should have learnt lessons by now. It is only time that will definitely that will settle the grievances of the migrant workers. The period the critics chosen is not timely and all these matters should be dealt with when normalcy is restored.
As to the economic revival and stimulus package, we have to wait for a considerable period of six months to judge the implementation faults if any. Till then critics should show little restraint while criticising vehemently on policy matters.
What they have to do is to advise the policy makers to review the economic policy measures bi- monthly which they are adhering to some extent. India is now in a favourable position to face the ordeal Covid 19 and to shape its bright future viewing from all angles. Let us watch. Let us wish. Let us strengthen central moves in all its fairness. That is the best they can do at this juncture.
Chivukula Rama Mohan,Hyderabad
Let's be more considerate
The Government should provide qualitative seeds, seedings, interest- free loans to the farmers to reap rich harvest in the kharif season. Hence agriculture sector spurs other sectors. To boost industrial sector the government should assist entrepreneurs to establish micro, small and medium enterprises. It should give access to the entrepreneurs through single window system. Hence employment and economy generate and spiral. First and foremost the government must give priority to develop vaccine for Covid-19. The government should create favourable environment to the scientists who are thriving to invent vaccine for Covid-19. But what is the duty of the citizens? They should contribute to PM Cares and CM Relief fund and feed the poor at this time of crisis.
P Kiran Kumar, Vizianagaram