Call for innovation in Agricultural practices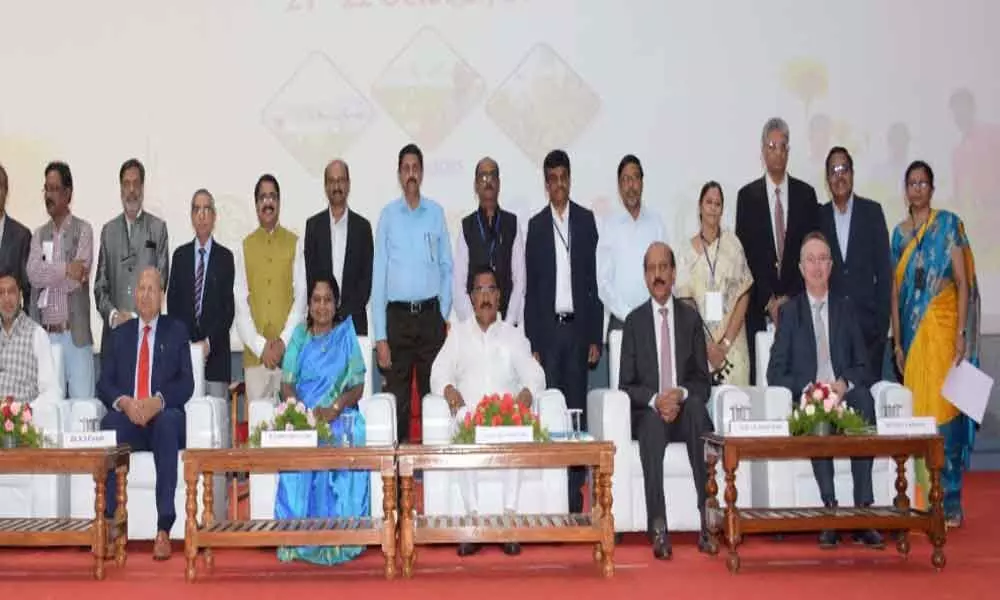 Highlights
Governor Dr Tamilisai Soundararajan has said that the central and state governments have initiated several schemes for welfare of farmers and for the...
Rajendranagar: Governor Dr Tamilisai Soundararajan has said that the central and state governments have initiated several schemes for welfare of farmers and for the development of farming sector to enhance the income of farmers. The governor was speaking at the regional workshop at university auditorium in PJTSAU on Monday morning.
Professor Jayashankar Telangana State Agricultural University (PJTSAU) is hosting a regional workshop on 'Youth as Torch Bearers of Business-Oriented Agriculture in South India,' in collaboration with Trust for Advancement of Agricultural Sciences (TAAS), Asia-Pacific Association of Agricultural Research Institutions (APAARI) and ICAR - NAARM on October 21 and 22.
Soundararajan, who inaugurated the workshop, said that Telangana is rapidly moving forward in agriculture and that it stood as an example for many states in the country by implementing several programmes of the state Government.
The governor informed that in the governors' meeting to be held in New Delhi. She said that she had decided to talk and to make presentation on agriculture and schemes implemented by the central government as well as the Telangana State.
"Innovation is very much needed in agriculture sector for making agriculture a profitable venture. The youth of India must utilise the opportunities available in agricultural sector, and they should become torch bearers for business-oriented agriculture," she said.
The governor praised Vice Chancellor Dr V Praveen Rao for organising the regional workshop and for working for the betterment of agriculture sector in Telangana. She also praised Agriculture Minister S Niranjan Reddy for practicing agriculture and exporting mangoes to European countries.
Niranjan Reddy listed out the state government's initiatives for the farmers like farm loan waiver, subsidization of farm mechanization, micro irrigation, uninterrupted power supply for agricultural purpose etc.
"The most important initiatives taken under agriculture sector like Rythu Bandhu and Farmers Group Life Insurance (Rythu Bima) are acclaimed across the country and also at International level," he said.
Attracting youth towards agriculture is a challenging task in a present economic and competitive environment, said Former Director General of ICAR Dr RS Paroda. He said that there is a need to encourage the youth in becoming successful entrepreneurs and in ensuring sustainable growth in agricultural sector.
"India has witnessed the green, yellow, white and blue revolutions in the last several decades, and the time has come to start profitable agriculture enterprises to utilise the business opportunities in this sector by the agriculture graduates. It also requires changes in academic curriculum," he said.
PJTSAU Vice Chancellor Dr Praveen Rao has delivered the welcome address. He gave the background in organizing the Regional workshop. The VC said that there is a need to INSPIRE sow an idea, skill and sustain, plan and precipitate, innovate through IOT, reach out to technology providers, finance providers and finally end users to sell the product for making the farm a viable business enterprise.
Subscribed Failed...
Subscribed Successfully...