Dance can depict just about anything!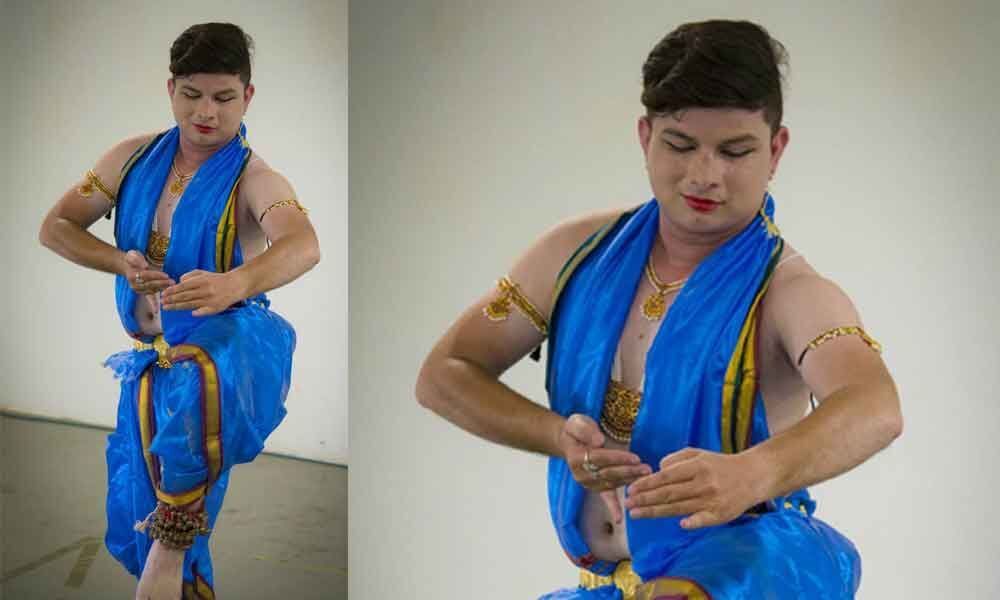 Highlights
Hyderabad-based Patruni Chidananda Sastry, an LGBTQAI+ activist, who identifies himself as a gender-fluid person is an expressionist dancer.
Hyderabad-based Patruni Chidananda Sastry, an LGBTQAI+ activist, who identifies himself as a gender-fluid person is an expressionist dancer. He started learning classical dance at a tender age of five after being encouraged by his dad and still describes himself as a learner as he feels there is always something new to learn. Sastry explains how dance can be a powerful medium to discuss topics, which are taboo.
Working as an analyst in a corporate firm, Sastry utilises his offs on the weekend by attending morning dance classes and conducting workshops, etc. Sastry is also the founder Hyderabad Drag Club and conducted city's first-ever drag show on the occasion of Pride Month in June.

Excerpts from an interview:
How do you justify dance as the best way to express yourself?
When I was in Kharagpur, there was a Telugu movie 'Narasimha', in which I saw Ramya Krishnan dancing in anger. At that moment, I thought dance is a good way to express what you are feeling, and I started dancing whenever I was angry. I think it's not only dance, but any kind of art is the best way to talk about any situation. I chose dance because it can be performed on the spot. Also, as I am learning dance since childhood, it is easier for me to experiment with it.
Who are your dance teachers?
Bharatanatyam was the first dance form I learned from Kalamandalam Venkat from Kolkata. My father and I used to travel from Kharagpur to Kolkata twice in a month for a week to practice in his classroom for five hours a day. I learned Kuchipudi from Siva Kumar from Visakhapatnam, who used to come to my house for every summer holidays. I took a break of two years to continue my studies and since then I have been practising Bharatanatyam under Vaidehi Subhash and Odisha under Preeti Mohapatra, both are them from Hyderabad.
You are into more than one dance form, any specific reason?
The reason I have been learning three forms is I don't want to stick to one form of classical dance. I am inspired by 'Expressionism', which started at the time of WWII, where the artists were against showing beautification or fancy subjects but favoured reality or situation which was happening around. So, I used expressionism and grammar of my dance, mixed both and created my own form called 'Indian Expressionism', where I talk about social issues and taboo subjects with my dance and props.
On what kinds of topics have you performed so far?
My subjects range from a different variety. For example, it started with LGBTQAI+ issues, where I talked about pansexuality, LGBTs and other issues like menstruation and safe sex. I worked with PETA for animal abuse; Kolkata-based Alcoholics Anonymous; gender-oriented organisations like Mist Foundation, and this young team called Firefly Community, which works on multiple subjects. However, my favourite topics are gender and animals.
Do you have a group and what kind of music you chose for your performances?
Usually, my performances are solo pieces, but I started working on group production now. One such production is 'Patra', where I associated with 'Nations Rock Beat', it is all-student organisation. I worked as a mentor for dance to them. I choose instrumental music because it is the sound which connects to everybody irrespective of the language or cultural behaviour. I have also experimented with human beatboxing, where I dance to the tunes created by the human beatboxers.
What are the challenges you face as a dancer?
As I am gender fluid, I don't associate with the system of men and women, where there are set of certain rules for each. As soon as I say that, I see the people in front of me draw their conclusions about it. Some people perceive that I am gay, while others think that I am bisexual. While things are changing, we still have a long way to go before we begin to accept people and their preferences. My audience has always been divided into two. There is one section that comes to attend my programmes and assimilate, knowing what I do and portray. However, there is the other section that is unable to appreciate and understand the points I raise. I see my art is like a hub, and I take up things and recreate something new.
In your opinion how can gender awareness be created?
I think introducing gender awareness in schools and colleges will play a major role. I know parents who taught their kids about it for a long time and I have seen a significant difference in acceptability. Sex education, for example, is a topic that schools have been mandated to teach. However, most schools stay away from it because of their discomfort in answering questions posed by curious kids. These things must be taken care of because it would help children to understand their life.
Tell me something about the drag show.
I have been seeing drag as an art form in multiple cities. This journey started in 2016 when I went to Bengaluru, and I saw artistes performing drag show. I started researching about dance which has drag element like Kuchipudi, folk art forms like Launda Naach, and Kathakali, where men dress up as women. I was desperate to have a scene created in Hyderabad where drag artistes, especially from LGBTQ+ come up, perform and get a livelihood with it. It took me some time to understand that instead of asking people to do it, I should be taking the initiative. The first drag show we performed was on June 9 as part of Pride Month at Nirvana.