Education Minister Sabitha Indra Reddy honours CM Cup winners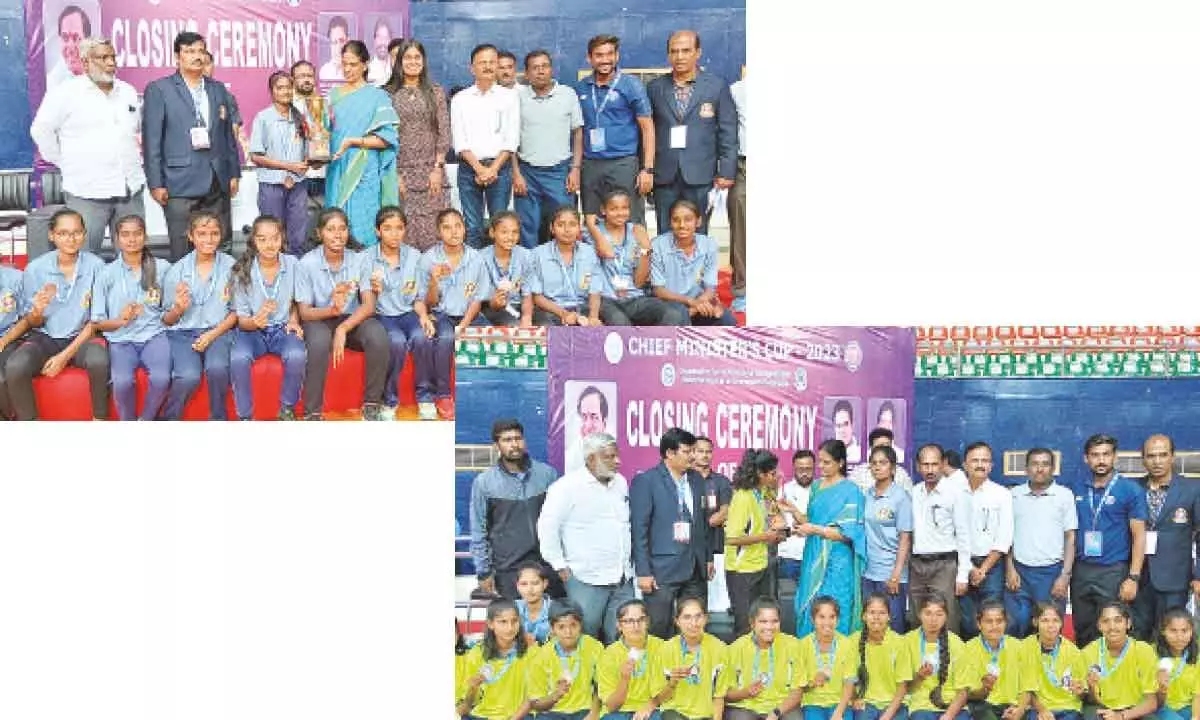 Highlights
Athletes from various districts showcase exceptional skills in sports competition
Minister emphasises equal regard for victory and defeat in address
Government's commitment to promoting sports at all levels highlighted
Rangareddy: In a magnificent ceremony held at Gachibowli Stadium, State Education Minister Sabitha Indra Reddy bestowed prizes upon the triumphant athletes who emerged victorious in the prestigious CM Cup, a highly anticipated state-level sports competition. The event served as a platform for athletes hailing from diverse districts to showcase their extraordinary skills and celebrate their remarkable achievements.
During her address, she underscored the significance of embracing both victory and defeat with equal respect and dignity. She articulated, "Victory and defeat should be embraced alike, as defeat often serves as a stepping stone to ultimate triumph."She further emphasised the government's unwavering commitment to fostering sports at all levels. She highlighted that, for the first time, a comprehensive series of sports competitions had been organised, spanning from the village to the State level. This pioneering initiative aimed to unearth hidden talents scattered across Telangana and provide athletes with valuable opportunities to demonstrate their exceptional abilities. She also stated that Chief Minister K. Chandrashekar Rao had announced the formation of a dedicated sub-committee solely focused on sports. This committee is actively engaged in formulating a new sports policy, with the noble objective of empowering Telangana athletes to excel at national and international arenas. The government's steadfast focus on establishing sports grounds in every village is a testament to its profound dedication to nurturing grassroots talent and fostering a vibrant culture of active participation in sports, she added.
In the much-anticipated CM Cup, Sangareddy district triumphed in the exhilarating game of hockey, securing a well-deserved victory, while Nizamabad district displayed exceptional skills to secure the runner-up position. Hyderabad district claimed the third spot on the winners' podium. In women's football, Khammam district emerged as the frontrunner, showcasing their prowess on the field, while Nalgonda district secured the honorable runner-up position and Nizamabad district achieved a commendable third place. The boys' football category witnessed Hyderabad district securing the top position, displaying their exceptional talent, while Gadwal district earned a well-deserved second place. Minister Sabitha Indra Reddy graciously presented the esteemed awards to the outstanding teams, including the remarkable third-placed team from Sangareddy district, commending their remarkable performances and unwavering dedication to the sport.