End anarchic rule in Hyderabad: JP Nadda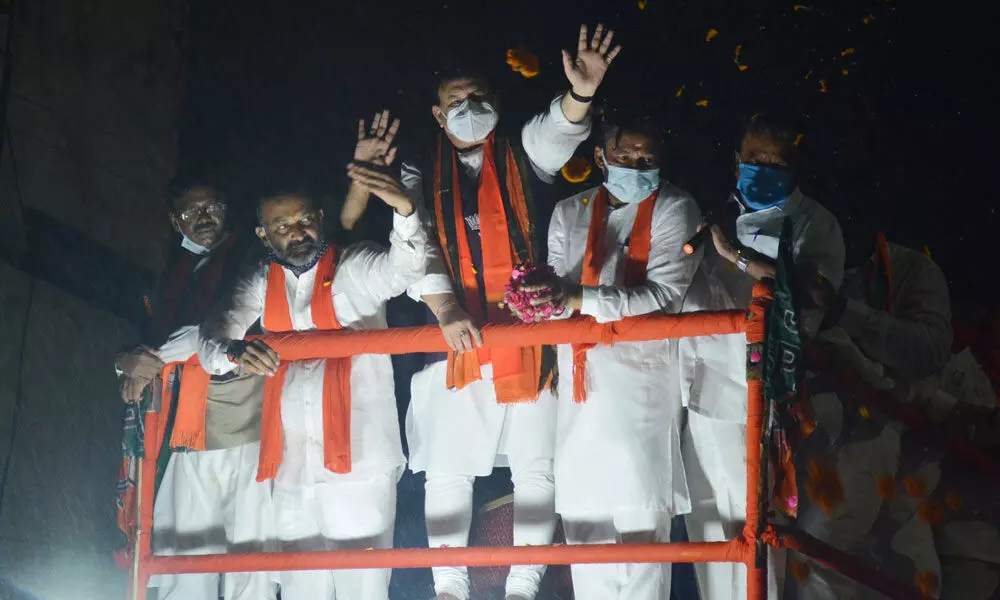 Highlights
BJP national president campaigns in Nagole, LB Nagar to Kothapet
Hyderabad: Delhi leaders are coming for Galli elections to stop the corrupt and anarchic rule of some leaders and to bring BJP to power. And we would all together work hard to see that lotus blooms in every division in Greater Hyderabad. This was how BJP national president JP Nadda replied to the TRS criticism that a flood of leaders from Delhi were coming for Galli elections.
Nadda held a roadshow amid slight drizzle in the city from Nagole, LB Nagar to Kothapet area. State BJP chief Bandi Sanjay, Union Minister for Home Kishan Reddy and others participated.
Addressing a meeting in Kothapet, Nadda asked people to support Prime Minister Narendra Modi's 'Vikas Vad' (development agenda) and not the "prevailing corrupt system".
'Jai Sri Ram', 'Bharat Matha ki Jai', 'Jai Jai Modi', 'Jai Nadda' rent the air along the entire route of the roadshow with an entourage of about 2,000 BJP cadres accompanying the BJP leaders during the roadshows. People in good numbers were seen gathering at different spots during the roadshow.
Nadda stressed on the need to ensure good turnout on the polling day so that BJP can win in every municipal division. He assured the voters that BJP would take Hyderabad to newer heights of development.
The BJP national president charged the TRS government of pushing Telangana into a debt trap.
The government also failed to fulfil the electoral promises and now the pink party has come up with a new set of promises to hoodwink the people.
He said that the TRS drama cannot continue any longer and people are all set to teach the ruling party a lesson.
Members of Jana Sena Party (JSP) also joined the roadshows raising "Pawan Kalyan Zindabad" and "Modi Zindabad" slogans.