Free Hyd from TRS-MIM clutches: BJP to citizens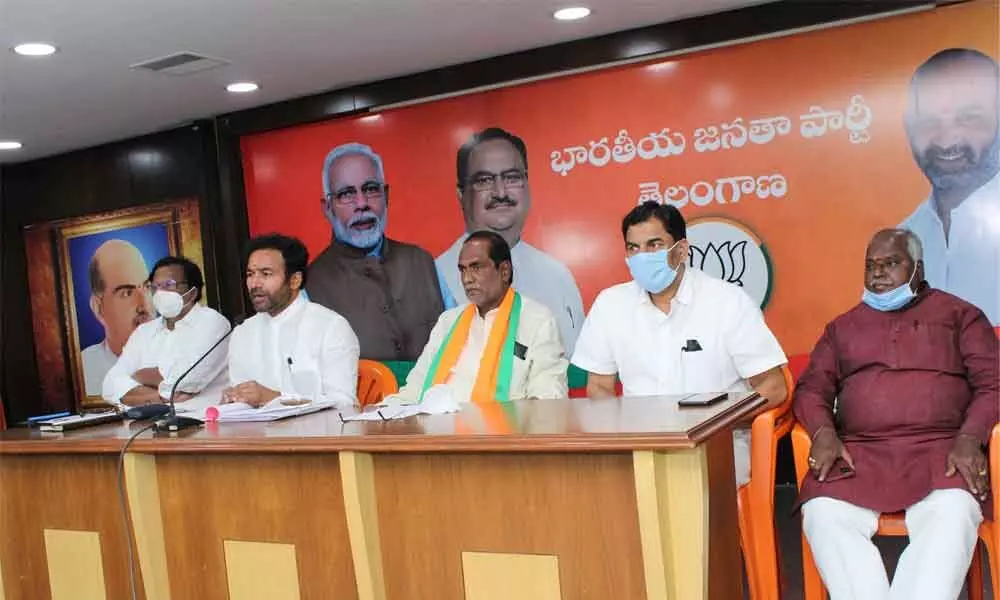 Highlights
The State BJP leadership has asked the people of Hyderabad to free the State capital from the clutches of the corruption-ridden misgovernance of the ruling TRS and MIM combine
Hyderabad: The State BJP leadership has asked the people of Hyderabad to free the State capital from the clutches of the corruption-ridden misgovernance of the ruling TRS and MIM combine.
Addressing the media here on Tuesday, Union Minister of State for Home Affairs G Kishan Reddy and BJP National OBC Morcha president Dr K Laxman said that the party was prepared in all respects to register a victory in the ensuing GHMC elections.
Dr Laxman asked said that with the BJP's victory in Dubbaka bypoll, the State government has reduced the property tax. Similarly, he asked residents of Hyderabad to give VRS to TRS to do away with the State government's Land Regularisation Scheme.
He said that the party has formed 26 wings to gear up for the ensuing civic body elections. He alleged that the ruling TRS was making fun of democracy designing as many conspiracies as possible to hand over the Hyderabad city to Majlis. But, the BJP would defeat its designs and register its victory, he added.
He lashed out at the TRS for constructing only 428 double bedroom houses as against its electoral promise of constructing one lakh houses in Hyderabad.
He said that TRS chief had promised to rejuvenate the water bodies in the city. But, what people have experienced in the recent floods was that all the bastis in the city turning into water tanks. Kishan Reddy said that the ensuing GHMC elections should be based on what the ruling party has done in the last five years and seek votes on the same.