Hyderabad: BJP condemns police lathi charge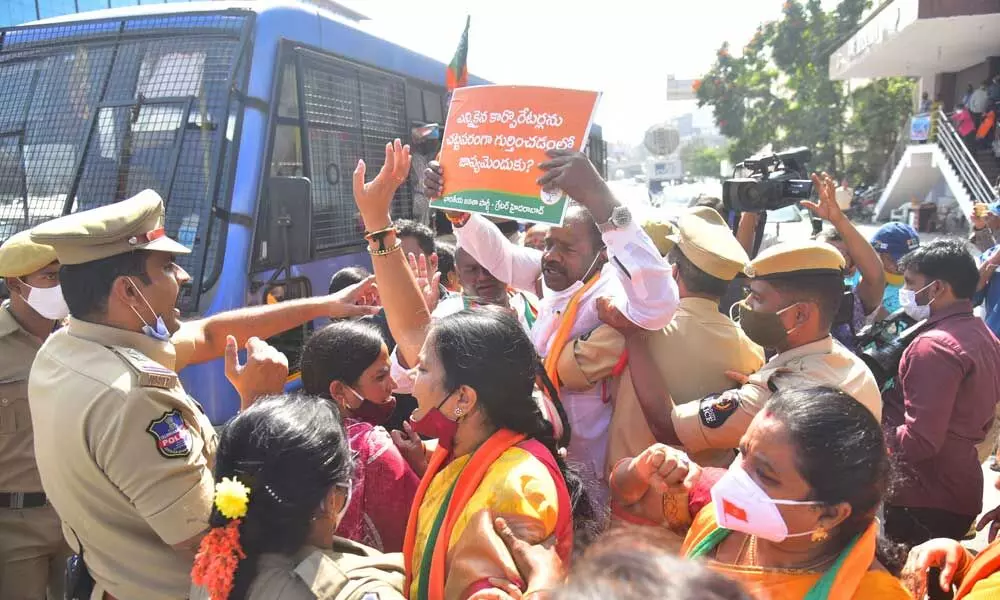 Highlights
Alleges police drawing salaries from the government but working for TRS party
Questions CM KCR and police on protecting OTT platforms promoting obscenity
ADVERTISEMENT
Hyderabad: State BJP chief Bandi Sanjay Kumar condemned the police resorting to lathi charge against BJYM activists who staged a protest the release of movie Dirty Hari on Tuesday.

Taking serious exception for the State BJYM president Bhanu Prakash, who was rushed to hospital after getting injured in the police lathi-charge, he alleged that the police resorted to lathi-charge under the orders of state government. "What is the message that the Chief Minister K Chandrashekar Rao is sending by directing police to attack BJYM activists? Were police resorting to physical attacks for questioning obscenity?" He questioned.
Demanding an immediate ban on the movie Dirty Hari, Sanjay Kumar said that the digital platform like Aha OTT was promoting obscenity to misguide youth.
The Karimnagar MP, who is in the Warangal tour, has called the BJYM State president Bhanu Prakash and enquired about the police lathi charge.
Taking a dig at police, he said, "They (police) are drawing their salaries from the government but working for the TRS party.
He said that the BJYM members were staging peaceful protest questioning the release of the controversial film Dirty Hari, through the OTT digital platform belonging to the son of MyHomes, Rameswara Rao.
He said that Bhanu Prakash has sustained eye injuries and he warned that his party would launch state-wide agitation if anything happens to the health of Bhanu Prakash. Sanjay Kumar demanded the State government to provide immediate medical assistance to those who were injured in the police lathi charge.
The BJP alleged that the injured persons were taken to the local police station and pleas of the BJYM members to call for an ambulance fell on deaf ears.
Earlier, the BJP legislature party leader in the State Assembly Raja Singh reached to a private hospital in Lothkunta to take stock of the health of Bhanu Prakash, who was undergoing treatment.
Meanwhile, following a call given by the BJP, party members have burned the effigies of police condemning the lathi charge on the BJYM members in the State capital.