Hyderabad: 'Save KBR Park' campaign resumes; government move flayed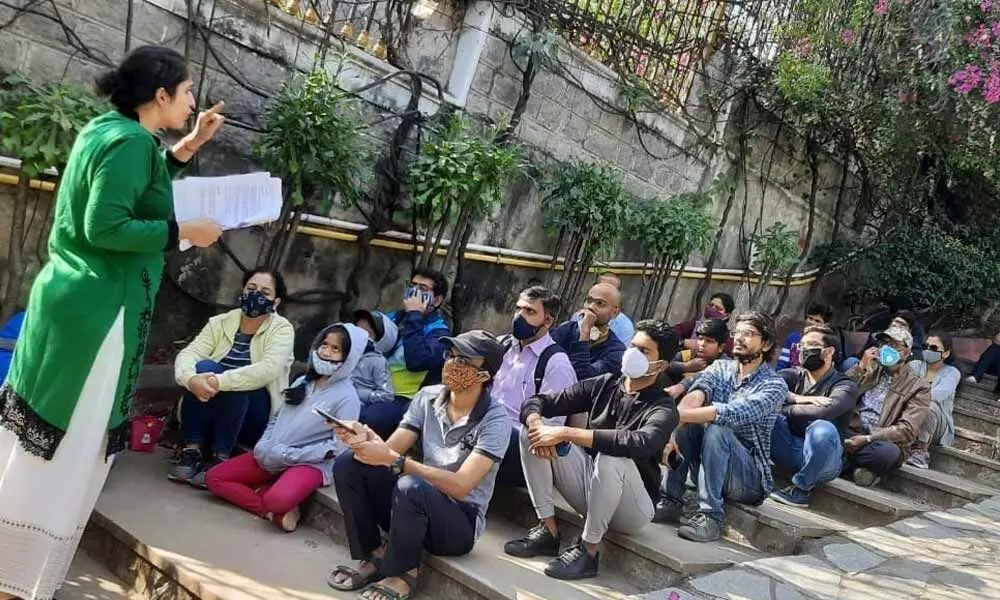 Highlights
More than 50 green activists gather at place to exchange their views
Hundreds move Union MoES against Eco Sensitive Zone proposal
Felling over 1,000 trees would negatively impact biodiversity, they worry
Hyderabad: Activists and netizens have once again resumed their campaign 'Save KBR Park' to save the Kasu Brahmanda Reddy (KBR) national park in Banjara Hills on Sunday. They expressed concerns that no public hearing was conducted over the proposed Eco Sensitive Zone (ESZ) at the park. The release of new draft notification on ESZ has them up in arms.

According to the activists, felling of more than 1,000 trees would have a negative impact on biodiversity. More than 50 people assembled to exchange their views and disseminate facts on the issue of ESZ, which was proposed by the Telangana government in 2018.
Speaking to The Hans India, Kaajal Maheshwari, a member of 'Citizens for Hyderabad,' said, "People are under misconception that construction of flyovers is put to an end. When the draft notification was published in 2018 proposing 3 metre to 29.8 metre from the national park boundary as its ESZ, hundreds of people sent their objections to the Union Ministry of Environment and Forests. It was after this uproar that the Ministry directed the Telangana forest department to conduct a public hearing. How can the Ministry grant approval to the ESZ proposal, without first getting a report on public hearing from Forest Department?" she questioned.
Ranjith Reddy, a member of the 'Hyderabad Trails' said, "Today's event is not a protest. This is a gathering to exchange dialogues to get views of people and to encourage petitions in conserving urban forest. It's a national park, so axing 1,000 trees is going to have a negative impact not just on pollution but, also on biodiversity- flora and fauna, water bodies and on rock formation. It's an irreversible damage to the ecology."
Dr S Lugna, general secretary of State Socialist Party India said that there is enough public infrastructure and metro rails for people to commute near the park and there is no need of these flyovers."