Out-patients to tertiary hospitals get free ride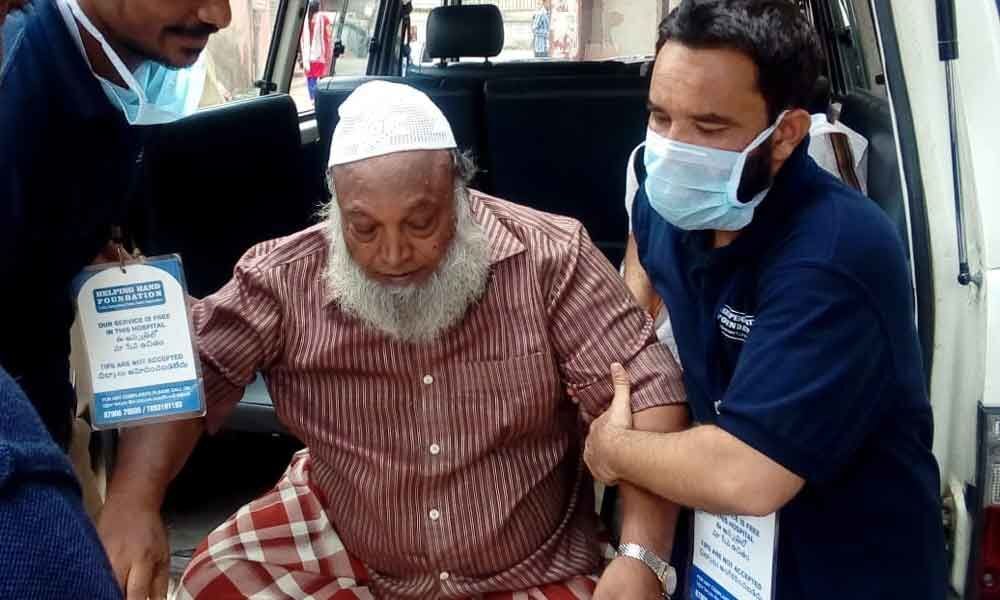 Highlights
For the first time, ambulances and medical relief vans run by Helping Hand Foundation (HHF), a city-based NGO, are now providing vital link to the...
• Helping Hand Foundation vehicles cater to sick across Old City
• We also drop patients back home, says its head Mujtaba Askari
• Poor people, especially women and children, most benefited
Falaknuma: For the first time, ambulances and medical relief vans run by Helping Hand Foundation (HHF), a city-based NGO, are now providing vital link to the outpatient care in public health system.

Connecting economically bacM M Farooquiwards sections, these vehicles are helping access state-run hospitals with free of charge facility. HHF got 2 ambulances and 8 relief vans from other NGOs and philanthropists and did not have to invest anything on this except to appoint drivers. Drivers are also trained paramedics who can handle medical emergencies.
According to the NGO, in a massive intra-hospital mobilisation, everyday 10 relief vans and ambulances ferry patients from multiple public health facilities and urban slums in the Old City area to tertiary centres for outpatient care. Every day from 8-10 locations like Barkas CHC, Masjid-e-Ishaq Health Centre in Nawabsahab Kunta, Malakpet Area Hospital, Mahatma Gandhi Maternity Hospital in Petlaburj, Charminar Unani Hospital, Kishanbagh and Babanagar, these vehicles are engaged in ferrying patients from the slums to higher centres like Osmania General Hospital, Gandhi Hospital, NIMS, MGMH, Malakpet Area hospital and Charminar hospital for OP department.
Mujtaba Askari of HHF said that same vehicles will also drop the patients back at their respective locations. "The whole idea is that we want to make accessibility to public health better and reduce out of pocket expenses," he said.
Apart from mobilising patients from slums near to public health facilities, the relief vans also pick up emergency cases from MGMH, Petlaburj and Charminar Unani Hospital. "Operational since the last one year, 257 cases of medical emergencies were provided timely transportation to higher centres in public health," said Mujtaba.
Experiment with cabbies not successful
HHF tried its luck with cab aggregators like OLA & Uber but the process failed due to a combination of factors like delays, high number of cancellations and drivers' reluctance to cater to patients from hospitals. "It is at this point that the HHF decided to strategically place ambulances and medical relief vans across various urban slums in Old City to connect patients for an intra hospital mobilisation," he added.
As per NFHS (National Family Health Survey), 2015-16, some of the main reasons for high out of pocket expenses and also lack of access to public health facilities, is the mobility restriction and the cost thereof. Women and children particularly are deprived of accessing the public health facilities on account of mobility restrictions.
"70% of the patients who are availing of the services are women and children. Due to mobility restrictions, this segment is the happiest. A lot of children from government residential schools and madrasas are also picked up and taken to hospital and dropped back by our vans daily. HHF's ambulances don't see any caste or creed and are very secular and human. On many occasions deceased patients' bodies from various government hospitals are provided free transportation to their homes due to the unavailability sometimes of the government provided free transportation," Mujtaba Askari added.
Subscribed Failed...
Subscribed Successfully...