Tirupati: Doctors on warpath over 'mixopathy'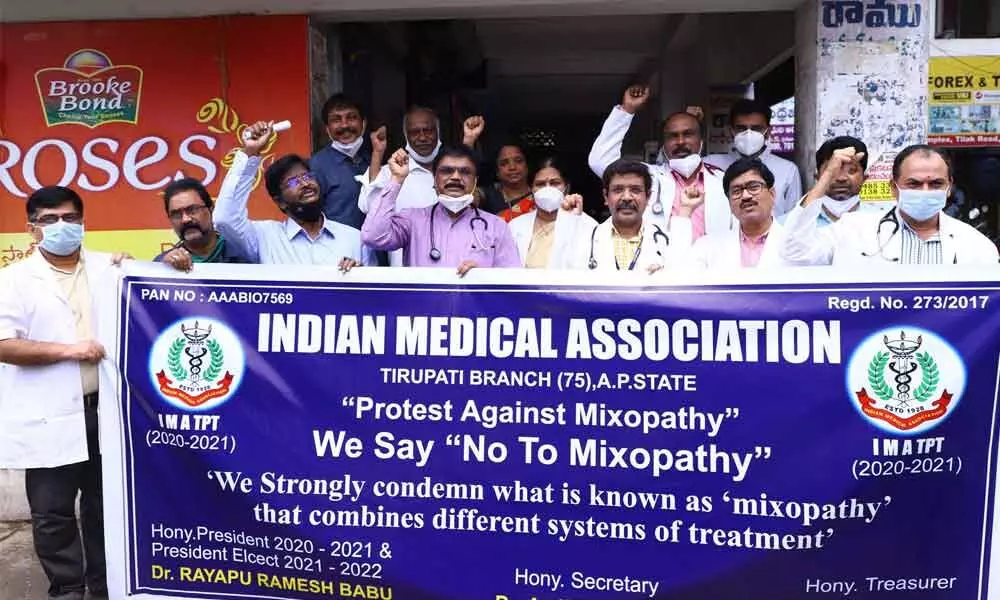 Highlights
Deploring the recent decision allowing the Ayurveda doctors to perform 58 surgical procedures, Indian Medical Association (IMA) has been on protest path for the last one week
Tirupati: Deploring the recent decision allowing the Ayurveda doctors to perform 58 surgical procedures, Indian Medical Association (IMA) has been on protest path for the last one week. As part of this, the doctors staged a demonstration across the country for two hours on Tuesday and decided to withdraw all non-essential, non-Covid services from 6 am to 6 pm on December 11.
The IMA took serious exception to the gazette notification published by the Central Council of Indian Medicine (CCIM) on November 20. It notified 58 surgical procedures, including general surgery, ophthalmology, ENT, urology, gastroenterology, dental medicine in which Ayurveda postgraduates need to undergo training to independently perform the surgeries.
While CCIM claimed that those 58 surgeries were originally Ayurvedic surgeries and gave Sanskrit names to them, IMA argues that they are from modern medicine and decided to fight against what it called 'mixopathy' that combines different systems of treatment.
Speaking to The Hans India, IMA Chittoor district coordinator Dr D Srihari Rao pointed out that earlier, those trained in other forms of medicine were allowed to practise modern medicine after undergoing training for six months. Now, the CCIM took one more step in allowing Ayurveda doctors to perform important surgeries with which the public health will be at serious risk.
He added that to undertake surgical procedure, they should have thorough knowledge in human anatomy and skill. The role of anaesthetist is also crucial in surgeries and prescribing proper antibiotics after surgery is equally important to the patients for their speedy recovery. All these services can be provided only by those who studied and practising modern medicine.
In view of this, all the 1,750 branches of IMA across the country and its associated wings like Medical Students Network – MSN, Junior Doctors Network – JDN, Government Doctors Association – GDA, AP Nursing Homes Association – APNA, Aarogyasri network hospitals and others have participated in the demonstration held at Tirupati press club. Senior doctors P Krishna Prasanthi, Rayapu Ramesh, Parthasarathi, Cipai Subramanyam and others took part.
Dr Srihari Rao also appealed to the people to cooperate with the doctors for the proposed boycott of non-emergency medical services on December 11 which was aimed at their safety and well-being. This will help the government to reconsider its decision and withdraw the CCIM notification, he added.